Fitness App Future: What'll be Scenario Post-Pandemic?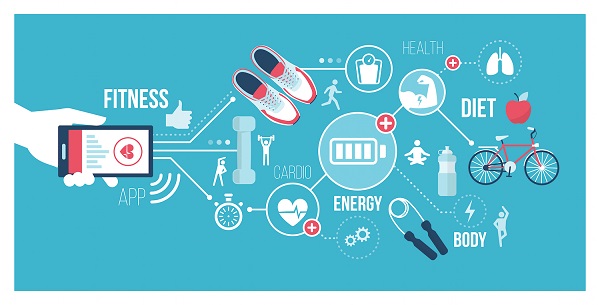 Since fitness apps are seeing a massive increase in their downloads and usages due to Covid-19, one wonders what's going to happen in the future when the pandemic is over.
Chuze Fitness is a small chain of big-box gyms that, until the covid-19 pandemic, was steadily growing. Since the first Chuze opened in California in 2008, the brand spread across the Southwest, painting more than 30 locations in its black and yellow motif and amassing 300,000 members.
Like many new players in a competitive marketplace, Chuze tried to differentiate itself through customer connection, Chuze Chief Marketing Officer Billy Grenham told Athletech News. Class instructors were encouraged to be on a first-name basis with participants. Members picked the movies that screened on a loop in gym theaters outfitted with treadmills. Chuze integrated charity efforts into their operations; several locations donated three pounds of food to local food banks for every pound of body weight participating members lost in a month. The company considered the feel-good atmosphere an asset.
In March, all Chuze locations closed due to covid-19. Most have reopened, but many members have frozen their accounts. Gym goers have generally been hesitant to return, a potentially devastating blow to businesses like Chuze. Fifty-nine percent said they did not plan to renew their gym membership in a TD Ameritrade poll. One issue is the continuing risk of infection. Another is a change in fitness spending. In the same poll, fifty-six percent of respondents said they had found cheaper ways of staying healthy.
So last month, Chuze launched an app called, naturally, iChuze. It is free to some preexisting members and $5.99 a month for anyone else. The app is separated into "body," "mind" and "heart" segments of services. They offer exercise classes, meditation and mindfulness routines and ways to interact with charities, respectively. The goal was to capture the gym's essence without the gym.
"I think we have a holistic look at fitness," Grenham told us. "There are high-definition livestreams, but it's more than doing jumping jacks in your living room."
As they brace for continued business disruption due to covid-19 and a possible long-lasting shift in fitness habits, health and exercise businesses of all stripes have reached for this solution, trying to distill their brand into an app or some cluster of online services to try to become future-proof. It's an example of the old adage of meeting customers where they are. People are increasingly moving into the digital space for their fitness needs.
The Increase in App Usage
When categorized in the Google Play or Apple App store, health and fitness is huge category with more than 300,000 apps. It encompasses programs for health vitals and weight measurement, for workout planning and instruction, for meditation and mental health, and to pair with a product (like the ever-popular FitBit step counter).
Experts say those relating to physical fitness have taken off since gyms and studios shuttered, spurring an uptick in the usage of apps in the fitness category.
Adjust, an app-centered marketing group, found that installs increased by sixty-seven percent in March and utilization of the app bounced by forty-eight percent in May from the previous months.
"The pandemic has spurred a drastic shift in day-to-day behaviors, with consumers reprioritizing their lifestyle," Melissa Dickman, a regional Vice President of sales for Adjust, told Athletech News. "Our data suggests that this is widely reflected in their health and fitness habits, with many people preferring to work out from home instead of going to the gym."
SensorTower, another marketing strategy firm for apps, reported that downloads of health and fitness apps bulged to 656 million across the globe in the second quarter of 2020, a forty-seven percent increase from the second quarter of 2019. The second quarter of 2020, encompassing much of the world's strict lockdown period, also saw a ten percent increase over the first. Usually, according to SensorTower, downloads peak in January and taper off through the year.
As for the industry's financial future, the market analysis firm, Reports and Data, predicted the fitness app market will grow at a rate of 23.5 percent a year from $2.92 billion in 2019 to $14.64 billion in 2027. They think the driver will be a growing drive to measure one's own heartrate, workout time and calorie burn rate, (The report uses data collected before the pandemic).
Technavio, a London-based market analysis firm, predicts the industry will grow by $1.68 billion from 2020 to 2024, progressing at a CAGR of about twelve percent. Much of the growth in the future will come from wearable fitness technology that interacts with apps (like FitBits).
Just as predictable as the increase in the use of fitness apps is the rush of people trying to get a product into the App store — including some institutions that were once cold to the idea.
For many years, gym and fitness studios viewed the digital space as threat to their bread-and-butter business of in-person workouts.
"They saw it as a cannibalization of the market," Carissa Lintao, CEO and Founder of Apptuitive, an app optimization agency, told Athletech News.
Immediately after the pandemic, Lintao got a swell of interest from fitness businesses and personal trainers, wanting to develop an app that would keep them in clients' minds and secure a foothill in the digital space.
"They wanted to offer their small community something," Lintao told us. "The smaller gym owners don't have a tech bone in their body. The personal trainers were trying to monetize their activity on platforms like YouTube and Facebook."
Many of them balked at her estimate of $20,000 to design, maintain and promote a decent app.
Lauren Foundos, CEO of Fortë, which that assists studios in livestreaming fitness classes and events, told Athletech News that her company was also inundated with inquiries.
Despite the blow they had suffered, Foundos said most fitness industry leaders were optimistic about the digital market. Some of the largest gym chains in the U.S. have millions of members. If they got a fraction of them to subscribe to a digital service, they would have the user bases of some successful fitness apps, she said.
People are increasingly interested in fitness apps but the companies behind such apps are still figuring out how exactly to make the new products profitable.
How to Make Successful Fitness Apps
A perusal of the "Health & Fitness" section of the Google Play store might leave one confused as to how apps make money. Many with simple functions, like stacking workout routines or counting calories, and are downloadable for free. Almost all of these play ads that generate revenue for their makers. Some that seem to do similar things are available ad-free for a few dollars.
More compressive apps that seek to fulfill several needs and hook users on better content have two models: freemium or subscription.
One can download a freemium app at no cost. Users are then offered upgrades and paid content.
"They get you to start using by offering it for free," Lintao told us, "and hope you like it enough to pay for various tiers and features."
These include popular apps like the Nike Training Club, which has a library of video workout instructions under a paywall, and Under Armour's Calorie Counter, for which various types of displays and analytics are only privy to premium subscribers.
However, subscription apps have been taking an ever-larger market share over freemium models in the last 18 months, according to Adjust's analysis. Examples include The Daily Burn ($19 a month) with offers new video exercise courses of various types uploaded each day, and Glo ($13 a month), a yoga-centric online subscription service with video classes. Their aim for non-gym members serious about working out at home, and their potential user base has expanded for obvious reasons.
While new technology has often provided tracks for runaway startups, big names in fitness — like Nike, Under Armour, Leap Fitness Group, and FitBit — have secured places at the top.
"Fitness is one of the most searched-for terms" both in app stores and online, said Lintao. "People pay a lot so their name is the first you see."
Some of the more successful startups she has seen take on particular niche: workouts for moms, routines for older people, exercises that can be done in 25 minutes or less.
"Defining your target market is a critical step in the development of an app marketer's overall strategy," Adjust's Dickman told us. "With so many fitness apps already available to install, it's important to identify what makes your product unique and how to make this known to your potential users."
So What Happens to Gyms?
Fitness is often a matter of habits. With apps infiltrating people's routines, gym and studio owners might be anxious that users may in the near future develop home fitness routines that will dissuade them from paying for gym membership again, even when people begin to feel more at ease with crowded in-door spaces.
The fitness industry is bracing to find out what the damage to gyms has been when some of the smoke of the pandemic clears.
"There will be a decline when we go back to normal," said Lintao. "It's not about what the gym looks like but what habits [people have] developed. I know gym rats are scratching to go back but older people may have gotten accustomed to working out around the house."
Adjust's "findings suggest a long-term shift," said Dickman. "We recorded a year-over-year sixty-one percent increase in global app sessions in July, even as lockdowns in some regions eased and gyms reopened."
Gyms will have to adjust, as every forecaster and indicator shows that fitness app will continue to grow in popularity and become part of people's routines. Just as apps become an inextricable part of shopping, traveling, banking and reading — with institutions forced to adjust — so may the world of fitness. Covid-19 may have just accelerated the apptization process.
Nick Keppler
Nick Keppler is a freelance journalist, writer and editor. He enjoys writing the difficult stories, the ones that make him pore over studies, talk about subjects that make people uncomfortable, and explain concepts that have taken years to develop. Nick has written extensively about psychology, healthcare, and public policy for national publications and for those locally- based in Pittsburgh. In addition to Athletech News, Nick has written for The Washington Post, The Daily Beast, Vice, Slate, Reuters, CityLab, Men's Health, The Gizmodo Media Group, The Financial Times, Mental Floss, The Village Voice and AlterNet. His journalistic heroes include Jon Ronson, Jon Krakauer and Norah Vincent.