Elo Health Secures $5 Million in Seed Funding from Prominent Investors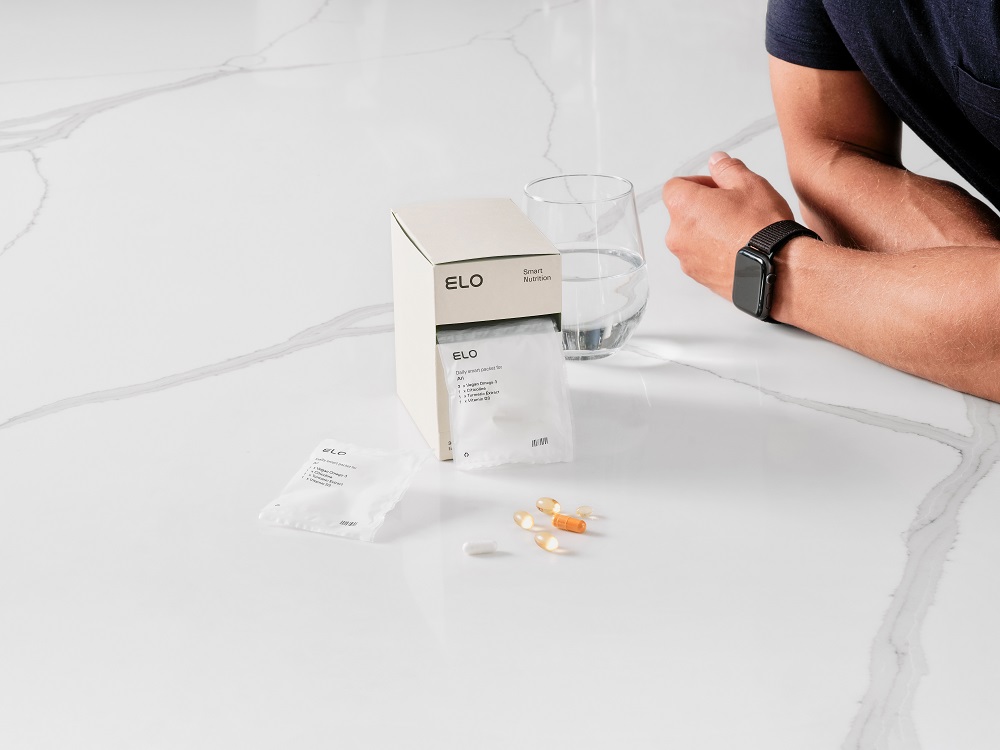 Meet the Smart Nutrition Company, which uses biomarker testing and artificial intelligence to provide a personalized approach to health
Elo Health, the Smart Nutrition company, has raised $5 million in seed funding from over 100 founders, CEOs, and technology operators. The company is on a mission to use biomarker testing and AI to make the best recommendations for optimal health.
Elo's data shows that 9 out of 10 members begin its supplement program with biomarkers that are out of range, the most common being low vitamin D and HDL – and the company wants to rewrite the one-size-fits-all approach common in the health and wellness industry.
The nutrition-focused company's first offering is a monthly smart supplement membership that is tailored to each member's needs and goals. Elo uses at-home blood testing with a simple finger prick, activity metrics, and AI to analyze biomarkers and health data to recommend specific supplements instead of questionnaire-based supplements. The customized supplements are then delivered on a monthly basis.
Members will have their blood screened for 12 nutrient-related biomarkers including cholesterol, hemoglobin A1c, ferritin, vitamin D, B-12 and will then receive custom nutrition and lifestyle recommendations. The goal is to improve energy, focus, mood, digestion, aging, immunity, and sleep for Elo users.
"The idea for Elo was born out of personal tragedy and triumph. After watching my wife suffer through undiagnosed challenges for many years, followed by a decade of experience as the CEO of both BetterDoctor and Quest Analytics, I have a unique vantage point of our current healthcare system," said Ari Tulla, co-founder & CEO of Elo. "I've spoken with hundreds of doctors, healthcare leaders, and policymakers, and concluded that the only way to correct the current health trajectory is to transform food from the root cause of disease to our best medicine."
Elo's algorithm will also make use of wearable data.
"In addition to our biomarker testing and health coaching, we saw an opportunity to give members even more precise nutrition recommendations by securely connecting their wearables, home health monitoring devices, and favorite health apps to Elo through Apple Health. Many start with Apple Watch for activity data and calories, Ōura Ring for sleep data, or a smart scale for weight. These data integrations help Elo's A.I. make more accurate decisions and show progress over time," Tulla tells Athletech News.
An Elo membership costs $99 per month and includes at-home biomarker testing, a comprehensive nutrition assessment, personalized supplements, a dedicated nutritionist, and ongoing support through the Elo app. According to the company, 95 percent of Elo members saw positive biomarker improvement within 6 months of participating in its year-long beta program.
Elo, founded in 2020, is the vision of veteran health and technology executives who see the value in using wearable technology to collect health data. Tulla elaborated on the potential and future of wearables:
"Two of Elo's founders, myself and Tapio Tolvanen, met at Nokia when the first smartphones and activity trackers were invented. Our third founder Miklu Silvanto spent a decade on the Apple design team working on many of the products we all love. For this reason, we have a pretty unique lens on the evolution of mobile devices and health tracking. In our view, the world is fast-moving towards a direction where more and more data can be measured ambiently without the need for breaking skin," Tulla tells us.
"What does this mean in practice? In the next decade, most of us will be tracking glucose, blood levels, and hormones in real-time via smart watches, rings, and patches. This next generation of consumer wearable devices will collect thousands of health data points from our body each second—similarly as Tesla is collecting data from the car while (self) driving. We're developing Elo and our A.I. to be able to thrive in this new world. Our aim is to use that data to answer the key nutrition question: what should I eat now?" Tulla says.
Elo investors include Will Ventures, Petteri Lahtela, Founder of Oura, Robin Thurston, CEO of Outside, Ilkka Paananen, Founder of Supercell, David Helgason, Founder of Unity, Jeremy Bloom, former Olympic skier and CEO of Integrate, Ed Baker, board member at Whoop, and Alex Biega, player on the Toronto Maple Leafs.
Elo says it will use the funding to scale operations, marketing, and product development.
Courtney Rehfeldt
Courtney Rehfeldt has worked in the broadcasting media industry since 2007 and has freelanced since 2012. Her work has been featured in Age of Awareness, Times Beacon Record, The New York Times, and she has an upcoming piece in Slate. She studied yoga & meditation under Beryl Bender Birch at The Hard & The Soft Yoga Institute. She enjoys hiking, being outdoors, and is an avid reader. Courtney has a BA in Media & Communications studies.