Velocity-based Training Coaching Solution PUSH Acquired by WHOOP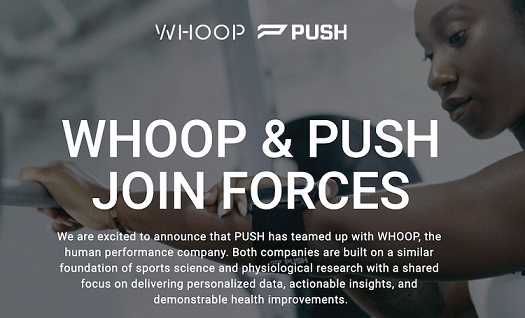 Candace Cordelia Smith
Candace Cordelia is a Pennsylvania-based journalist and on-camera broadcaster/host, with…
Wearable fitness company WHOOP and sensory technology company PUSH have teamed up to give athletes and strength trainers a boost. Both wearable technology corporations have been dedicated to providing a sports science approach to training with the help of wearable devices and apps for personalized data tracking. 
The digital fitness world just got even more competitive. Wearable fitness company WHOOP has acquired PUSH, a velocity-based training coaching solution startup based in Toronto, Canada. The exciting news was announced in early September as WHOOP Founder and CEO Will Ahmed made an official statement via the company's website.
Ahmed stated, "Many of the members and organizations we serve have long asked for additional insight into the physiological impact of weightlifting and functional fitness. The integration of PUSH's industry-leading strength-training technology into our platform will allow WHOOP to provide even deeper insight into how these activities impact the human body."
The velocity-based training coaching company's founder and chief product officer Rami Alhamad added, "Our team has been dedicated to creating cutting-edge technology solutions to help athletes at all levels reach their goals and push human performance forward. We are thrilled to join WHOOP and offer our customers a more complete picture of their training."
PUSH gives users the ability to use sensory technology, while weightlifting in real-time, in order to track one's performance via speed, acceleration, force, and power. Like WHOOP, the velocity-based training coaching firm has become a leader in the digital fitness space, earning an enviable reputation for working "with over 20,000 Pro & Olympic level athletes." PUSH's platform is available for coaches, trainers, and athletes from a variety of sports backgrounds from the professional to amateur and recovery levels.

WHOOP, based in Boston, Massachusetts, is best known for supplying 24/7 personalized coaching for clients through the use of wearable tech devices (Whoop 4.0 and Whoop Body) and Whoop 4.0 app. The company prides itself on also providing ways for customers to monitor sleep performance, recovery, and strain measurements. Since its establishment in 2012, WHOOP has raised more than $200 million in venture capital funds and became the official wearable of Crossfit, the NFLPA, the PGA Tour and the LPGA Tour.
Candace Cordelia Smith
Candace Cordelia is a Pennsylvania-based journalist and on-camera broadcaster/host, with a reporting background in wrestling, entertainment, and lifestyle. Her reporting work has been featured on websites and in publications such as Bustle, Pro Wrestling Illustrated, New York Daily News, am New York, ABC News, Yahoo!, Good Morning America, Madame Noire, Sister 2 Sister, etonline.com, Diva Dirt and The Everyday Fan. Her favorite workout influencers include Chloe Ting, Cassey Ho, Pamela Reif and Mary Braun. She still can't stand burpees and Rebbl Dark Chocolate Immunity Elixir is one of her favorite post-workout protein sips. You can follow Candace on Twitter @CandaceCordelia and on Instagram @thatgirlcandace16.