Studio Spotlight: DOGPOUND Gym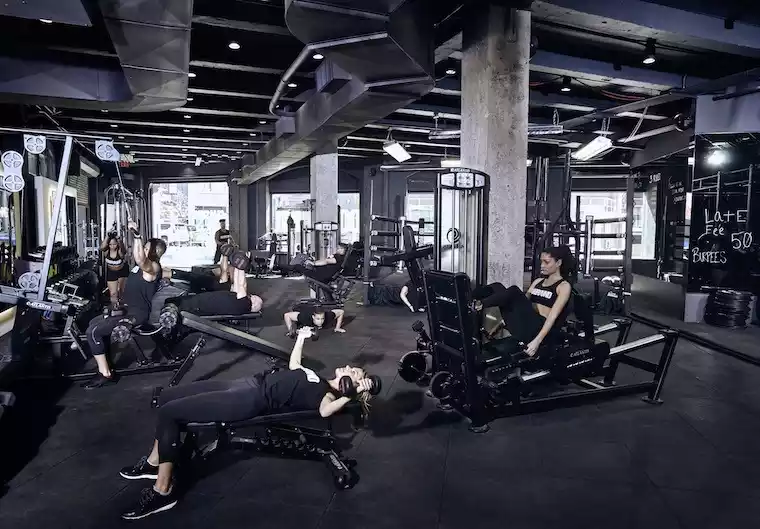 One of the hottest gyms right now, popular with celebrities and influencers, DOGPOUND is a no-frills, challenging workout with a welcoming culture
Walking into DOGPOUND for the first time, it's easy to feel intimidated. With black walls and floors and a giant boxing ring in the center of the room, DOGPOUND feels like a true old school gym. Frequented by celebrities like Hugh Jackman, Ashley Graham, and numerous Victoria's Secret models, DOGPOUND has locations in Soho in New York City and West Hollywood in Los Angeles.
After a few minutes in the gym, though, DOGPOUND is anything but intimidating. "Welcome to DOGPOUND!" greeted me at every turn in the Soho location. The place wasn't too crowded—instead, the few training sessions going on made the workout feel more purposeful and personal. Throwback rap and hip hop creates an energizing ambiance. It's clearly an open-concept gym, which works well for people who have evolving fitness goals.
DOGPOUND trainers, known for their ability to handle clients' diverse goals and body types, focus on simple and effective—and it shows. Although the gym's machines and equipment feel down-to-earth, trainers demand proper technique and form from every rep. With the rise of connected fitness, where virtual trainers are not able to correct form, it's a welcome change to focus on effectiveness and injury-prevention.
My trainer, Maurice Whyte, started off the session by asking about my general workout routine, and tailored his training to my response. He spoke most about keeping the workout simple but challenging. Throughout the workout, he continued to tailor his feedback to my general health and wellness and to my routine outside of DOGPOUND. We went through a full body workout together, and he was careful to ask about any modifications needed for injuries or discomfort.
The celebrity following of the gym is no secret, but it did not feel exclusive. Trainers and clients seemed to have genuine, effortless connections. The music created a casual, fun, but motivating environment. The workout also did not feel overly prescribed—Whyte provided suggestions and changes throughout the workout, tailored to my strengths and weaknesses. Although the workout did not feel exceptionally complicated, I was sore for days, which was a testament to the effective and purposeful nature of each part of the circuit.
DOGPOUND offers 1-1 training and group classes, with everything from Strength and Conditioning, HIIT, Boxing, and Pilates classes. In addition to the NYC and Los Angeles locations, there is a new space at the W Hotel South Beach in Miami for an exclusive residency, open to anyone. DOGPOUND also has virtual training, and offers that to clients separately as well as through lululemon studio (formerly called the Mirror).
Session prices begin at $200, purchased in minimum packages of 3 sessions. The gym also has a membership program that offers clients 3 tiers to choose from. DOGPOUND partners with other luxury brands in the wellness and fitness space, like Remedy Place, Spring Place, and Boxraw.
DOGPOUND, which got its name when many of its original clients, like Jackman, brought their dogs along when they worked out there, was founded by Kirk Myers in 2015, and has had a huge impact on the fitness industry in the last eight years. From its hospitality pop-ups, brand apparel, and new supplements line dubbed THIRST TRAP to its increased online presence within the metaverse and NFT retail spaces, DOGPOUND is a callback to a no-frills gym with an innovative twist. The brand has plans to expand domestically in 2023, and will continue to launch new programming, collaborations, and brand extensions.