Club Northwest & BeaverFit Team to Build Largest Open-Air Covered Outdoor Fitness Space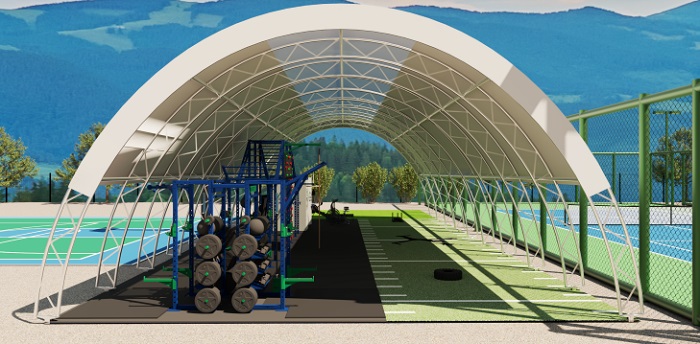 Outdoor Fitness isn't a passing fad, says BeaverFit, and the new training space in Grants Pass, Oregon will include a 12-foot climbing wall
Club Northwest and BeaverFit have teamed up to create the largest known open-air, covered outdoor fitness space for a commercial fitness facility.
Club Northwest chose BeaverFit, an outdoor fitness equipment and facilities and the creator of the original container gym, to assist them in constructing the dedicated fitness area. The designated fitness zone will include a 70'x36′ BeaverFit SUNPRO shelter with 2500 square feet of covered outdoor training area.
A 12-foot climbing wall and BeaverFit Shred Shed will also be included for equipment storage. The training space will be located in Grants Pass, Oregon and is expected to open before the end of the year.
"With our beautiful backyard nestled in the scenery of the Rogue Valley, it made for a perfect setting for our members to continue their wellbeing journey. So we went to work creating the best outdoor covered solution we could with what we had," said Jesse Sallas, Director of People & Programming at Club Northwest.
During the pandemic, Club Northwest got creative, establishing a makeshift outdoor space known as "The Yard" to ensure that fitness enthusiasts could enjoy classes and training. The Yard became so popular among Club Northwest's members that the club began to consider creating a permanent outdoor fitness space.
"For 25 years, Club Northwest has broken the mold," said Jeff Keller, President, Club Northwest. "Who would ever think that a community of 38,000 would be a top 100 club in the country. Now, we break new ground again with the largest commercial application to date with BeaverFit. Our members have expressed their desire for an outdoors workout facility and our partnership with BeaverFit once again breaks the mold. For us, BeaverFit was the only choice. Their DNA is very similar to ours in terms of quality and valuing partnerships, and we're excited for this project to come to life."
BeaverFit's shelter solutions, which are installed at military locations, and specialized outdoor equipment impressed Club Northwest, who found BeaverFit to be a great match for its outdoor fitness endeavors.
"We're beyond excited to have the opportunity to collaborate with the Club NW team and help them bring this state of the art outdoor fitness space to life," Nick Vay, VP of Commercial Sales, tells Athletech News. "They've been a fantastic team to work with, and it's been a lot of fun to partner with them as they continue to push the limits for their members and their community to make fitness and wellness accessible for everyone. They've truly built an amazing team and culture within their club, and this new space will continue to set them apart."
According to BeaverFit, outdoor fitness has exploded in popularity and is now a global movement rather than a passing fad. COVID accelerated demand, with a 5x-6x increase in sales during the first year of the pandemic, aided by BeaverFit's expertise and commitment to the outdoor space, as well as its dedication to training active military members.
"It's exciting to continue to see the industry ramp back up, after what has been an extremely challenging two plus years. Here at BeaverFit, we continue to work with moreclubs, studios, colleges/schools and trainers, who are really embracing the benefits of creating outdoor and mobile fitness environments," Vay said. "They recognize that these types of permanent, thoughtful and relatively economical spaces are both something their members/students/clients are asking for, and will allow them to stay ahead of other competitors to differentiate themselves in their respective markets."
Earlier this year, BeaverFit acquired the exclusive manufacturing rights for Rumble, a boutique fitness boxing brand under Xponential Fitness.
Courtney Rehfeldt
Courtney Rehfeldt has worked in the broadcasting media industry since 2007 and has freelanced since 2012. Her work has been featured in Age of Awareness, Times Beacon Record, The New York Times, and she has an upcoming piece in Slate. She studied yoga & meditation under Beryl Bender Birch at The Hard & The Soft Yoga Institute. She enjoys hiking, being outdoors, and is an avid reader. Courtney has a BA in Media & Communications studies.