Athletech Product of the Week: Apple Watch Ultra Review — It Just Might Replace Your iPhone
Apple Watch Ultra might be the biggest and best wearable, whether you're tackling Mount Kilimanjaro or tackling your long list of to-dos
Apple Watch Ultra is true to its name. It's the wearable that's best-equipped to be a standalone device, with a bigger battery, more durable casing, and included cellular. Athletech tested the Apple Watch Ultra for several months, and here are our biggest takeaways.
Apple Watch Ultra Review: The Pros
It's the biggest and brightest Apple Watch display ever, with an Always-On Retina display that provides more room for workout metrics and watch face details. At 49mm (almost 2 inches) and 61.3 grams (a little over 2 ounces), it is large, but does not feel as large as it appears, likely in part due to its flat face and well-designed curves.
For athletes, one of the best simple updates is the Action button, which quickly allows you to access pre-programmed favorites like starting a workout, marking a Compass Waypoint, or transitioning between triathlon legs. Ultra's GPS is unparalleled: while other versions of the Apple Watch have had some variability measuring route distances, Ultra is remarkably accurate.
In December, watchOS 9.2 also brought about two big updates, Automatic Track Detection and Race Route. Automatic Track Detection recognizes when users arrive at any standard 400m outdoor track, and uses Apple Maps data and GPS to provide the most accurate distance, pace, and route map. Race Routes allow users to "race" themselves on their favorite routes. Users can see how many seconds ahead or behind they are compared to a previous performance.
For daily life, a second speaker improves audio volume, making it way easier to make calls and use Siri. The watch is also compatible with 44mm and 45mm Apple Watch bands, allowing existing users to seamlessly upgrade.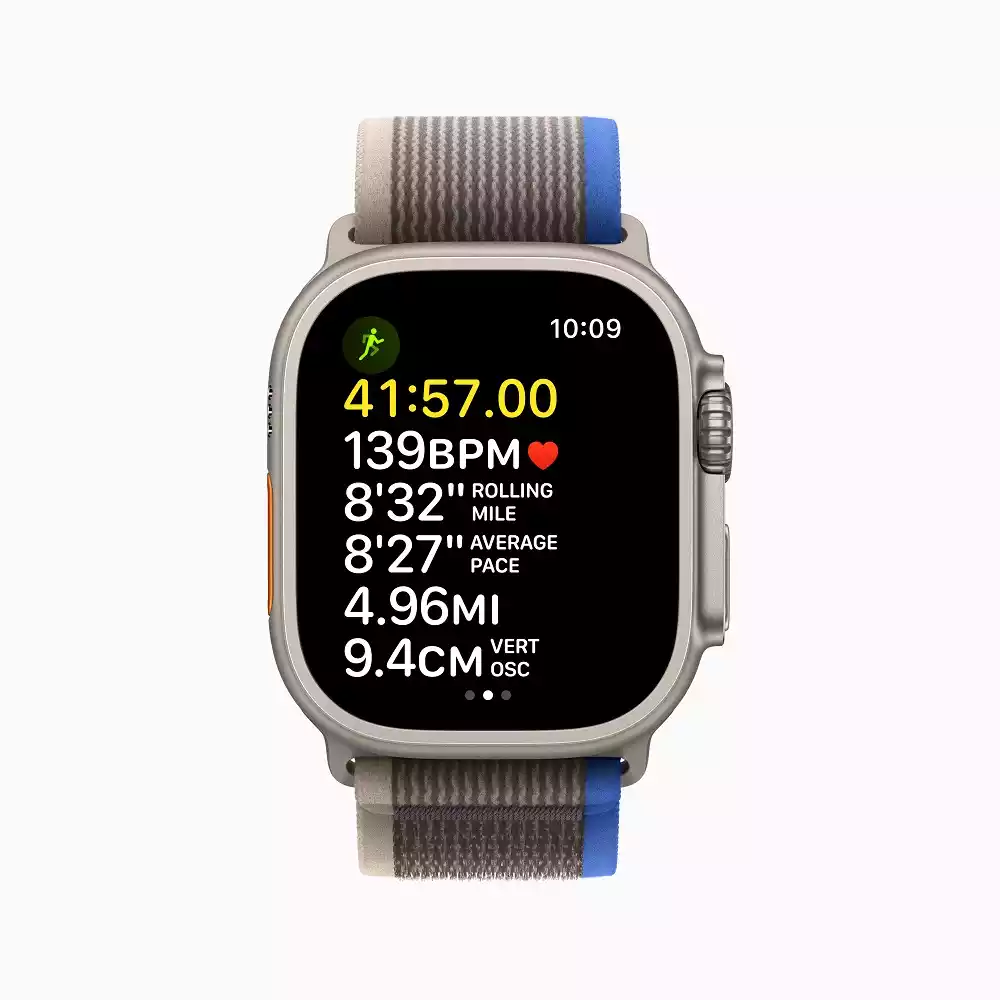 For adventurers, Ultra can emit an 86-decibel sound pattern to attract help that can be heard from 600 feet or 180 meters away, allowing hikers to breathe a sigh of relief on more remote trails. The Backtracking feature uses GPS to create a visual path of one's trail for retracing steps. Even in remote settings, where there is little to no Wi-Fi or cellular service, this feature will automatically turn on and run in the background to prevent one from getting lost. The side button (which has been raised and ruggedized for easy use with gloves) can also be used to make emergency calls or retrieve your medical ID. It is water resistant to 330 feet (far deeper than where most recreational divers should be) and its face is extremely difficult to scratch or ding, even with extreme use. Low Power Mode also gives Ultra up to 17 hours of battery life in a Multisport workout with full GPS and heart rate.
Apple Watch Ultra Review: The Cons
For those with petite wrists, the watch is a lot larger than the other versions of the Apple Watch. Although it feels very heavy at first, it sits well on your wrist, and you eventually get used to the size.
Another obvious con is the large price difference between the Ultra and other wearables: at almost $800, it is twice as expensive as most other Apple watch styles and one of the pricier offerings on the market.
Although the Action button is generally very useful if you are a creature of habit who wants to quickly access your favorite feature, it is less useful for the more variety-inclined users. However, the button can be easily disabled.
Overall
For those looking to reduce their phone use in the new year, the Ultra just might be the perfect wearable. Because it is such a standalone device—you can easily and efficiently do much of what you would on an iPhone—it helps you stay focused on your other goals. If your other goals are fitness related, Ultra will help you stay on track, on target and, perhaps most important of all, safe.