Apple Unveils Vision Pro Headset. Here's What It Could Mean for Fitness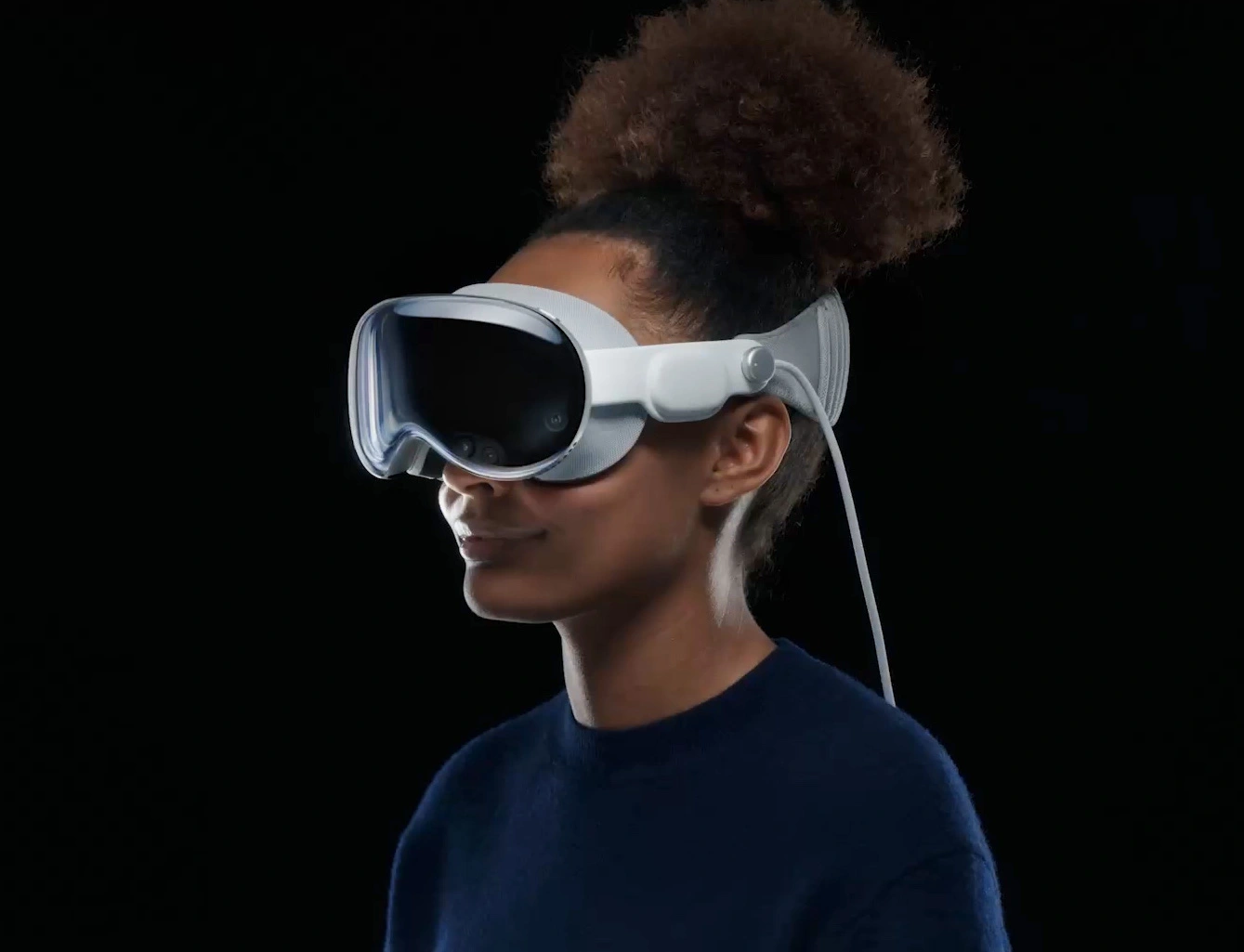 credit: Apple
Many anticipate that Apple will use its new mixed-reality headset to enhance its fitness offerings, including Fitness+ and the Apple Watch
Apple unveiled its first augmented reality (AR) headset, the Vision Pro, along with several other product upgrades, at its Worldwide Developers Conference on Monday.
Vision Pro is Apple's first entry into a new product category since the launch of the Apple Watch almost a decade ago. The introduction of Apple's mixed-reality headset is expected to have a significant impact on the fitness industry, an area in which the tech giant has already begun to make inroads.
Vision Pro
The Vision Pro AR headset was the centerpiece of Apple's announcements. Priced at $3,499, it will be available for purchase early next year. The headset is reminiscent of high-end ski goggles and combines virtual reality (VR) and AR features.
Users can see digital content overlaid on their surroundings and project apps onto the space around them. Using eye movement, hand gestures and voice commands, users can interact with the digital content The Vision Pro features 12 cameras and a digital crown similar to the Apple Watch, enabling users to toggle between AR and VR environments.
Fitness opportunities abound
With the increasing popularity of VR fitness, many anticipate that Apple will use its new Vision Pro headset to enhance its fitness offerings, including Fitness+ and the Apple Watch.
Apple has already made investments in meditation offerings on Fitness+ by launching sleep meditations, aiming to provide a relaxing experience for users. By incorporating visualization graphics into the mixed-reality headset, Apple can create more immersive and impactful fitness experiences.
The mixed-reality headset also holds the potential for enhancing kickboxing workouts on Fitness+, offering a more exciting and engaging experience.
The headset's pass-through technology could also improve the safety and engagement of weightlifting exercises, possibly with the assistance of an AI-powered virtual trainer guiding users on proper form and technique. This AI-powered virtual trainer could take on the role of a comprehensive "personal trainer" by providing exercise suggestions, diet recommendations, hormone management advice and sleep insights, leveraging data from the iPhone and Apple Watch.
The integration of Vision Pro with the Apple Watch could also revolutionize outdoor fitness. Many individuals find running or hiking monotonous, but the mixed-reality headset's AR capabilities, combined with the tracking features of the Apple Watch, could make these activities more interactive and engaging, keeping users motivated and entertained while monitoring their progress.
Health and Fitness+ updates
Apple also unveiled new health features in iOS 17, iPadOS 17, and watchOS 10. These innovative tools and experiences span across iPhone, iPad and Apple Watch and focus on mental health and vision health. 
The new mental health features allow users to log their momentary emotions and daily moods. Users can also access assessments and resources easily, aiding in the understanding and management of their mental health. The Health app, now available on iPad, offers users new ways to visualize their health data, providing a comprehensive overview of their well-being.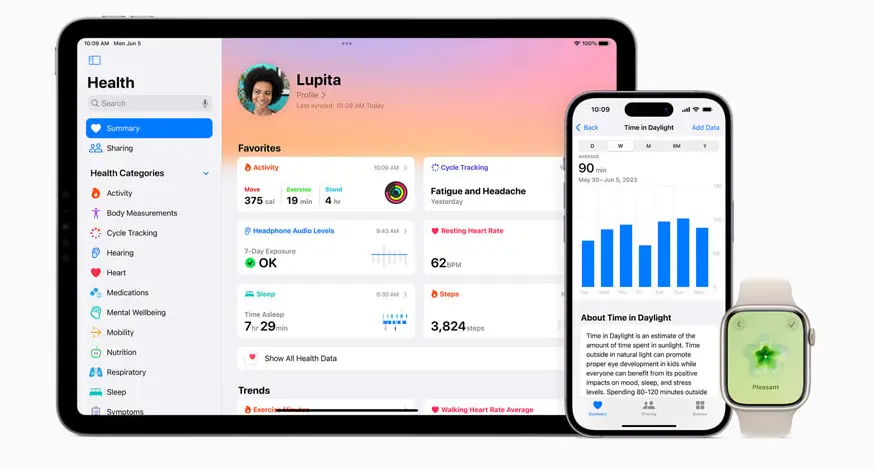 Through the Health app and the Mindfulness app on Apple Watch, users can engage with an intuitive interface that allows them to reflect on their state of mind and track their emotional experiences over time. These insights provide valuable information for managing one's mental health and can facilitate informed conversations with healthcare professionals.
The vision health features introduced by Apple focus on reducing the risk of myopia, which is a leading cause of vision impairment globally. To mitigate this issue, eye care providers recommend spending more time outdoors in daylight and maintaining an appropriate distance while viewing devices or books. The Health app, in conjunction with Apple Watch, enables users to track the time spent in daylight, aiding in reducing the risk of myopia in children.
Apple also emphasized privacy as a fundamental aspect of its health features. All health and fitness data in the Health app is encrypted on-device when locked, and data synced to iCloud is encrypted in transit and on Apple servers. Users have complete control over their data and can choose which types of information to share and with whom.
Alongside these health advancements, Apple Fitness+ introduced Custom Plans, Stacks and Audio Focus, offering users tailored workout and meditation schedules, seamless transitions between workouts and the ability to prioritize music or trainers' voices during workouts.