Tonal Teams Up with Serena Williams & Books Super Bowl Ad Featuring Tennis Icon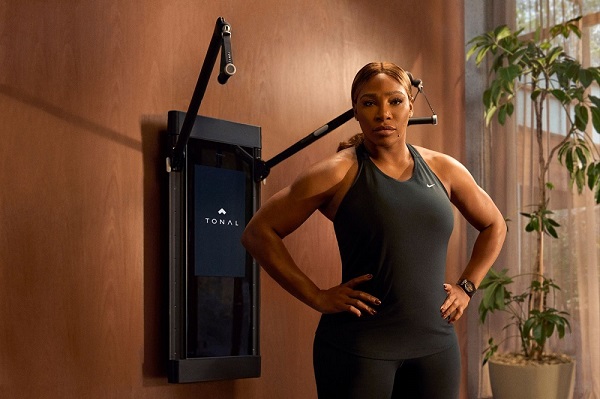 The company announced a new campaign featuring Serena Williams, investor & brand ambassador
Smart home gym Tonal announced it has teamed up with tennis champ Serena Williams as its latest brand ambassador. Williams has been a long-time investor in Tonal and will be the face of Tonal's new campaign, Strength Made Me.
The connected fitness company has also scheduled an ad featuring Williams during Sunday's Super Bowl game. The athletic icon opens the Tonal ad with a firm message: "Never be afraid of your strength." The spot can be previewed ahead of the game here.
"When we speak to women, there are a number of barriers and misconceptions around strength training that consistently come up; we wanted this campaign to instead shed light on the many benefits strength training offers on overall wellbeing and there was no one better to represent that than Serena and her own journey of strength," said Gina Hardy, SVP of Marketing at Tonal. "Serena has defied conventional standards of strength throughout her entire career, and it's been incredibly rewarding to work with her on a campaign that hones in on the many facets of strength through the lens of remarkable women."
Tonal achieved unicorn status last year with its fitness technology and personalized approach to strength training.
Tonal says the new Strength Made Me campaign celebrates women who are physically, mentally, and emotionally strong. Along with Serena Williams, Tonal will celebrate para snowboarder Brenna Huckaby, soccer player Lindsey Horan, and swimmer Simone Manuel. Tonal says it will feature digital extensions in near future.
"The way I train is always changing, but strength training has been fundamental to my performance, and that's why I love the Tonal so much. It's a different way to train that challenges me and has made me a lot stronger," says Serena Williams. "In the beginning of my career, I didn't embrace strength — I had it, I looked it, I felt it, but I didn't embrace it. Once I did, I realized that there is something so beautiful about being strong, and I'm proud to be a part of this Tonal campaign that celebrates that."
Williams, who has won 23 Grand Slam singles titles, continued the discussion regarding embracing her strength on Tonal's blog.
"With Serena being one of our earliest athlete investors, it's been a pleasure to work with her on extending the relationship to Tonal brand ambassador," said Nancy Gold, Director of Sports Marketing & Brand Partnerships at Tonal. "In sport, business and life, Serena has continued to exemplify a woman's multifaceted strength, so growing our partnership with her was an obvious decision. And when we surveyed Tonal members, the top athlete they wanted to see us partner with was Serena. Bringing this campaign to life is the beginning of a long-term partnership and we look forward to our continued collaboration with her."
Tonal boasts over 30 athlete investors and brand ambassadors that include LeBron James, Stephen Curry, Klay Thompson, Tony Gonzalez, Drew Brees, Maria Sharapova, Michelle Wie, Paul George, Sue Bird, Larry Fitzgerald, and Bobby Wagner.
Courtney Rehfeldt
Courtney Rehfeldt has worked in the broadcasting media industry since 2007 and has freelanced since 2012. Her work has been featured in Age of Awareness, Times Beacon Record, The New York Times, and she has an upcoming piece in Slate. She studied yoga & meditation under Beryl Bender Birch at The Hard & The Soft Yoga Institute. She enjoys hiking, being outdoors, and is an avid reader. Courtney has a BA in Media & Communications studies.