Streaming Technology Wars: Judge says Peloton & iFit Infringed on Dish Network Patents, Bans Imports of Fitness Devices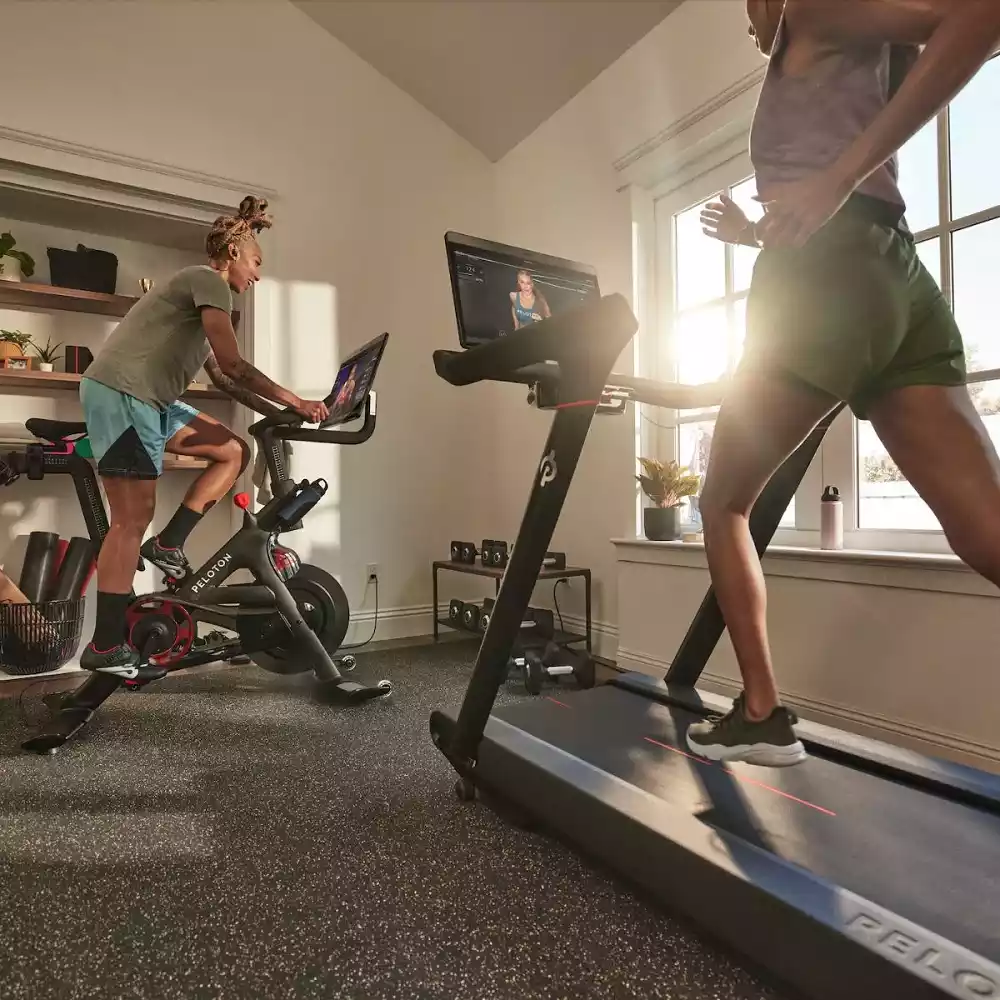 The Biden administration has 60 days to review the import ban before it goes into effect
The U.S. International Trade Commission (ITC) has moved to ban imports of video-streaming fitness devices made by Peloton and iFit after a judge determined they infringed on Dish Network's patents.
The news of Peloton and iFit's import ban was first reported by Reuters.
The import ban is a result of an ongoing feud between Dish Network and a variety of connected fitness companies, namely Peloton and iFit.
The ban finds Peloton and iFIT now on the same side of the aisle, after having their own legal dust-up in 2021.
A recap of what led to the import ban
In 2021, Dish Network sued Peloton, Icon Health & Fitness, and Lululemon for patent infringement relating to technology that improves the streaming quality of content over the internet.
In addition to Dish Network's 2021 lawsuit, the satellite TV provider also requested that the ITC block imports from the three fitness companies until the suit was settled.
In its complaint, Dish Network and Sling TV alleged that the connected fitness companies infringed on four of its video-streaming technology patents, which relate to Dish Network's Hopper set-top boxes.
According to Dish, its patents cover adaptive bitrate streaming technology, which allows users to stream content in real time at the highest quality possible. The complaint referenced Peloton's bikes and treadmills and iFit's NordicTrack bicycles and ellipticals.
A judge agreed in September 2022 that the companies did infringe on four of Dish Network's patents. The ITC then said it would review the judge's findings and determine whether an import ban would affect consumers who already own the fitness equipment.
Now an import restriction and cease-and-desist has been enacted by the ITC against Peloton and iFit after a trade judge agreed that both companies violated Dish Network's streaming patents.
According to Pelobuddy, the issued cease and desist reads as follows:
IT IS HEREBY ORDERED THAT RESPONDENT Peloton Interactive, Inc. of New York, New York cease and desist from conducting any of the following activities in the United States: importing, selling, offering for sale, marketing, advertising, distributing, transferring (except for exportation), soliciting United States agents or distributors, and aiding or abetting other entities in the importation, sale for importation, sale after importation, transfer (except for exportation), or distribution of certain fitness devices, streaming components thereof (as defined in Definition (G) below) that infringe one or more of claims 16, 17, and 20 of U.S. Patent No. 10,469,554 ("the '554 patent"); claims 10, 11, 14, and 15 of U.S. Patent No. 10,469,555 ("the '555 patent"); and claims 1, 2, and 4 of U.S. Patent No. 10,757,156 ("the '156 patent") ("Asserted Patents") in violation of section 337 of the Tariff Act of 1930, as amended (19 U.S.C. § 1337).
Here's what's next
The Biden administration has 60 days to review the import ban before it goes into effect.
Peloton and iFit can then file an appeal after the review period, which can buy both fitness companies time.
Peloton responds, iFit remains mum
By all accounts, Peloton appears to be taking the news in stride.
A spokesperson for Peloton told Retuters that the connected fitness company is disappointed with the decision and believes it does not infringe on the patents but that the ruling will not disrupt service for its users. An import ban won't prevent Peloton from developing new classes, either, and only applies to imports into the U.S.
Additionally, the connected fitness company stated that it is simple to avoid selling equipment that employs the prohibited technology.
"There will be no impact on our members, current or future. We've already updated software on newly manufactured (products) and we'll be deploying new streaming technology on existing (products)," Ben Boyd, Peloton's senior vice president of global communications, told The Verge.
Peloton has a significant amount of inventory in the U. S., as mentioned on recent earnings calls, so the connected fitness company may have a cushion for quite some time as Peloton works to resolve matters.
The connected fitness company has also been steadily focused on its app, aka 'the promised land,' and has appeared to shift away from hardware in favor of software.
The connected fitness company made a significant move last year to transition to third-party manufacturing in order to simplify its supply chain and optimize its cost structure. In exiting its owned-manufacturing, Peloton said it would expand its relationship with Rexon Industrial Corp, who would become the primary manufacturer of Peloton's Bike and Tread.
Investors respond to import ban
After the ITC issued the ban, shares of Peloton dipped 8%, which Dave Briggs of Yahoo Finance said is just another setback for Peloton CEO Barry MccCarthy. "[He's] done just about everything to evolve this company out of the pandemic low and try to battle through it. It's just a long uphill ride."
Seana Smith of Yahoo Finance was surprised by the drop, as Bernstein analysts believe that the 60-day review process is an opportunity to appeal and stated that they are confident that the connected fitness company will be able to fight the ruling or, at the very least, reach an agreement with Dish.
That could be a possibility, as Lululemon had a similar suit lodged against them from Dish, and the athleticwear company (which owns Mirror) was able to reach an agreement and settled in February.
Peloton focusing on the future of its app
Peloton recently participated in the Morgan Stanley Technology, Media & Telecom Conference, where CFO Liz Coddington reported that the connected fitness company was encouraged by the performance of its FaaS rental membership and is considering rolling it out to some international markings in the coming months.
As CEO Barry McCarthy mentioned in the Q2 earnings call, "the path to promised land is the app," Coddington confirmed that Peloton sees a significant growth opportunity with the app.
"Stepping back, if you look at the last couple of years, our app membership has hovered at around the 800,000 members to 900,000 members range, and that's been with limited promotional activity and very low brand awareness," she said, adding that subscribers give the app a great rating in terms of net promoter scores and satisfaction.
"In fact, our Peloton App has the highest NPS of all the products in our Peloton portfolio, and that's in the mid- to high 70s. So, what we're trying to do with our app experience is we want to expand the Peloton brand and make it more accessible to more and more potential members," Coddington said.
She explained that for non-Peloton members, many consider the connected fitness company simply as an at-home brand for fitness enthusiasts.
"But the reality is that we are so much more than an app. Our content is inclusive, it's accessible and it's supportive. And so, our goal is to really expand our addressable market through the app," she said.
Peloton acknowledges it has to embrace the fact that consumers will use its app on competitor hardware and may even complement an in-person fitness experience – both of which Peloton says it's fine with.
"It doesn't have to be either or. And so, we're going to focus on creating the best app experience that we can," Coddington noted.
Peloton confirmed that it will launch a new app strategy in the coming months.
Courtney Rehfeldt
Courtney Rehfeldt has worked in the broadcasting media industry since 2007 and has freelanced since 2012. Her work has been featured in Age of Awareness, Times Beacon Record, The New York Times, and she has an upcoming piece in Slate. She studied yoga & meditation under Beryl Bender Birch at The Hard & The Soft Yoga Institute. She enjoys hiking, being outdoors, and is an avid reader. Courtney has a BA in Media & Communications studies.