Peloton Sues Competitors iFit and Echelon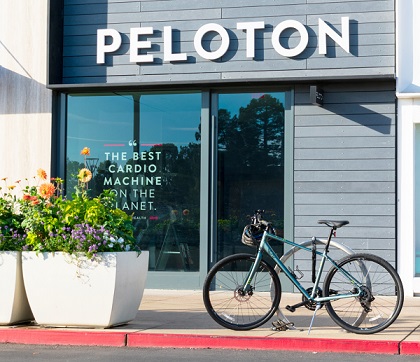 The lawsuit begs the question: Who owns the connected fitness space, anyway?
Peloton has filed lawsuits against two of its biggest competitors, claiming that the companies have violated up to four patents. With connected tech and fitness equipment merging and Peloton suing iFit and Echelon, one may wonder: who owns the connected fitness space, anyway?
Peloton alleges that iFit and Echelon have profited from its technology and is seeking cash compensation. The profiting of the tech, Peloton says, is wide-ranging and includes bikes, treadmills, rowing machines, and ellipticals. The interactive fitness company wants to block the sales of any fitness products that it says infringe on the patents. Peloton, in addition to cash, wants to halt sales until the patents have expired. The lawsuits were filed in a Delaware district court this week.
Peloton says that the competitors are using the same leaderboards and live class participation format. The company points out that iFit, in particular, didn't have a community engagement feature until Peloton. The fitness giant also finds iFit's ActivePulse and SmartAdjust features an issue, as Peloton says it uses a similar innovation on its Bike Plus.
In the filing, Peloton stated the following: "Prior to the actions giving rise to this suit, iFit Functionality never delivered live classes — i.e., classes taught by instructors and streamed to users' devices in substantially real time — or offered its members the ability to participate in competitive classes via a leaderboard. Instead, iFit Functionality only allowed subscribers to follow along with pre-recorded exercise classes on their machines, without any sort of community engagement."
Peloton is no stranger to lawsuits. iFit first sued the company in 2016 for patent infringement. After the case was settled in 2017, Peloton moved to sue iFit. The competitors have long been at odds, with Forbes reporting that Scott Watterson, iFit's CEO, had waged a war to bring down Peloton.
iFit has proven to be a strong contender. This summer, iFit announced it had acquired Sweat, a leading platform for women's health and fitness. The acquisition would help expand the Peloton competitor in the global digital fitness market.
In addition to iFit, Peloton has set its sights on Echelon. Peloton says that prior to the release of its Tread, treadmills didn't offer leaderboards. Peloton alleges that Echelon has created a copycat leaderboard and infringes on its "control station," which relates to a patent Peloton just received. Echelon had closed out 2020 with investments led by Goldman Sachs Growth, and was noted as having a broad range of products at various prices.
Since its inception, Peloton has had a growing list of competitors, many at a lower price point, which has attracted some consumers who wanted a modern stationary bike on a budget. When it comes to the fitness industry, connected tech has led to a brewing war among big names, all vying to offer the best bells and whistles for consumers. Companies like Mirror, Hydrow, and Tonal, are all harnessing the power of tech in its equipment. Some companies say that its future products will become more immersive and gamified. With tech-driven advancements becoming more commonplace in all facets of life, will Peloton be able to claim the fitness tech space?
Peloton's growth exploded during the pandemic but has faced numerous challenges in the last month. The interactive fitness company cited declining sales and shipping delays, and stocks fell 25% earlier this month. The company just enacted a hiring freeze and has announced offering a discounted stock sale to gain capital. The stock sell-off has removed CEO John Foley from the billionaire's list.
Courtney Rehfeldt
Courtney Rehfeldt has worked in the broadcasting media industry since 2007 and has freelanced since 2012. Her work has been featured in Age of Awareness, Times Beacon Record, The New York Times, and she has an upcoming piece in Slate. She studied yoga & meditation under Beryl Bender Birch at The Hard & The Soft Yoga Institute. She enjoys hiking, being outdoors, and is an avid reader. Courtney has a BA in Media & Communications studies.