Lululemon Shares Reflect Mirror's Sluggish Outlook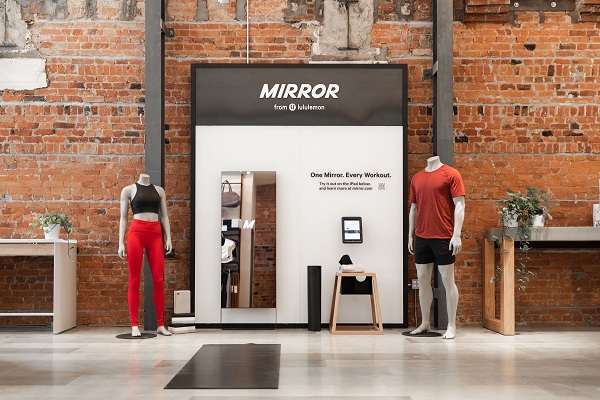 Lululemon took a dip after the company lowered its sales expectations for Mirror
Lululemon, the athletic apparel brand that put yoga pants on the map, has reported positive fiscal third-quarter earnings and sales but revealed it's lowering its sales expectations for Mirror, Lululemon's at-home fitness device. Lululemon's CEO, Calvin McDonald, shared that Mirror represents less than 3% of the company's revenue this year. Despite early holiday season performance, news of Mirror's sluggish outlook led shares of Lululemon to dip.
In a recent earnings call, CEO McDonald noted that he was pleased with Lululemon's strong shares momentum in the third quarter and said it indicates the continued growth potential for the company. McDonald reported that while Lululemon's leaders successfully implemented a growth plan during chronic supply chain challenges, 2021 was a difficult year for digital fitness, and it impacted Mirror.
Lululemon lowered its revenue guidance for Mirror for the year to $125-130 million, according to its CEO. The company says this is an appropriate move, citing the seasonality of the business, but stressed that slow and steady wins the race.
"We are still early in creating our vision of a loyalty community that captures the best of Lululemon. This is not a sprint for us, and we will maintain a steady pace forward that realizes our vision," McDonald said.
Lululemon plans to build and extend the community through Mirror but acknowledges the increasing pressures on customer acquisition costs in the industry.
"One of the unique advantages we bring to the space is the many ways we can build brand awareness for Mirror. As we unlock these synergies, we see a clear path to engage with the more than 10 million Lululemon guests who live the sweat life. We will not chase growth at any cost. We simply don't need to, but we will invest to define our unique proposition and to bring Mirror to market through our owned marketing channels," McDonald said on the earnings call.
Lululemon says Mirror's recent launch in Canada and connected weights were "off to a great start," allowing the company to stand out in a crowded market. Mirror's smart weights were strategically launched before the holidays and were the latest addition to the product line-up since the interactive fitness mirror. 
The company noted that supply chain issues may follow into the new year and Meghan Frank, CFO, said that consumers may have started holiday shopping earlier this year due to the supply chain issues. Frank went on to say that Lululemon is continuing to account for variables like Coronavirus variants and will plan for "multiple scenarios."
Mirror recently extended its Cyber Monday sale, offering the fitness device for $500 off. Last year, Lululemon acquired Mirror for $500 million and integrated the fitness device into some Lululemon retail stores. The acquisition of Mirror allowed the apparel line to venture into the at-home fitness boom during COVID, when the fitness industry experienced a surge in equipment and athleisure demand.
Earlier this fall, Brynn Putnam, who founded Mirror in 2016, stepped down as CEO. Reports emerged from current and former Mirror and Lululemon employees that the companies were struggling to blend, leading to tension.
The apparel company is currently engaged in an IP battle with Peloton, who first waged a preemptive attack and sued Lululemon Athletica. The interactive fitness company received a cease-and-desist letter from Lululemon, alleging patent infringement. The apparel maker threatened to sue if Peloton didn't stop selling certain apparel items, and seeing its cease-and-desist letters ignored, decided to file a lawsuit. Lululemon alleges that Peloton infringed on six of its patented designs and says its competitor didn't put forth the effort to create an original line of its own. The patent infringement lawsuit includes some of Lululemon's sports bras.
Courtney Rehfeldt
Courtney Rehfeldt has worked in the broadcasting media industry since 2007 and has freelanced since 2012. Her work has been featured in Age of Awareness, Times Beacon Record, The New York Times, and she has an upcoming piece in Slate. She studied yoga & meditation under Beryl Bender Birch at The Hard & The Soft Yoga Institute. She enjoys hiking, being outdoors, and is an avid reader. Courtney has a BA in Media & Communications studies.