CEO Corner: Founder Fiona Devaney on the MAÄT 1.0 Leggings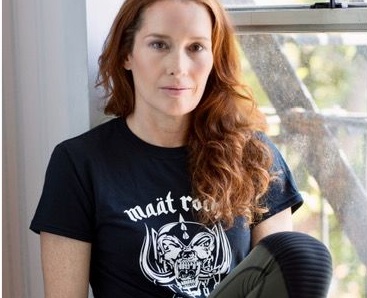 The MAÄT 1.0 Legging is a revolutionary apparel product that seamlessly integrates knee support into a fashion-forward design. Athletech News spoke with MAÄT's founder, Fiona Devaney, on what inspired her journey and advice for fellow entrepreneurs.
MAÄT is a female-founded company that sells leggings with fashion-forward knee support. The company is New York-run, and manufactures everything locally with a family business. MAÄT is also eco-conscious, with environmentally friendly packaging and shipping options. Devaney was inspired to found MAÄT after a knee injury, and spoke with Athletech News (ATN) about how the design helps athletes of all levels, interests, and sizes improve their health and wellness.
ATN: What inspired you to found the brand?
FD: I started practicing yoga when I was 16. I took my first couple of classes, and I really liked it, but I really struggled because I'm super tight and my knees hurt. When you're tight, doing yoga is like doing exercises with resistance bands. I struggled, but I loved it. I loved how I felt after, despite how hard it was. I felt so much calm and ease.
When I first started doing it, I was studying at FIT for fashion design. I stopped doing yoga when I graduated, and went to Europe and backpacked. When I came back, I was thinking about what to do and I got scouted by a modeling agency. At the time, I had an agent at some point who said I should improve my posture — maybe try yoga. So that's when I started again. And same thing, I immediately loved it. But my knees pressed into the floor, and mats were super thin back then, which I prefer, because you're more grounded.
I thought even then that somebody should make leggings with padding in the knee. But back then, I just suffered when I started going to an actual yoga center. We had blankets, but it was annoying — especially if you were going through a fast-paced class.
I googled to see if there were any leggings with knee pads, and there were smaller brands, but they tried to hide the pad, so nobody would know you were wearing it. But if you're wearing leggings, wouldn't you rather people know a bulk isn't your knee?
Then, I had a bad accident — so any time there was pressure on my knee it would swell up. So, I just kept thinking about this idea. Then, one day, I went surfing. I thought I would regret it because it was when my knee was inflamed. But nothing happened. Prior to that, any time I put pressure on it, it would swell up again. I realized maybe it's the knee pad in the suit, which had ribs on it. And I thought, maybe I could do something like that.
ATN: What was your manufacturing process to get started?
FD: It was hard. I didn't have contacts in the fashion industry. Factories have tons of people coming in with ideas and they never go anywhere. If they're just doing the samples for you, they don't really make money. They make money when you actually go into production.
For the knee pad itself, I tried several different ways to get it made. Some samples didn't have enough cushioning, and I wanted to prioritize making it thicker. We tried 3D printing, and other technologies. But I wouldn't wear some of those designs — they weren't fashion-forward enough.
But then my network introduced me to a guy who lives in New Mexico — a former North Face employee. And he said there was a guy in Minnesota who could do it for me. It took a while, but it was so easy once I found the right person.
ATN: Can you talk about your desire to have both functionality and fashion?
FD: Since the pandemic, people want to be comfortable. There is nothing more comfortable than stretchy leggings or sweatpants. People have learned that wellness and your health are just so important. So, they are asking for products that will support and benefit their physical bodies. But maybe because of my years in the fashion industry, if a product doesn't look good, I wouldn't wear it. I think a lot of people feel the same way.
ATN: What motivates you?
FD: The MAÄT 1.0 Leggings help people feel safe and supported enough to get back to exercising, which is really important. The leggings just make exercising easier and more pleasurable for every woman. Even if you have any sensitivity in your knees, the leggings feel great and alleviate the discomfort from pressure when your knee is on the ground or mat during yoga or when exercising. If you tend to have bony knees, the leggings will help to cushion them. If you tend to be overweight, you're likely to put extra strain on your joins, and the leggings will help with that. If you're a "gung ho" type who pushes yourself, the legging can help to soften the impact. If you're timid and afraid of hurting yourself, the legging will help with that. Not being able to do things inhibits your life. For people who travel, you can do yoga in your hotel room without a mat. The leggings just keep you in touch with your exercise routine.
It's so easy to find an excuse not to exercise or get to yoga class. The MAÄT 1.0 Legging makes it easier.
ATN: Do you have any advice for other founders?
FD: I would say just put one foot in front of the other. Some days, a door gets slammed in your face. And sometimes, I think you do need to stop and pause. Some would say "keep going." But I think sometimes, you need to take a week and just not think about the product. You'll be ready again. But definitely listen to yourself — things take a long time and you just can't sit on your couch and wait for it to happen. But progress is not linear, there will be a step forward, a step back, maybe two steps back. Love the process, because there is no "there."