COO on FlexIt Fitness Brand's Beginnings, Success
Candace Cordelia Smith
Candace Cordelia is a Pennsylvania-based journalist and on-camera broadcaster/host, with…
FlexIt COO Justin Turetsky talks to Athletech News about the astronomical growth of the virtual personal training business and what it provides for consumers. FlexIt was formed in 2018 as a way for people to exercise "on their own terms.
Fitness platform FlexIt is making undeniable waves in the fitness industry for individuals who want to workout on their own terms. Formed in 2018 by Austin Cohen (founder and CEO), and launched alongside Justin Turetsky (COO), the emerging fitness platform provides "hyper á la carte access to gyms and studios." For people who lead busy lives and seek a tailored fitness experience, FlexIt appears as a valuable option. Turetsky tells Athletech News that FlexIt's operations "really started to pick up" in 2019 and beyond.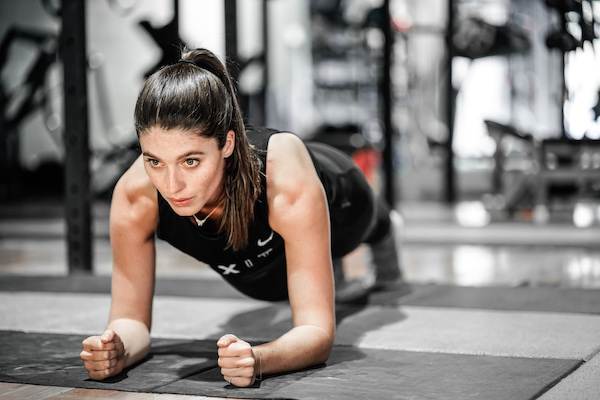 "We had an amazing New Years in January [of 2020] where a lot of people are consuming fitness…we were seeing very significant growth," he says.
Turetsky adds that business for FlexIt then "nearly doubled" from January to February, but then, by March, "all the gyms in the country closed due to COVID."
From that point on, Turetsky and Cohen focused on figuring out how to use their business acumen with FlexIt to help fitness companies and personal trainers in need amid a global health crisis. In due time, many trainers have used FlexIt while working with a variety of celebrities and professional athletes, but its core customers are busy working professionals, working parents, and people who simply want to make a lifestyle change.
Since launching, the FlexIt fitness brand has made waves with the NFL's Terrell Owens and Bart Scott who notably tried the platform and shared their experiences on social media.
"Trainers were almost completely out of work…one of our gym partners furloughed 95 percent of their [personal training] staff. That was just brutal for us to hear," says Turetsky. "So, our idea, we said, 'How about we put together a system that's going to allow your trainers to service clients using customized video conferencing technology?.' With that same gym partner, they brought back a few trainers to be able to do virtual training with us to pilot it. This is how innovation and disruption is born – out of need from both consumers and service providers. And with our determination to win motivated by our mission, we saw things pick up very quickly!"
During that time frame, Turetsky and Cohen saw enough success with their idea to go forth and build a proprietary, patent version within the FlexIt tech ecosystem which boasts features such as a timer, stopwatch and music integration, augmented screen projections of videos and objects, as well as other features "optimized for personal training" which works on mobile, tablet, desktop and when cast to a TV.
Turetsky and Cohen's humble beginnings in launching FlexIt included spending most of 2019 "traveling the country, taking meetings from coast to coast, attending conferences" to get their fitness brand in front of the right people. Their ambitious plan worked, as FlexIt has relationships with a number of well-known chain and boutique gyms such as [solidcore], Crunch Fitness, Blink Fitness and Gold's Gym.
Turetsky firmly believes that one of the keys to FlexIt's growing appeal is not only how convenient and easy it is to use, but the overall intimate experience it provides. As something that was "adapted for the pandemic," FlexIt has grown at an accelerated rate to supply virtual personal fitness training unlike Zoom or pre-recorded session.
Turetsky asserts, "Our platform makes it feel like the trainer's with you. It's a very immersive experience. We believe it is. In the next six to twelve months we're gonna be announcing ways that we can make our experience even more immersive."
"This was something we adapted for the pandemic and then we ended up creating a new market."
Turetsky said he is looking forward to continued growth in the hospitality and corporate markets where the FlexIt fitness brand builds white-labeled platforms which are customized to the specs of such partners.
FlexIt has also landed some major partnerships with brands such as American Express who recently announced an "Amex Offer" for special access to FlexIt.
As for what the rest of 2021 and beyond hold, Turetsky says: "We are leading the way in virtual training and have been recognized as such. We expect to see continued growth powered by major partnerships and new technological innovations. If someone has never done it before or never even thought to try, that is right where we are heading next."
More information on FlexIt can be found via https://flexit.fit/virtualpt/ and on Instagram at https://www.instagram.com/flexit_fitness/.
Candace Cordelia Smith
Candace Cordelia is a Pennsylvania-based journalist and on-camera broadcaster/host, with a reporting background in wrestling, entertainment, and lifestyle. Her reporting work has been featured on websites and in publications such as Bustle, Pro Wrestling Illustrated, New York Daily News, am New York, ABC News, Yahoo!, Good Morning America, Madame Noire, Sister 2 Sister, etonline.com, Diva Dirt and The Everyday Fan. Her favorite workout influencers include Chloe Ting, Cassey Ho, Pamela Reif and Mary Braun. She still can't stand burpees and Rebbl Dark Chocolate Immunity Elixir is one of her favorite post-workout protein sips. You can follow Candace on Twitter @CandaceCordelia and on Instagram @thatgirlcandace16.