BREAKING: Break the Love Becomes Official Tennis & Pickleball Partner of Equinox x Hamptons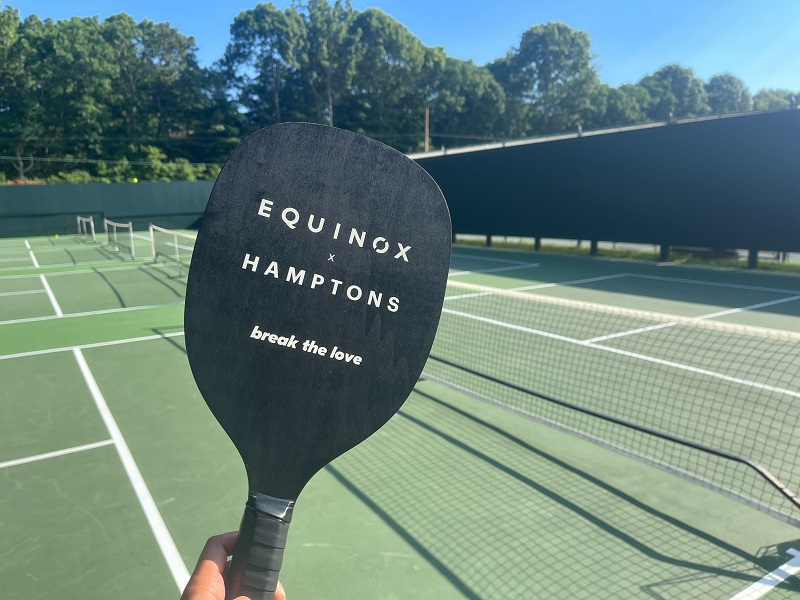 Candace Cordelia Smith
Candace Cordelia is a Pennsylvania-based journalist and on-camera broadcaster/host, with…
Equinox x Hamptons members get complementary access to Break the Love tennis and pickleball courts in the Hamptons
Following the success of its Women's Rally this March, next-gen social sports platform Break the Love has announced a partnership with Equinox x Hamptons, members of which will enjoy exclusive, complimentary access to tennis and pickleball courts in the Hamptons this summer thanks to the partnership.
Equinox x Hamptons is luxury fitness and global lifestyle leader Equinox's seasonal club in the Hamptons, NY. The club is now open for summer 2022.
The collaboration will allow Equinox x Hamptons members to take advantage of a number of things, including the facility to watch and learn the sport of tennis (Beginner, Advanced, and Pickleball 101 courses) from tennis professionals, on-site locker rooms, equipment rentals, and refreshments. The members will have the option to book court time via the Equinox+ app. In addition, Equinox x Hamptons members can expect to benefit from group fitness classes, indoor and outdoor strength training and conditioning, unlimited Equinox+ access, cold brew (on the house) and much more.
Equinox's partnership with Break the Love is a first for the luxury fitness company in regards to delving into the tennis and pickleball markets. Break the Love co-founder Trisha Goyal explains, "It's exciting for Break the Love to partner with a fitness brand that is as aligned with ours and giving Equinox member premiere access to tennis and pickleball. It's such an exciting time for racquet sports, as we are seeing unparalleled growth in players and as we head into the US Open season in New York."
Break the Love was founded with the idea of offering the next generation of tennis players, who may have had little to no access to learning and/or playing the sport, a convenient way to find similar-leveled players and tennis courts to learn and practice. Earlier this year, the platform received over $2.5 million in seed funding. Aside from its latest enterprise with Equinox x Hamptons, Break the Love's docket of partners includes Tory Sport and Wilson Sporting Goods.
The Break the Love-Equinox partnership for the Hamptons club will expand to other locations in the future, says a joint Equinox and Break the Love press release. But for now, Equinox x Hamptons is officially in business, starting this summer, with the aim to make racquet sports even more accessible for all. For more information on how to sign up, head over to https://embed.breakthelove.com/equinox-hamptons.
Candace Cordelia Smith
Candace Cordelia is a Pennsylvania-based journalist and on-camera broadcaster/host, with a reporting background in wrestling, entertainment, and lifestyle. Her reporting work has been featured on websites and in publications such as Bustle, Pro Wrestling Illustrated, New York Daily News, am New York, ABC News, Yahoo!, Good Morning America, Madame Noire, Sister 2 Sister, etonline.com, Diva Dirt and The Everyday Fan. Her favorite workout influencers include Chloe Ting, Cassey Ho, Pamela Reif and Mary Braun. She still can't stand burpees and Rebbl Dark Chocolate Immunity Elixir is one of her favorite post-workout protein sips. You can follow Candace on Twitter @CandaceCordelia and on Instagram @thatgirlcandace16.