Startling Stat: PureGym Reveals 1 in 4 in the U.K. Feel Mentally, Physically, and Socially Unwell
PureGym takes a deep dive into the U.K.'s relationship with health and fitness in its annual fitness report
PureGym has revealed an alarming finding – that 1 in 4 of those in the U.K. report feeling mentally, physically, and socially unhealthy.
The statistic is part of PureGym's annual Fitness Report 2022/2023, which examines the U.K.'s relationship with health and fitness.
PureGym used a combination of internal data and statistics sourced from YouGov and Google for its report.
Here are some highlights:
Behind the numbers
The numbers are somewhat encouraging, showing an increased interest in wellness, with nearly 80% of the U.K. population reporting that their health has become a priority following the pandemic and 58% engaging in exercise at least once a week.
The report also provides some good news for the fitness industry, with 19% planning to join a gym this year.
But perhaps the most alarming statistic is that one in four (23%) within the U.K. don't consider themselves healthy from a mental, emotional, social, or physical point of view. This number, PureGym suggests, reveals that while health may be a priority for most, it doesn't necessarily translate to a reality for many others.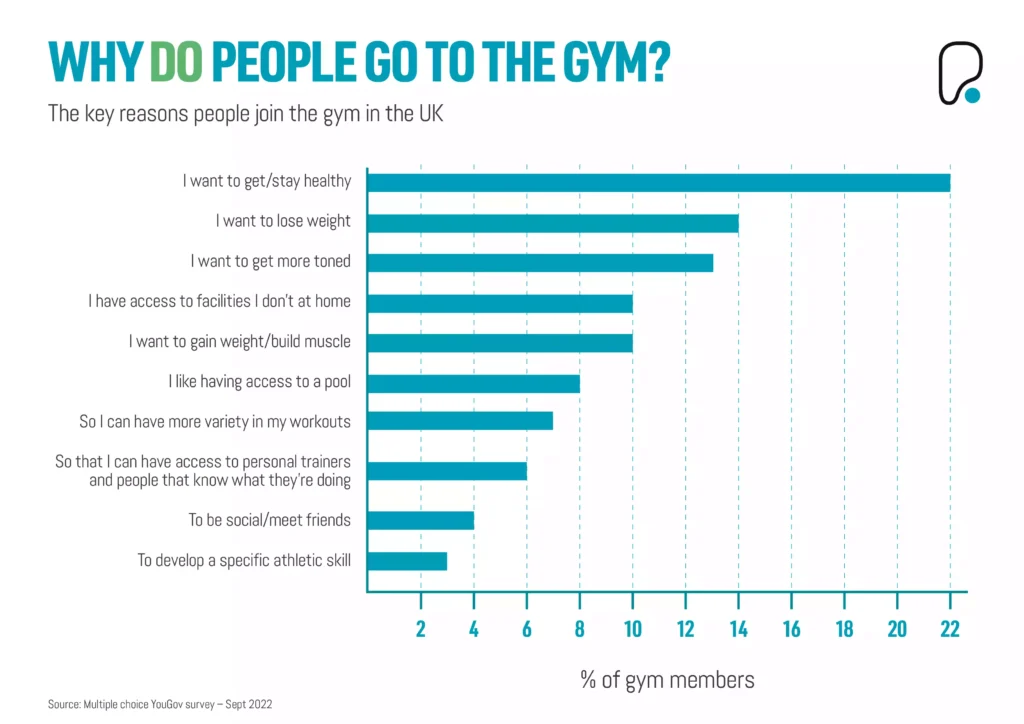 The report also found that 64% feel they don't look after their health as much as they should, and 65% say being too tired is the main reason.
Additionally, one in three (36%) say there are not enough hours in the day to find time to be active.
Suggestions for those short on time
There is some hope, according to PureGym PT Beth Brotherton, who says this doesn't have to be the case.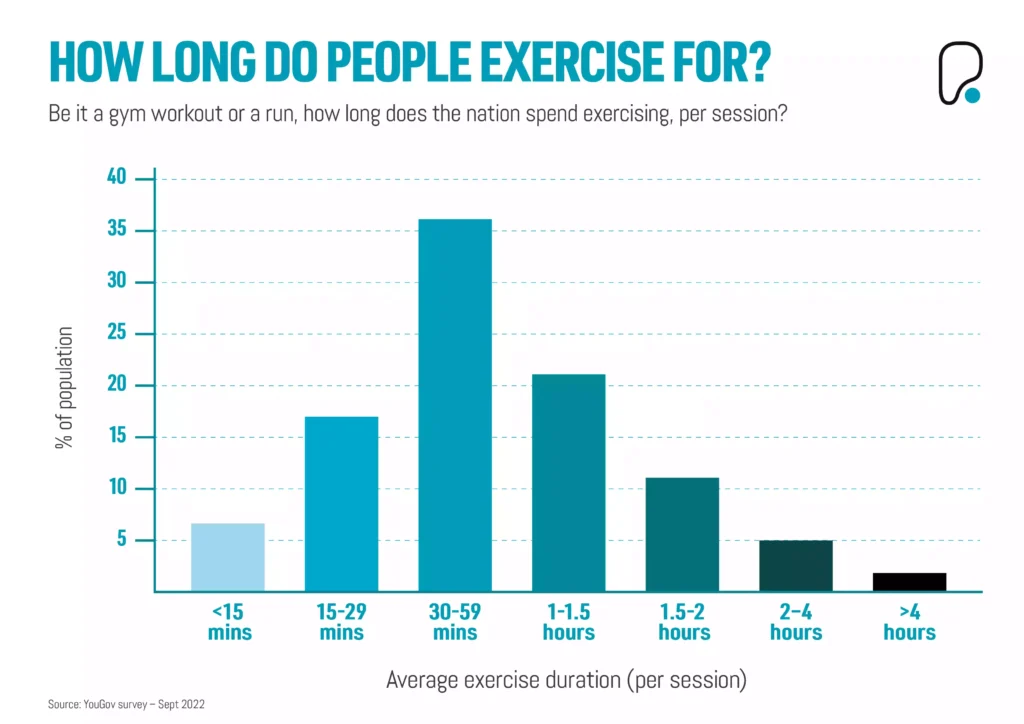 Brotherton suggests that even 30 minutes can be all it takes to get in a good workout and reap the benefits of increased mood and better health. Gyms like PureGym, which offer 30-minute fitness classes, allow fitness consumers to maximize their time, squeezing in a workout during a relatively small block of time in their day.
"If you prefer or are only able to commit to shorter workouts, aerobic training, HIIT, or circuit style weight training that keeps the heart rate high will help you get the most out of your workouts," said Brotherton. "For those that prefer traditional weight training, I'd recommend prioritizing compound movements such as deadlifts and squats, as these recruit more muscles and burn more calories than isolation exercises."
Gym Fears
Aside from fatigue and lack of time, PureGym's annual fitness report reveals that over half (56%) experience anxiety when entering a gym. This 'gymtimidation,' PureGym reports, is experienced by women more than men (67% of women vs. 49% of men.)
For fitness enthusiasts who regularly attend a gym, only one in four (22%) admit they don't feel confident while in the fitness facility.
One fitness pro, Suzy Quinn, a PT at PureGym Birmingham, offers advice for those anxious to enter a gym.
"I've worked with a lot of gym beginners, and it can take time to get over the intimidation. Everyone is different, but generally in my experience it can take anywhere between 2-5 months before my clients have felt confident enough to either train alone or complete their workout without that fear," said Quinn.
"Training with a friend or a PT can help, as things are less intimidating when you're with someone. Classes are also a good idea if your fear is due to lack of knowledge or gym confidence, because you have an instructor to walk you through your workout and offer any support you need," she added.
Quinn further suggests that nervous gym attendees select an area of the gym where they feel most comfortable or opt to attend during quiet gym hours to build confidence without feeling on display.
PureGym's report revealed that the quietest time to visit the gym is Thursdays through Sundays.
Looking ahead to U.K.'s fitness future
PureGym says that its findings reveal 2023 may be a year of change in the U.K.
With 14% of the population as gym members, which is roughly 10 million people, 19% are looking to join a gym this year, and the boost of gym members can help ward off the feelings of being unhealthy.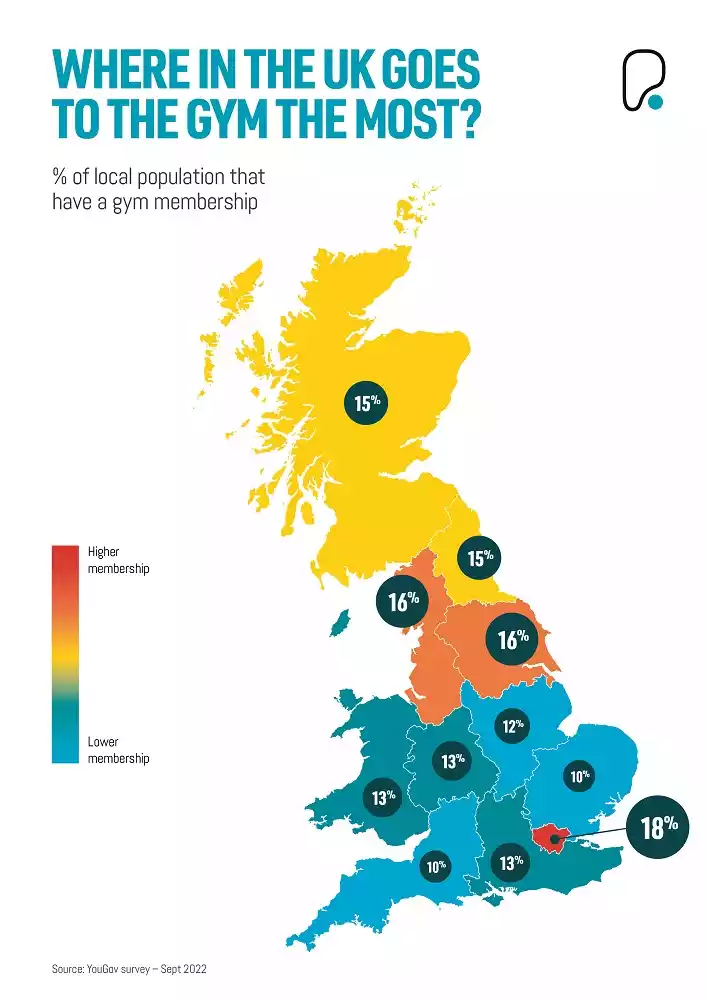 One takeaway that gyms can find in PureGym's report is that 40% of people feel gyms are too expensive, as the high cost of living continues to increase in the U.K.
This is a statistic that PureGym is looking to remedy, offering low-cost membership options and cost-cutting offers throughout the year. The fitness brand also aims to open over 400 gyms across the United Kingdom this year.
"This is the first edition of our UK Fitness Report, and it certainly feels like the right time to have delved into the data," said Stephen Rowe, Chief Marketing Officer at PureGym. "There have been so many changes to the landscape of health and fitness since the pandemic, it's great to understand where the health of the nation currently stands, so we can all work to improve it."
Rowe points to the quarter of the population that revealed they don't feel healthy.
"It's clear there is some work to do, however we are optimistic that this number will reduce year on year. It's positive to see that so many are planning on joining a gym to make this happen, and we look forward to playing our part in supporting them on their fitness journeys, and continuing to remove intimidation, cost and location barriers from going to the gym in 2023," he said.
The full 36-page PureGym report can be found here.
Courtney Rehfeldt
Courtney Rehfeldt has worked in the broadcasting media industry since 2007 and has freelanced since 2012. Her work has been featured in Age of Awareness, Times Beacon Record, The New York Times, and she has an upcoming piece in Slate. She studied yoga & meditation under Beryl Bender Birch at The Hard & The Soft Yoga Institute. She enjoys hiking, being outdoors, and is an avid reader. Courtney has a BA in Media & Communications studies.