Planet Fitness Stock Surges on Q3 Revenue Jump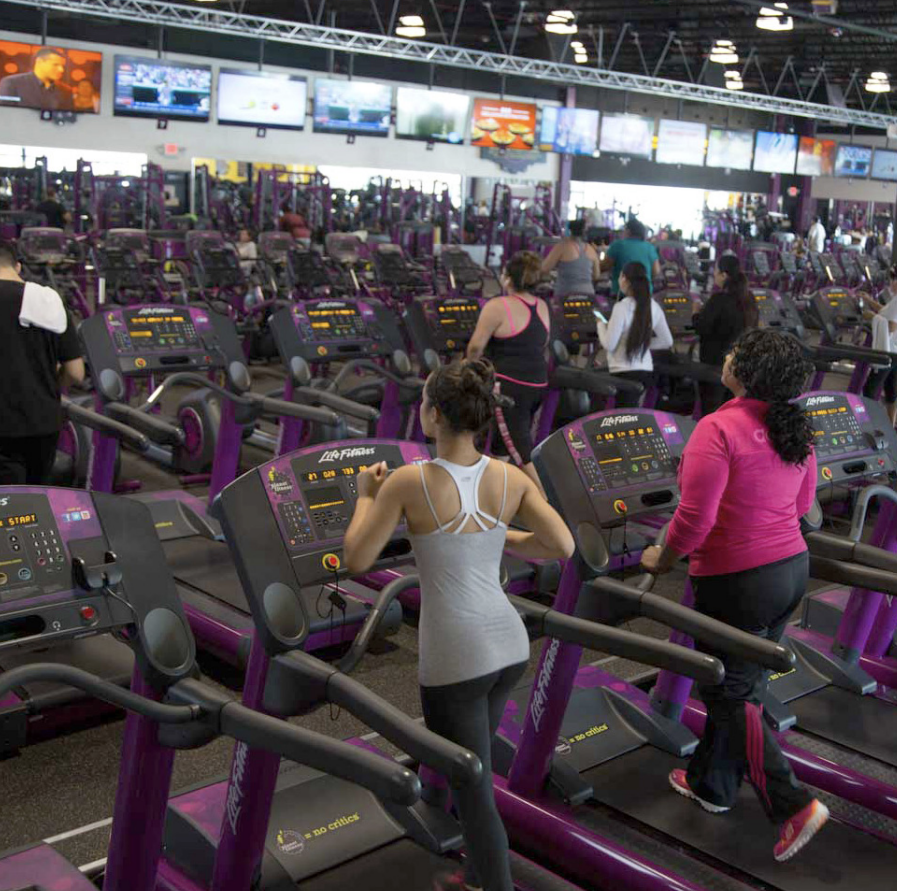 credit: Planet Fitness
The popular low-cost fitness franchise is exploring a price increase to find its "sweet spot" without impacting member growth
Planet Fitness has reported its first financials after the surprise ousting of its former CEO, Chris Rondeau, with strong revenue numbers demonstrating that its unexpected leadership upheaval may be nothing more than a temporary glitch. Encouraging financials for Q3 of 2023 have led shares of PLNT to rebound from a low of $44.41 following Rondeau's departure in September to $61.69 as of mid-day Tuesday.
The low-cost/high-value fitness franchise reported a total revenue increase of $33.2 million, or 13.6%, in the third quarter to $277.6 million, up from $244.4 million in the year-ago period.
System-wide same-store sales increased by 8.4% to $1,092.9 million from $968.1 million in the prior year period. The fitness franchise reported 26 new Planet Fitness stores were opened during the period, including two corporate-owned and 24 franchisee-owned stores, with a system-wide total of 2,498 as of September 30, 2023. The fitness franchisor ended the quarter with over 18.5 million members, 110,000 of which were net new members.
"I'm honored to serve as interim CEO of such a truly unique brand with a strong track record of growth as we enter the next chapter of the Planet Fitness journey," said Craig Benson, who took over for Rondeau in September. "As a board member, and a Planet Fitness franchisee, I know firsthand the power of this brand, the strength of our team and our commitment to a welcoming, non-intimidating culture, all of which uniquely position us to continue to lead the industry."
"My priorities are to lead the team as we execute on the current strategy with a focus on enhancing returns on stores as well as assisting the board with the search for a permanent CEO," Benson added.
Planet Fitness execs were mum on Rondeau's exit in September, but Benson revealed the fitness operator is continuing to search for a leader and indicated it's hopeful to find one with expertise in a global perspective.
New Leadership, New Pricing Moves
One significant takeaway in light of Planet Fitness' positive earnings is that the fitness operator is exploring a price increase as it looks to find a "sweet spot." As Benson points out, Planet Fitness hasn't raised the price of its $10 classic card in 30 years but notes that consumer expectations of price have changed in a "highly inflationary" world. In response, the fitness franchise is exploring pricing adjustments its testing out in several markets around the country.
In light of an economic landscape riddled with inflation and higher interest rates, Benson says the fitness franchise has worked on a new growth model that reduces the capital requirements for opening and operating a Planet Fitness Franchise, including new changes to the franchise agreement, adjusting the timing for cardio and strength re-equips based on usage, and reducing capital expenses for new build and remodels while also looking for ways to reduce operating expenses.
As Benson puts it, the inflationary environment isn't going away anytime soon, so he says it's time to get creative and leverage the size of Planet Fitness.
"We've never done a really good job of leveraging that for pricing, opportunities to work with people directly," Benson told investors. "Some of the promotional things we're doing within clubs now, we're starting to see vendors that want to come to us to sell their merchandise and consumer brands. That never would have happened before."
Gen Z, Flynn Group & More
See Also
The interim Planet Fitness CEO also wants to see an improvement in branding and promotional marketing and is mindful that coveted Gen Z consumers are after not just value but a clear message on what a company stands for.
"We have to be really innovative in the way we look at putting new things in clubs, testing our pricing, different iterations of our pricing to make sure that we're getting the maximum value that we can to augment the customer experience," Benson said. "So those are some of the things we needed to do. And if we do those, well, this brand will be around for at least another 30 years."
Benson also pointed to Flynn Group's recent push in the fitness franchise arena with the acquisition of Alder Partners, LLC, which operates 37 Planet Fitness locations in Georgia and Massachusetts. It's a deal that he says is helpful as a whole to Planet Fitness system because of their experience in other franchise models.
As for its lookahead for the rest of 2023, Planet Fitness expects new equipment placements of between approximately 130 and 140 in franchisee-owned locations from a prior expectation of around 140. It now expects system-wide new store openings of approximately 150 and 160 locations (previously expecting around 160), and it continues to expect system-wide same-store sales in the high single-digit percentage range.
From a financial standpoint for 2023 over 2022, Planet Fitness expects revenue to increase approximately 14% from a previous expectation of approximately 12% and expects Adjusted EBITDA to increase approximately 18% from a previous expectation of approximately 17%.
Courtney Rehfeldt
Courtney Rehfeldt has worked in the broadcasting media industry since 2007 and has freelanced since 2012. Her work has been featured in Age of Awareness, Times Beacon Record, The New York Times, and she has an upcoming piece in Slate. She studied yoga & meditation under Beryl Bender Birch at The Hard & The Soft Yoga Institute. She enjoys hiking, being outdoors, and is an avid reader. Courtney has a BA in Media & Communications studies.