Life Time Adds Dynamic Stretching to Personal Training Services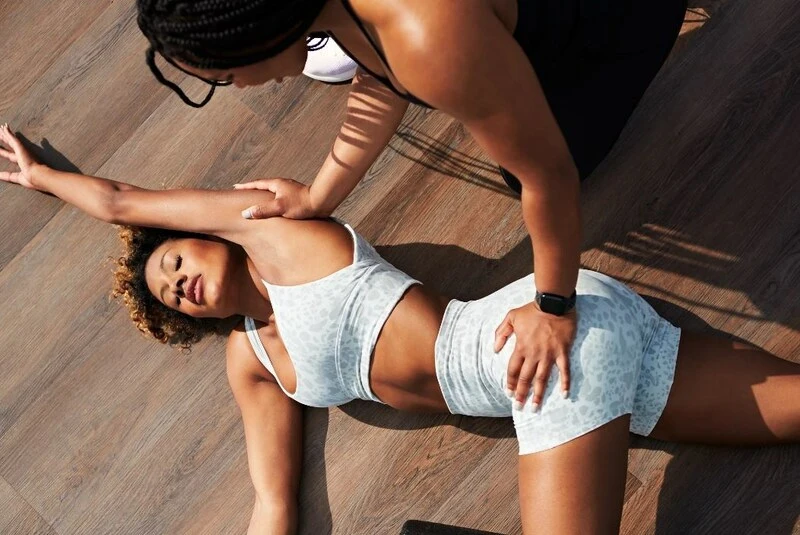 credit: Life Time
The luxury club operator is invested in expanding and improving its wellness programming – a strategy Life Time's CEO says is working
Life Time is running with its ongoing personal training success, introducing Dynamic Stretch in its luxury athletic country clubs. The latest offering provides Life Time members with personalized, one-on-one assisted stretching services from certified personal trainers, an expansion of the operator's Dynamic Personal Training program.
Aside from membership dues, Life Time has revealed personal training is its biggest revenue source.
Dynamic Stretch sessions will provide members a chance to reduce muscle tension and stress, prevent injury, improve posture and increase flexibility. Danny King, master personal trainer at Life Time, sees assisted stretching as a crucial component of overall wellness.
"Stretching is often the missing ingredient in an optimal fitness and self-care program, and Dynamic Stretch is a game changer for increased mobility, prevention and recovery based on our Dynamic Personal Trainers' knowledge, certifications and experience," King said. "Life Time leads the industry in hands-on coaching to help members achieve their goals and now, with Dynamic Stretch, we know we will help people in ways they didn't know possible."
The new Dynamic Stretching is part of Life Time's Dynamic Personal Training program, but members who aren't working with a trainer can opt for a 25 or 50-minute session to experience active and passive stretches, range of motion work and breathing exercises. Members will also have access to recovery tools that accelerate recovery and can tailor their overall stretching experience based on their needs and goals. 
The stretching sessions are the latest addition to Life Time's broad range of health, recovery and relaxation services for its members, which includes pools, whirlpools, saunas, eucalyptus-scented steam rooms, Hyperice Normatec recovery tools, hydro and cryo massage chairs and Hyperice Hypervolt portable percussion massagers.
From September 16 to 18, all Life Time club locations will host complimentary walk-in or pre-scheduled 30-minute Dynamic Stretch sessions for members to try the hands-on stretching and recovery exercises.
The luxury athletic country club operator just opened the doors to part one of its posh Penn 1 facility in New York City, featuring its signature boutique fitness studios, personal training offerings, recovery areas and saunas. Phase two will see seven indoor pickleball courts open early next year. Three additional NYC club locations are planned – The Brooklyn Tower, Brooklyn Crossing and Park Avenue South.
Life Time has seen strong growth in membership sales without using marketing or promotions and reports there has been no resistance to its relatively high pricing structure, which the company attributes to its focus on increasing and improving programming rather than implementing cost-cutting measures.
The luxury club operator's credit rating recently received a credit rating boost from Moody's Investor Service due to strong performance, membership growth, revenue and positive EBITDA trends. 
Bahram Akradi, Life Time's founder and CEO, recently told investors that all of Life Time's strategies are working. The company posted revenue of $561.7 million for the second quarter of fiscal 2023, a 21.8% increase from the $461.3 million it posted in Q2 of last year.
"Our focus has been working on desirability in clubs, and it's working," Akradi stated on Q2's earnings call.
Courtney Rehfeldt
Courtney Rehfeldt has worked in the broadcasting media industry since 2007 and has freelanced since 2012. Her work has been featured in Age of Awareness, Times Beacon Record, The New York Times, and she has an upcoming piece in Slate. She studied yoga & meditation under Beryl Bender Birch at The Hard & The Soft Yoga Institute. She enjoys hiking, being outdoors, and is an avid reader. Courtney has a BA in Media & Communications studies.