Hyperice Introduces Normatec Go, Offering 'Massage with Air, Anywhere'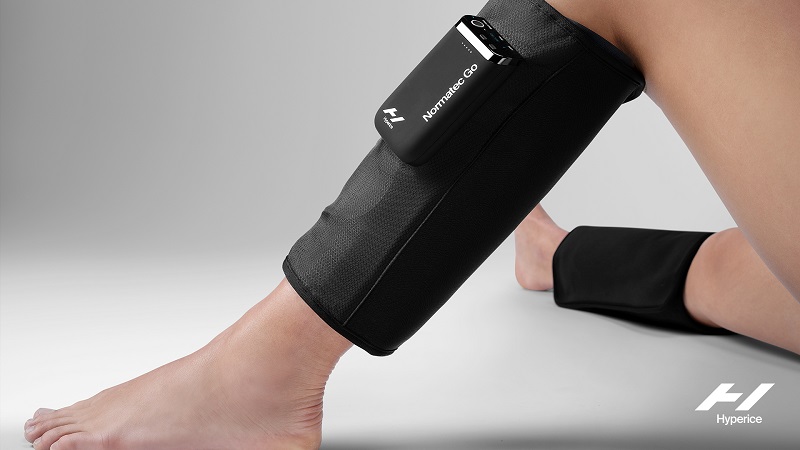 Normatec Go, a portable air compression therapy device, is the latest offering in recovery tech
Hyperice, a global high-performance wellness brand, has announced a new recovery technology offering in its Normatec line, Normatec Go, a portable air compression therapy device for users on the go. The new device provides an air massage to the calf muscles, increasing circulation and reducing pain and tension in the leg.
The performance tech brand has attracted numerous high-profile athlete investors like pro golfer Rory McIlroy, Formula One driver Daniel Ricciardo, NHL player Connor McDavid, Naomi Osaka, Seth Curry, and Patrick Mahomes. 
Jim Huether, CEO of Hyperice, remarked that the launch of Normatec Go is a milestone for the wellness industry. "Over time, Normatec has developed an incredibly loyal following, especially across the endurance and sports performance channels, where it has become the must have recovery device. Our goal with the Normatec Go was to deliver the same elevated Normatec experience consumers have loved for years, in a new mobile and price accessible form factor." The new product is designed for travel, pre or post workout on the go, or even during games.
As professional athletes have long known, recovery methods are just as important as getting in a great workout. It also reduces the likelihood of injuries, and even non-professional athletes are realizing the value of fitness recovery in terms of overall health and long-term goals.
"As people prioritize a stronger pursuit towards longevity within their personal wellness journey, the conversation of rest and recovery rises to the top of the discussion. Our hope with the Normatec Go is that users get to experience first hand the benefits of dynamic air compression therapy as part of their daily routines. The overall accessibility of this product is something that we're collectively excited about, and we can't wait to see how it changes people's lives," Gilad Jacobs, Chief Innovation Officer at Hyperice, tells Athletech News.  
The Normatec Go features seven levels of targeted calf pressure, three zones of compression, HyperSync technology, which allows the user to automatically mimic the massage pattern or run separate sessions on each leg, and Bluetooth compatibility to connect to the Hyperice app.
The wellness recovery brand has also partnered with Westin Hotels & Resorts to offer the Normatec Go, Hypervolt Go 2, and Hypersphere Mini to hotel guests as part of its Gear Lending program, which launches this fall. The collaboration follows the introduction of Hypervolt recovery stations inside WestinWORKOUT Fitness Studios at select properties across the United States.
Hyperice is the NFL, NBA, MLB, PGA TOUR, and UFC's Official Recovery Technology Partner, and the portable Normatec Go will be used to provide real-time therapy.
"The Normatec Go is an amazing tool for me and other athletes to have access to," said NBA All-Star and Hyperice Athlete-investor Ja Morant. "I've been using the Normatec Legs as part of my routine for years, and I've seen a lot of benefits in my recovery time and athleticism as a result. Now with the Normatec Go, I'll be able to recover while on the team bus after a shootaround, at practice, or during a game, which will make sure I'm always at my best and ready to play."
The Normatec Go by Hyperice retails for $399 and is available at Hyperice.com and Best Buy. Hyperice is also looking to expand into the mental wellness space, having announced the acquisition of Core last summer.
Courtney Rehfeldt
Courtney Rehfeldt has worked in the broadcasting media industry since 2007 and has freelanced since 2012. Her work has been featured in Age of Awareness, Times Beacon Record, The New York Times, and she has an upcoming piece in Slate. She studied yoga & meditation under Beryl Bender Birch at The Hard & The Soft Yoga Institute. She enjoys hiking, being outdoors, and is an avid reader. Courtney has a BA in Media & Communications studies.