Life Time Group Reports Second Quarter Fiscal 2022 Financial Results & Is Focused on Programs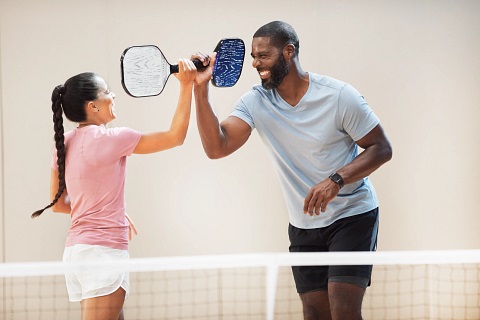 The athletic country club brand confirmed its growing back steadily
Life Time Group Holdings, Inc. has released its financial results for the second quarter of 2022, revealing that revenue increased 42.7% to $461.3 million from $323.2 million. To continue its growth, the athletic-style country club is focusing on boutique-style small group training, fitness for mature consumers, and pickleball.
Life Time has 12 planned openings this year and 11 or more in 2023.
"We are happy to report that Life Time is growing back steadily. During the quarter, we made substantial progress on our strategic priorities. We delivered on our financial guidance, while continuing to make strategic investments in broadening and elevating the programs and experiences we provide," Bahram Akradi, Founder, Chairman and CEO of Life Time shared.
Life Time said it's experiencing strong member engagement in its programming and will continue to drive initiatives through the remainder of the year. Pickleball and small group training programs have proven to be successful and have provided ongoing growth and revenue. "We have a lot of cards in our hands to play," Akradi said.
The company did note it has experienced labor inflation due to seasonal employees during the summer months. "While we are seeing current macroeconomic headwinds that may slow our near-term recovery, we remain confident in the growth of our business as we accelerate the rollout of our strategic initiatives," Akradi said.
The fitness brand also said it entered into a definitive agreement for the sale-leaseback of approximately $200 million of owned real estate, which is expected to close in early October. Akradi also disclosed that Life Time is in discussions for additional sale-leaseback transactions of up to $300 million in gross proceeds by the end of the year.
When asked about its pricing model during the earnings call, Life Time representatives stated that it is methodical and straightforward. "The customer coming to Life Time is not the customer that goes to the low price gyms. If they wanted price, they would have never been in our doors,"  Akradi said, pointing out that Life Time has eliminated all promotions and their numbers are as good as they have ever been. "There's no indication that (our) strategy isn't working," Akradi said. Life Time center memberships totaled 724,778, an increase of 10.2% from last year, and up by 50,795 from March 31 of this year.
In regards to staffing, finding talent has not been an issue for Life Time, Akradi noted. "We open clubs and there's still a tremendous number of people who want to work in Life Time…they wouldn't want to work anywhere else, they want to work at Life Time – from young to old," Akradi said. Year to date, over 400 personal trainers have been added with over 220 in the second quarter. Life Time Group expects to hire several hundred people in the back half of 2022. One area of high demand is for swim instructors, as 1,200 Life Time members have joined a waitlist for swim lessons.
Courtney Rehfeldt
Courtney Rehfeldt has worked in the broadcasting media industry since 2007 and has freelanced since 2012. Her work has been featured in Age of Awareness, Times Beacon Record, The New York Times, and she has an upcoming piece in Slate. She studied yoga & meditation under Beryl Bender Birch at The Hard & The Soft Yoga Institute. She enjoys hiking, being outdoors, and is an avid reader. Courtney has a BA in Media & Communications studies.