Forward Lands $100M To Scale 'World's First AI Doctor's Office'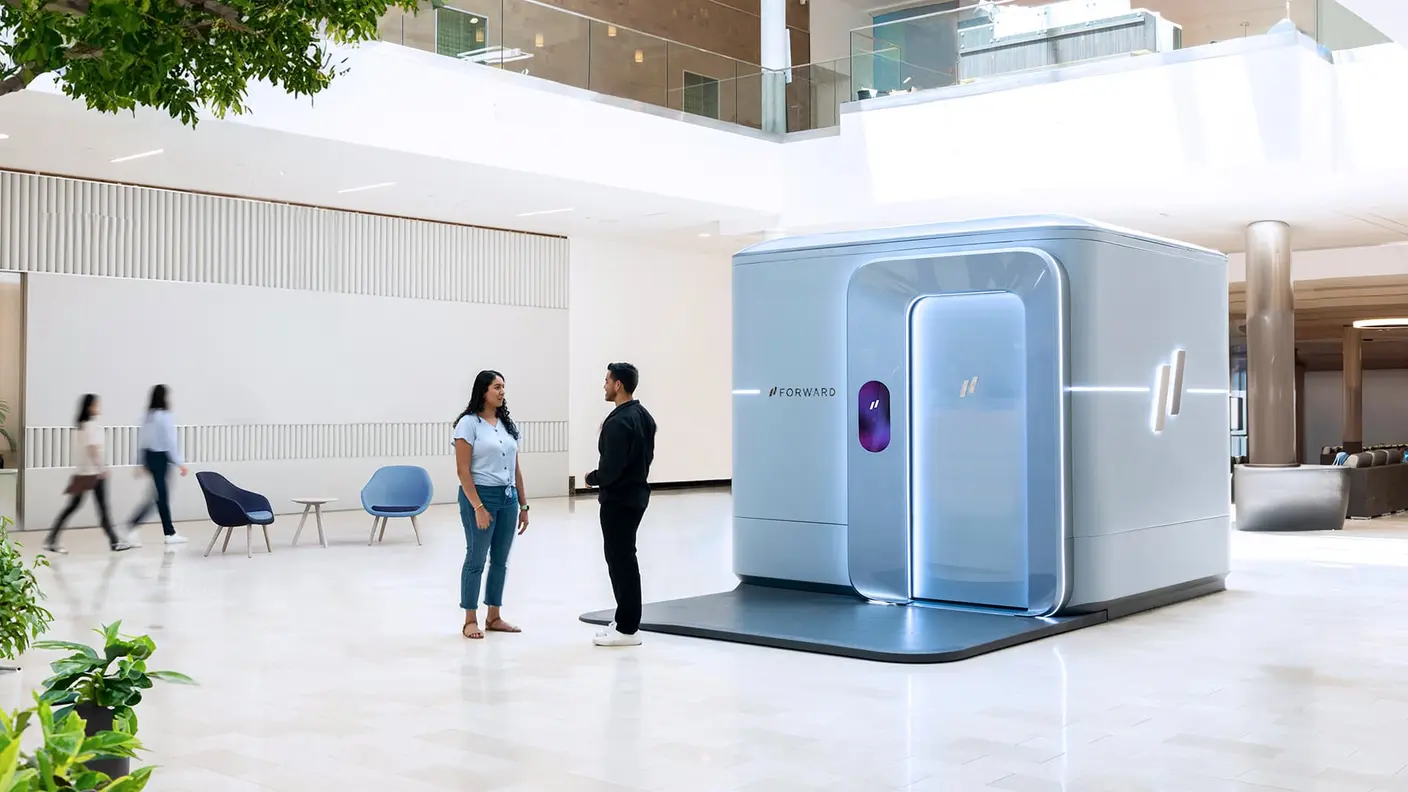 credit: Forward
Your next visit to the mall could turn into a disease detection and prevention session in an 8×8-foot cube
The impact of artificial intelligence seems to be everywhere, silently working in the background as businesses across all industries race to use the technology to provide the best products and services possible. Now, AI has been decked out in a white lab coat, ready to serve as your friendly physician. 
Forward, the brainchild of Adrian Aoun, has raised $100 million for its "doc in a box" CarePods – an AI-powered, self-service healthcare experience in high-tech pods. The tech entrepreneur had sold his natural language processing app, Wavii, to Google in 2013 before entering the healthcare market in 2016 with Forward.
Initially, the startup opened 19 Forward locations with primary care clinicians, but it now says its groundbreaking CarePods address the everyday challenges of healthcare, such as cost and accessibility. The company calls CarePods "the world's first AI doctor's office."
The new capital will be used to manufacture and deploy the CarePods, which will be easily accessed in high-traffic zones such as malls, gyms and offices and are initially rolling out in the San Francisco Bay Area, New York, Chicago and Philadelphia.
In 2024, Forward plans to more than double its footprint. 
The Future of Healthcare?
"Basically, what I'm doing is slowly migrating every single thing from a doctor and nurse to hardware and software," Aoun told TechCrunch. "We don't even believe a doctor's office should exist. We think that it's a thing of the past."
The CarePods provide consumers with a private experience in an eight-foot-by-eight-foot cube that blends advanced diagnostics and health plans with the goal of prevention. While it may sound cold and clinical, the pods have comfortable seats and even mood lighting.
After settling in, patients cycle through various health apps on a giant screen. A history and baseline are taken — including a body scan — with the patient sharing their wellness goals. The CarePod can conduct thyroid testing, blood pressure monitoring, diabetes and HIV screening and provides swab-based tests for COVID-19 and strep throat. Sensors are used for biometrics and blood can be drawn with a single-use, needless collection device, according to TechCrunch. 
Some of Forward's health apps currently focus on the heart, skin care, mental health and weight management, but the company plans to add prenatal care, advanced cancer screening and polygenic risk analysis apps in time. 
An app allows users to access their health data with memberships starting at $99 a month, which puts them in the driver's seat of their health journey.
Despite Aoun's comments about doctor's offices, Forward emphasizes that the CarePods aren't meant to replace human physicians or even treat patients. Instead, the CarePods serve as a diagnostic tool and help consumers map out a prevention pathway. There is still human oversight — clinicians review a patient's data, sign off on prescriptions and help create a care plan.
Big-Name Support
The tech startup has attracted numerous venture funds and is backed by Eric Schmidt, former CEO and chairman of Google, John Giannandrea, senior vice president of artificial intelligence at Apple, Demis Hassabis, cofounder of DeepMind and Mustafa Suleyman, cofounder of DeepMind and Inflection AI.
Forward is staying mum on who led the recent $100 million funding round but noted Khosla Ventures, Founders Fund, Softbank, Samsung Next and previous individual backers as investors, according to Fortune.
Consumers have become familiar with self-service, whether ringing up their groceries and checking out at their local market or self-directing a training session at their gym on their own schedule. Some fitness franchises have begun to adopt a 24/7/375 model that allows members access to their unstaffed facilities, leaning into the convenience economy model that reduces labor costs.
Courtney Rehfeldt
Courtney Rehfeldt has worked in the broadcasting media industry since 2007 and has freelanced since 2012. Her work has been featured in Age of Awareness, Times Beacon Record, The New York Times, and she has an upcoming piece in Slate. She studied yoga & meditation under Beryl Bender Birch at The Hard & The Soft Yoga Institute. She enjoys hiking, being outdoors, and is an avid reader. Courtney has a BA in Media & Communications studies.