Studio Spotlight: CorePower Yoga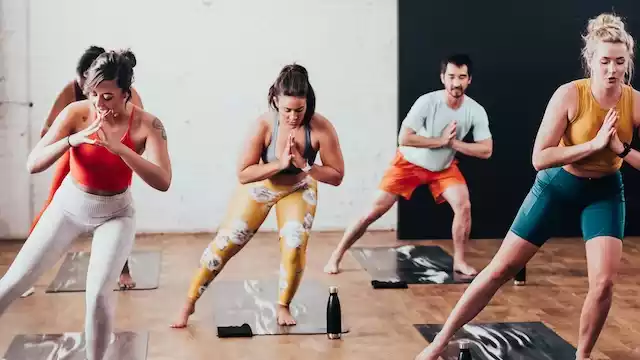 One of the most established yoga chains in the country, CorePower continues to prove that it can provide a tough workout, a close community, and convenience
As one of the largest and oldest yoga studio chains in the country, with more than 220 locations in 23 states, CorePower Yoga seems to be everywhere. After hearing about the brand's devoted following and aggressive expansion plans, I decided to try different CorePower classes to see what all the excitement is all about.
CorePower offers various forms of yoga, such as their signature C2 class, a challenging vinyasa flow, Yoga Sculpt, a combination of yoga, cardio, and strength, Hot Power Fusion, and Meditation, among others. The brand recently introduced its first new class in over a decade, CorePower Strength X, a high-intensity strength training workout with energizing breathwork. With both digital classes and studio workouts, CorePower functions well as a true hybrid boutique fitness offering.
CorePower's online presence has both livestream and pre-recorded classes. Unlike some at-home workouts, CorePower's pre-recorded workouts have both an instructor and yogis taking the class, making them feel more immersive. Classes range in length from 1 minute to an hour, and include challenge series like the "Stress Less Series," "Move with Intention," and "Practice Presence." Online collections also include classes focused on particular areas of the body, like "Beginner Basics," "Target Your Core," and "Booty Burn."
For a brand with so many locations and students, CorePower Yoga's online classes felt surprisingly personal. Each instructor gave a brief introduction at the beginning of the class before the video cut to the actual workout, which gave it a less commercial feel.
Although I enjoyed the traditional yoga classes, it was at the Yoga Sculpt class where I truly got a sense of what brings customers back to CorePower year after year. Every Yoga Sculpt class was packed, with some even going to waitlists. Unlike in some fitness classes, where the instructors motivate with speeches that feel somewhat insincere, CorePower instructors spoke from the heart, giving a genuine, down-to-earth vibe. The studio's sense of community seemed to emanate from the members, many of whom have their favorite instructors and classes to whom they returned again and again. Many of the regular students appeared to have found friendship within the class, as well.
CorePower is also not afraid to challenge its students. While the trend at larger fitness brands is making easier, more accessible workouts to attract beginners, CorePower has a wide selection of more advanced classes. Although I work out frequently, I found myself sore from Yoga Sculpt, which was an efficient, full body stretch and strength workout.
If you're not a fan of working out in high temperatures, many of CorePower's classes may not be for you. My Yoga Sculpt class took place in a heated room, as did many of its other classes. However, CorePower offers plenty of non-heated yoga classes for its traditional yoga offerings. And if you prefer to work out to songs from your favorite artists, you might want to take the in-person classes, since the online versions play somewhat generic music.
CorePower Yoga memberships range in price based on location and type, including All Access memberships, which is unlimited classes at any studio, online, or livestream and At-Home memberships, which is only livestream and on-demand. The studio also offers discounted rates for students and seniors.
CorePower Yoga's wide breadth of offerings can meet a range of consumer needs, from a heart-pounding, pop-blasting Yoga Sculpt experience, to a peaceful meditation session, and everything in between.