Best Masks to Wear While Working Out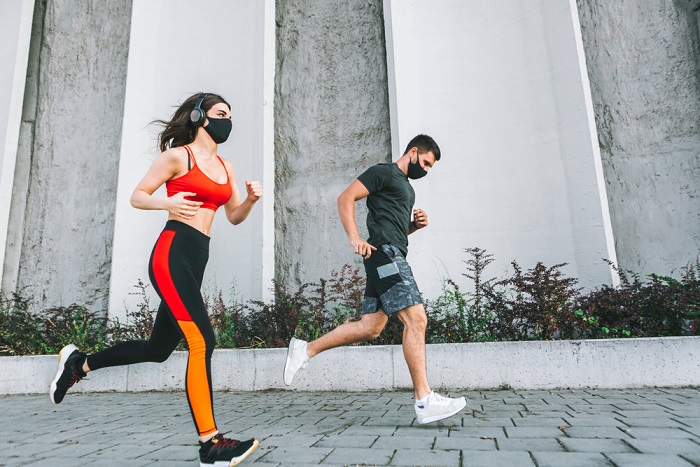 The team at Athletech spoke to experts about what masks are best to wear while participating in physical activities.
All products featured on Athletech News are independently selected by our editors. However, when you buy something through our retail links, we may earn an affiliate commission.
Masks are currently the most important accessory. Utilizing this safety precaution while working out is essential. With the national increase in vaccinations, the hope is that we can soon resume a somewhat normal lifestyle…and eventually without masks. Wearing best masks to workout i.e. the correct type of mask when going to the gym or working out in a congregated space is critical. 
The team at Athletech News spoke to experts about what masks are best to wear while participating in physical activities. "First and foremost, a mask used for exercise must be just as effective at preventing the spread of infection as those masks worn outside of the gym," said dermatologist Bradley Glodny, MD. "Coverage of the entire lower face, including mouth and nose is extremely important." 
In terms of fit, Dr. Glodny mentioned that the mask should fit flush to the person's face so the effectiveness and safety will not be compromised, but not too tight that it is uncomfortable for the wearer. "Mask fabrics should be light weight but still have structure so there remains a space between your mouth and the material preventing the mask from obscuring your breath," he said. "If this happens regardless of the mask's material, then you can purchase a 'mask frame' to help support the mask. The mask cannot be made of a porous material which would not prevent the spread of infection." The following masks came highly recommended for anyone looking to get a good sweat while protecting themselves and others.
Best Brand: Under Armour Sports Mask
While a little bit on the pricier side, the Under Armour Sports mask offers comfort and breathability for an all-day workout. The material is lightweight, water repellent, and features an antimicrobial treatment. This mask is highly popular with athletes as well.
Best Multi Pack: Adidas Three Pack
The Adidas face covering is reusable with just the right comfort combo of flexible and snug. These masks are also easily washable and come in sizes small, medium, or large.
Best Performance: New Balance Active Performance Facemask
This mask is the latest design from the popular fitness brand. With multiple layers, a variety of sizes and a strong filtering fabric, this mask is a strong choice for any athlete. The mask also comes with a bonus storage pouch that you can wear on your wrist while running.
Most Affordable: Champion Cotton Wicking Face Mask
For only $5, this mask is surprisingly durable for physical activity. The material is light but is made with double layer fabric and X temp technology to make sure the skin stays cool even during an intense workout.
Most Versatile: Wise Guise 4-in-1 Mask
This mask collection can be worn in four different ways, including the regular mask option, bracelet, headband, or a neckband. It ensures portability and ease, and the straps wrap around the back of the neck rather than being looped over the ears.
Best Multi Layered: Uniqlo AIRism Face Mask
Good things come in threes. This mask has three layers, one is used as a filter, one is for taking away moisture and the third protects from harmful UV rays. These also come in three different sizes and are sold as a three pack.
Best Filter: AstroAl Reusable Dust Face Mask
This mask has a built-in filter system which leads to greater protection. The filters last a while before needing to be replaced and the fabric is fitted, not too tightly, allowing for heavy breathing without irritating the skin.
Best for Running: EnerPlex Reusable Face Mask
Running is all about being on the go. This mask comes in a pack of three and is compact. The material is light enough to be outdoors, but durable enough to provide protection .
Most Fun: Eqoba 2-Layer Mask 3-Pack
Who says workout masks have to be boring? Eqoba offers multiple prints and colors to help you feel trendy during physical activity. In addition, they can wick away moisture and the straps are adjustable, making sure the mask fits just right.
Most Colorful: Stark's Face Covering
With 17 different color options Stark's face coverings are sure to bring some joy to the gym. These masks also have a nose guard which helps prevent glasses from fogging up. The masks are adjustable, have three protective layers and come in sizes suitable for adults or children.
Best for Everyday: Athleta Everyday Nonmedical Masks
These masks are good for everyday activities and can still be used while exercising. They are affordable, come in a five pack and feature adjustable ear loops and a bendable nose piece.