Sunlighten Is Redefining 'Smart' Wellness With Sauna Tech
Partnership
Sponsored By Sunlighten
October 26, 2023
credit: Sunlighten
Partnership
Sponsored By Sunlighten
The smart infrared sauna maker has attracted several high-profile fans, including Bobbi Brown, LeAnn Rimes, Tim McGraw and Damar Hamlin
Infrared sauna is among the recovery modalities experiencing a surge in popularity amid the post-pandemic wellness boom, but for Sunlighten, the benefits of light and heat are nothing new.
Inspired by the health transformation her brother experienced as a result of exposure to infrared light, Connie Zack and her husband, Aaron, have been building Sunlighten for nearly twenty-five years, turning the Overland Park, Kansas-based company into a leader in the fast-growing infrared sauna industry. 
The wellness company has attracted several high-profile fans, including Bobbi Brown, LeAnn Rimes, Tim McGraw and Damar Hamlin. While it primarily operates as a direct-to-consumer company, shipping saunas directly to people's homes, Sunlighten also has a thriving B2B segment; it has thousands of commercial customers, with a client list including wellness and fitness centers, medical practitioners, functional medicine and chiropractors, hotels and spas, and builders, architects and interior designers all around the world.
Key to Sunlighten's growth has been the Zacks' decades-long commitment to technological innovation and high-quality manufacturing standards, which ensures customers get the best infrared experience possible.
Sunlighten saunas use the brand's patented SoloCarbon® far infrared heating technology to emit 95-99% infrared, which the brand says is the highest quality and quantity available. Their mPulse saunas offer additional mid and near infrared integrated with red light therapy.
"Our mPulse sauna heaters and light therapy combination is distinctive in the industry in the level of sophistication we achieve in producing precise far, mid, near infrared and red light in one heater in pre-set health programs that deliver the best dosage of each wavelength to achieve specific health benefits," says Kendra Gensemer, Sunlighten's Content Director.
That technology is unique to Sunlighten, Gensemer says, and is based on over 50 data points from nearly 40 studies on how infrared interacts with the body. 
Sunlighten also puts a high emphasis on quality craftsmanship, including building its saunas with hand-selected wood and all-natural, non-toxic materials. Sunlighten owns the manufacturing process from design to construction to delivery so they control all aspects of quality. Every sauna they manufacture is assembled once and quality checked before it is packaged and shipped.
"That level of detail is unmatched in our industry," Gensemer says.
Innovating in the Infrared Industry
Building on its legacy of innovation, Sunlighten earlier this year released the mPulse Smart Sauna. The mPulse is the world's first and only dynamic sauna that empowers users to customize each wavelength to optimize specific health benefits, according to Sunlighten.
"Our new Smart Sauna takes the guesswork out of managing your wellness routine by supporting your health goals and guiding you with the use of intelligent technology and data," Aaron Zack, Sunlighten's CEO, said of the product when it launched. "All you have to think about is getting in and enjoying it. It will tell you which program is best for the health benefit you want."
The mPulse contains a built-in tablet that allows users to control the dosages of infrared and red light that get emitted, giving people the power to create a highly personalized wellness routine.
The mPulse currently offers six preset programs that users can choose from based on their specific health goals. The programs include Cardio, Pain Relief/Muscle Recovery, Weight Loss, Relaxation, Anti-Aging and Detox.
"The tablet also remembers who you are to track your sessions, allows you to schedule sessions, and offers the ability to create your own custom program," Gensemer notes.
For example, a user could create a custom program designed for post-workout recovery and choose the wavelengths and time frames that are best for that goal. The mPulse tablet also comes stocked with in-sauna entertainment options, allowing users to stream Netflix shows or meditation sessions. 
To bring it all together, Sunlighten offers a mobile app that allows users to schedule sessions, manage their session calendar and even turn the sauna on from up to 500 meters away. That's likely just the beginning of what's possible with the app.
"This version of our app is the foundational version, and we will continue to add features in the future, including wearable data syncing and more," Gensemer says.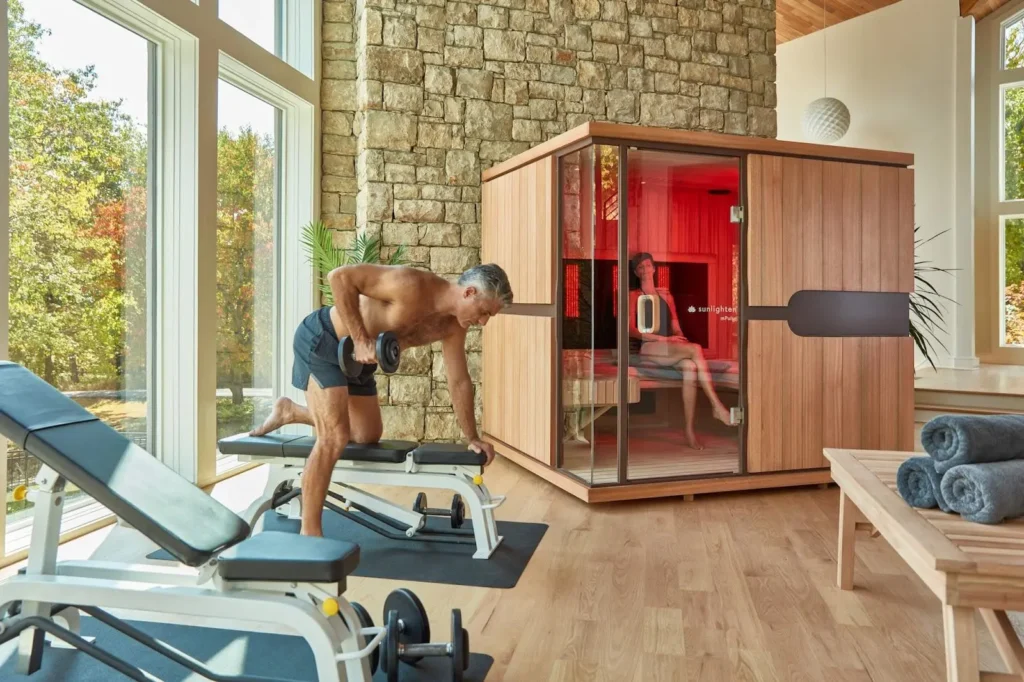 Infrared Offers Many Benefits 
As Sunlighten continues to grow – its saunas were being shipped in record numbers to people across the world as a result of the pandemic – the brand is focused on continuing to educate consumers about the benefits of infrared.
Gensemer explains that as our cells absorb infrared light energy and warmth, it activates what she calls "an incredible biochemical cascade that results in overall better functioning of every system."
"It's a whole-body benefit, and we also can talk about specific health benefits," Gensemer says.
Those include detoxification, heart health (including circulation and lower blood pressure), a stronger immune system, anti-aging and skin health benefits, better sleep, decreased inflammation, pain relief and muscle recovery, support for weight management, balancing hormones, stress relief and brain health.
Thanks in part to a global awakening about the importance of holistic wellness following COVID, consumers are more acquainted with and accepting of recovery modalities like infrared now than they were even five or ten years ago.
"People are more familiar with the word 'infrared' than ever before," Gensemer notes.
But for Sunlighten, there's still work to be done to get the word out about the life-changing benefits of infrared that led to the company's creation back in 1999.
"More than marketing, we take an educational approach to helping people understand the science of infrared light, and what it does for the body," Gensemer says. "Our goal is to help people feel better so they can do more of what they love and live fully."