Rumble Boxing Is a Hit With Female Franchisees
Partnership
Sponsored By Xponential Fitness
October 23, 2023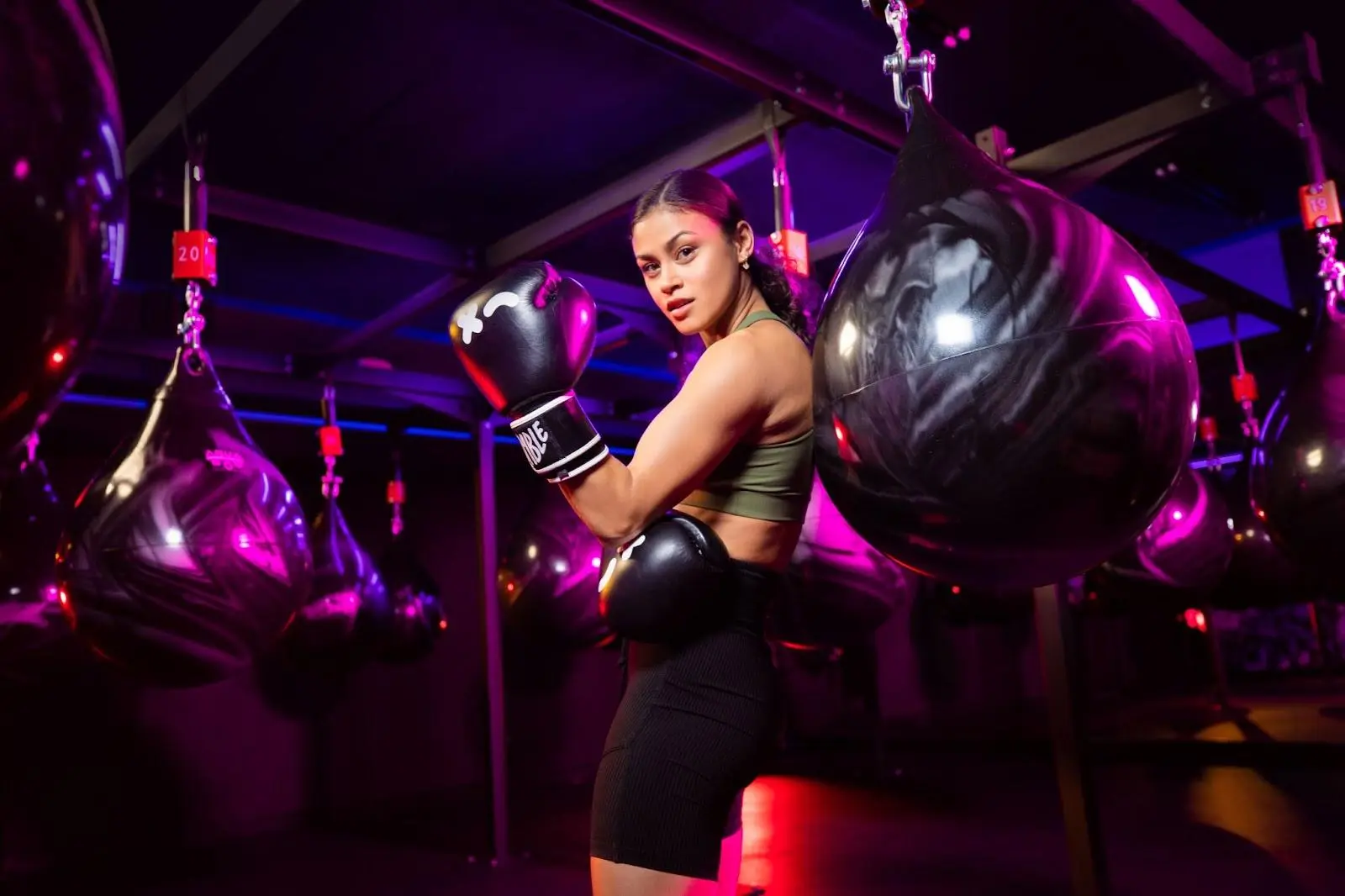 credit: Xponential Fitness
Partnership
Sponsored By Xponential Fitness
A whopping 73% of Rumble's member base is made up of women while approximately 40% of the boxing brand's franchise owners are female
If you think of "Rocky," "Creed," and old-school gyms filled with testosterone when you hear the word boxing, it might be time to update your view on the sport, especially as it relates to group fitness.
Boxing has quickly become a favorite fitness activity of women across the U.S., especially among those in the Millennial age range. More and more, women are making the once-male-dominated sport their go-to workout routine, shattering long-held notions of what's masculine and feminine.
Rumble Boxing, the boxing-inspired group fitness brand acquired by Xponential Fitness in 2021, is emblematic of this cultural shift. A whopping 73% of Rumble's fast-growing member base is made up of women. Perhaps even more notable, approximately 40% of Rumble franchise owners are female, higher than the national average of 31%.
A Rumble workout is challenging but accessible, featuring 10 rounds over 45 minutes divided evenly between boxing drills like shadowboxing and bag-punching and resistance training including bodyweight circuits and dumbbells.
There are a few reasons why Rumble has become so popular with women: part of it stems from the growing popularity of boxing itself, part of it is due to the increased interest in group fitness post-pandemic, and some of it is thanks to the franchising might of Xponential, which has ten boutique fitness brands under its umbrella including giants like Club Pilates and StretchLab.
"Boxing and HIIT are hot modalities in the boutique fitness space and with the right team in place, we've been able to rapidly expand through franchising the concept in 2021," Shaun Grove, Rumble's President, says of the brand's growth. "We've also been able to capitalize on the heightened consumer demand for community-based fitness as more and more people are dedicating more time to their health and wellness, especially as people are defining 'wellness' in broader terms since the pandemic."
Rumble's blend of boxing and group fitness not only offers a great workout, it presents an accessible entry into strength training, which has become ultra-popular post-pandemic. For women who understand they need to strength train for better overall health but may have trepidation about jumping into the weight room at their local gym, boxing at Rumble presents a fun and relatively easy way to get started.
"Trends have shown that females, and not just athletes, are starting to understand the importance of weight training for overall health and wellness, but they want a program that's fun and that they can stick to," Rachelle Dejean, Chief Marketing Officer at Rumble, explains. "At Rumble, we take that up a notch with the unique pairing of boxing and strength for killer results."
It helps that boxing also offers many cardio benefits, so Rumble members get a lot of bang for their workout buck.
Susie Grobler, who opened the first Rumble franchise location, was encouraged to become a studio owner due to her love for the workout more than anything else.
"Cardio is important but I can't say I personally love running," notes Grobler, who opened her Rumble location in Anchorage, Alaska, on New Year's Day 2022. "I fell in love with boxing because it gives me the cardio push I need. Rumble takes it to the next level by also adding in the strength component. The mixture of rounds on the bag and rounds on the floor is amazing and the results speak for themselves."
Importantly, Rumble classes can be taken by people with no prior boxing experience. That's an intentional choice on the part of Rumble and Xponential to promote inclusivity and attract a wider clientele.
"We always aim to be accessible, and our 'don't take ourselves too seriously' brand approach helps us maintain a fun energy," Dejean says.
Another key reason for Rumble's growth is the power of community. The boutique fitness brand has been able to combine the fitness benefits of boxing with the allure of group fitness, which has become even more desired post-pandemic as people seek to regain in-person connections they lost out on during lockdowns and social distancing.
"When Rumble propelled into the NYC market in 2017, it was really one of the first of its kind to offer boxing-inspired group fitness," Dejean notes. "Everyone can benefit from community and connection, and even more so after years of on-demand and virtual workouts."
Rumble's popularity among female franchise owners has been the result of organic growth rather than any strategic decisions on the part of Xponential; the boutique fitness franchisor seeks capable business partners regardless of gender.
"We simply look for energetic individuals who want to own their own business and ideally, are passionate about fitness," Grove says. "Someone who has business acumen, sufficient financial resources, the ability to manage and motivate a team, and the ability to follow our proven systems."
For Grobler, the decision to open a Rumble studio was a natural choice, driven by her love of the brand's boxing-inspired workouts as well as Xponential's famous "playbook" for franchise owners.
"Xponential provides guidance in all departments. The sales and marketing team work very hard to provide a play that works," Grobler says. "This frees up a lot of time to work on how to execute the play. The training team has been invaluable in providing not just a great workout but truly being mentors."
Grobler, who also owns a Pure Barre franchise that she bought in 2017 before Xponential acquired that brand, believes franchising can be very rewarding – she left a career as a mechanical engineer in the oil industry to gain more control over her schedule – but it's not without its share of challenges, like any business.
"I'll have to quote (franchise expert and author) Scott Greenberg and say, 'If you don't like roller coasters, you probably won't like franchising,'" she says. "A big part of my success is that I've just kept going through all the ups and downs."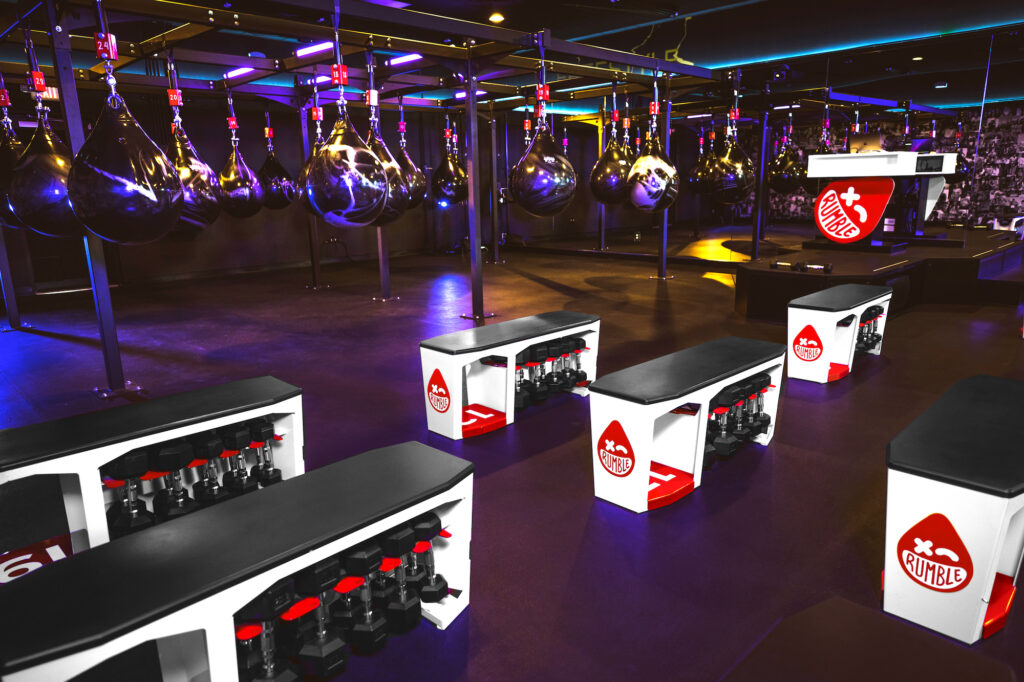 Overall, Rumble has over 65 studios open and 375 franchise licenses signed as of Q2 2023, impressive growth given the brand only started franchising after being acquired by Xponential in 2021. As Rumble looks to continue opening studios across the country and world, it will focus on markets that meet its criteria in terms of demographics and real estate.
But more than anything, where Rumble heads next will be driven by franchisee demand.
"While we do target key markets in our marketing approach, our expansion strategy is driven by where our franchisees want to open a studio," Grove says.