Planet Fitness Rated 'Moderate Buy' As Company Eyes Membership Growth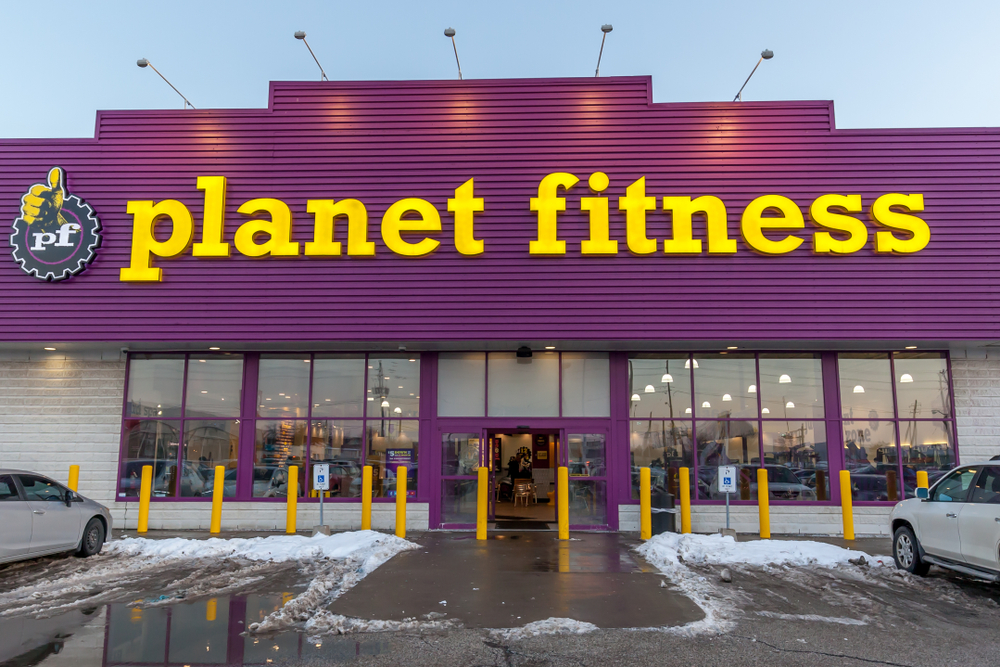 credit: jhvephoto/shutterstock.com
Planet Fitness has increased its member base and says it can double its membership numbers, but can investors bank on the post-COVID health & fitness momentum?
Planet Fitness has earned an average rating of "moderate buy" by fourteen brokerages following the fitness company's announcement that it can double its membership numbers, although one investor has sold a sizable stake.
Four analysts have rated Planet Fitness with a hold rating, eight have granted a buy rating, and one has issued a strong buy rating, according to a report by Marketbeat.com, which added that the average 12-month target price issued for Planet Fitness is $90.67. The fitness operator's stock was trading at $75.83 when the markets closed Wednesday.
Planet Fitness has been adding members to its gyms, noting the potential of younger Gen Z and millennial fitness consumers. The fitness operator recently revealed that Gen Z is now the second largest segment of its member base, once the smallest during pre-COVID times.
Artemis Investment Management LLP boosted its holdings in the fitness company by 34.7% in the fourth quarter, according to its most recent filing with the Securities and Exchange Commission, purchasing an additional 322,232 shares during the quarter. Planet Fitness makes up roughly 1.1% of Artemis' holdings, making the stock its 28th biggest position, according to Marketbeat. 
However, one investor made a move that questions the long-term viability of the surge in health and wellness. 
A recent filing with the SEC by Pallas Capital Advisors LLC revealed that the investor has sold off a significant stake in the fitness company during the fourth quarter of 2022. Pallas Capital reduced its 8,500 shares of Planet Fitness, representing a reduction of 69.3% of its total holdings.
Pallas Capital's decision was surprising, but upon closer look, some industry experts say the investor, which tends to be conservative with its moves, leans towards stocks that offer long-term growth in favor of short-term fluctuations.  
While Planet Fitness' share price has increased 131% in the last three years, the fitness operator has reported a three-year decline in earnings. In the three years of share price growth, the fitness operator's earnings per share dropped 6.2% per year.
Planet Fitness believes it can double its membership numbers, sharing that it closed 2022 with approximately 17 million members, attracting many first-time fitness enthusiasts due to its affordability and welcoming approach. 
The record membership growth in the fourth quarter created momentum going into Q1 of this year, with Planet Fitness CEO Chris Rondeau reporting that the fitness operator is continuing to benefit from the "increasing commitment to and interest in overall wellness" coming out of the pandemic.
However, some in the investment community may be concerned if wellness and fitness businesses can continue the pro-health momentum as trends evolve regarding fitness and consumer habits. 
Still, Planet Fitness is encouraged by its growth and what's to come. After all, the fitness operator was one of the few fitness businesses expanding during the pandemic as competitors folded.
The fitness operator said it found success with promotional partnerships, such as the one it had last November, where new members would receive a free Halo Amazon Health Tracker. In 2022, Planet Fitness offered deals from brands such as Crocs, Grubhub, and Shell.
"We, along with our franchisees, are very bullish on our growth prospects," Rondeau said on a February earnings call. "We are pleased with the recovery coming out of the pandemic. We ended 2022 with 2.6 million members, more than we had at the end of 2019, and we've opened 420 net new stores during that same period."
Planet Fitness recently introduced Edward Hymes to its leadership team to serve as president and Chief Operating Officer. 
Hymes will lead the company's primary business segments, U.S. and international franchise businesses, corporate stores and equipment sales, and will build an international team to increase Planet Fitness' global footprint.
Courtney Rehfeldt
Courtney Rehfeldt has worked in the broadcasting media industry since 2007 and has freelanced since 2012. Her work has been featured in Age of Awareness, Times Beacon Record, The New York Times, and she has an upcoming piece in Slate. She studied yoga & meditation under Beryl Bender Birch at The Hard & The Soft Yoga Institute. She enjoys hiking, being outdoors, and is an avid reader. Courtney has a BA in Media & Communications studies.