Social Media Gets Judgmental of Planet Fitness on New Year's Eve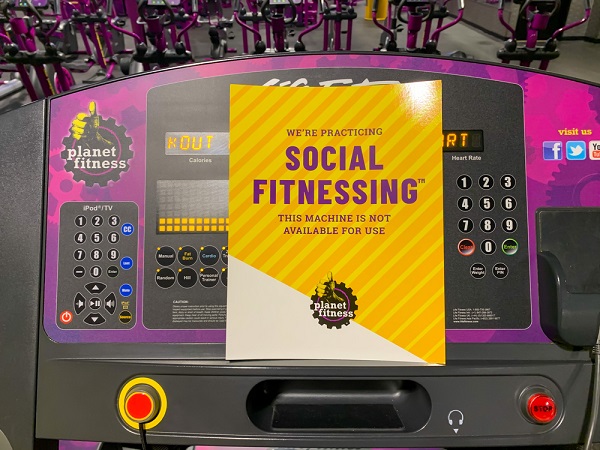 Candace Cordelia Smith
Candace Cordelia is a Pennsylvania-based journalist and on-camera broadcaster/host, with…
Planet Fitness took on the role of being the presenting sponsor of Times Square New Year's Eve in 2021. However, many viewers celebrating at home weren't impressed by the fitness company's branding techniques throughout the night.
Popular gym chain Planet Fitness rang in another new year as the presenting sponsor of Times Square New Year's Eve on Dec. 31. Although thousands of revelers packed into the epicenter of New York City to celebrate the arrival of 2022, it wasn't hard for at-home spectators to spot the many bright yellow, purple and black Planet Fitness logos, inflatable tube men and hats at the scene of the festivities. Only those vaccinated were allowed to participate in person, but the spectacle gave viewers a lot to discuss in both jest and distaste. 
"There is no way in hell you would see me wearing one of those times square planet fitness new years eve jamiroquai hats," wrote one person on Twitter. A side-by-side picture of the hat and Jamiroquai frontman Jay Kay wearing one of his famous top hats was posted under the tweet for emphasis. Another Twitter user poked fun at Planet Fitness' well-known lunk alarm, having stated, "Weird that planet fitness is sponsoring New Years rockin eve and they didn't sound the lunk alarm when they dropped the big ball." 
Others saw Planet Fitness' presence in Times Square New Years' Eve as more of a dystopian tale playing out in real time. "People really out in Times Square rn risking their lives over some novelty planet fitness hats and 2022 plastic glasses," tweeted one individual. Another succinctly pointed out, "I don't know if this gets said enough, but America has one of the absolute bottom tier New Year's celebrations. That corny planet fitness times square ball drop is embarrassing, and it was still embarrassing before the over the top corporate branding."
Regardless of how Planet Fitness' brand may have looked on the outside to television and social media onlookers navigating the COVID-19 pandemic, the fitness franchise continues to thrive even with the threat of the omicron and Delta variants. At the start of the new year, Planet Fitness CEO Chris Rondeau told CNBC that members are still going to their gyms and cancellations have yet to rise. "Before there was a vaccine, we did see a pullback on joins and workouts and cancellation spiking. During the delta variant and omicron, we're not seeing that pullback," Rondeau explained. As previously reported by Athletech News, Planet Fitness company stock surged in November of 2021.
Candace Cordelia Smith
Candace Cordelia is a Pennsylvania-based journalist and on-camera broadcaster/host, with a reporting background in wrestling, entertainment, and lifestyle. Her reporting work has been featured on websites and in publications such as Bustle, Pro Wrestling Illustrated, New York Daily News, am New York, ABC News, Yahoo!, Good Morning America, Madame Noire, Sister 2 Sister, etonline.com, Diva Dirt and The Everyday Fan. Her favorite workout influencers include Chloe Ting, Cassey Ho, Pamela Reif and Mary Braun. She still can't stand burpees and Rebbl Dark Chocolate Immunity Elixir is one of her favorite post-workout protein sips. You can follow Candace on Twitter @CandaceCordelia and on Instagram @thatgirlcandace16.