Peloton Loses Paid Subscribers as CEO Urges Patience
credit: Peloton
Peloton's push into digital fitness content may not be off to a hot start, but CEO Barry McCarthy is playing the long game
Peloton has revealed its first earnings report since announcing its five-year global partnership with athleisure giant Lululemon, but the company is facing difficulties converting free users into fully paying subscribers. Nonetheless, the connected fitness company sees great promise in its various new partnerships and the return of its beloved Tread+.
The connected fitness company's Q1 FY2024 results demonstrate revenue of $595.5 million, comprising $180.6 million of connected fitness segment revenue and $415.0 million of subscription revenue. In comparison, Q1 FY2023's total revenue was $616.5 million, with $204.2 million in connected fitness revenue and $412.3 million in subscription revenue.
Peloton ended the quarter with 2.96 million paid connected fitness subscribers, reflecting a net reduction of 33,000 in the quarter. The connected fitness company ended the quarter with 763,000 paid app subscribers, reflecting a net reduction of 65,000 in the quarter.
Despite the struggles, CEO Barry McCarthy deemed Peloton's recent rebrand a success, noting that the company continues to resonate with its core demographic while attracting "more male, Gen Z, Black, and Latin X groups than before the relaunch."
In response to not converting as many free users into paying members as Peloton had hoped, McCarthy said marketing spend has been shifted to focus on the paid app and has shown fruitful results. The band also removed "onboarding friction" in the app so new Peloton users could find classes.
"In addition to our growth investments in our Bike rental program, international, and partnerships, we're making a large bet on growing Peloton App subscribers in FY24," McCarthy wrote.
Peloton's Partnership Strategy
Peloton highlighted its recently inked partnerships with not only Lululemon but also Liverpool Football Club, the University of Michigan, New York Road Runners and the NBA and WNBA.
As McCarthy notes, Peloton is tapping into the collegiate ecosystem of students, student-athletes, faculty, staff, alumni and fans in 2024 by way of co-branded Bikes, its app and the sale of its connected fitness hardware to campus recreation centers, athletic facilities, off-campus housing and hotels around campus.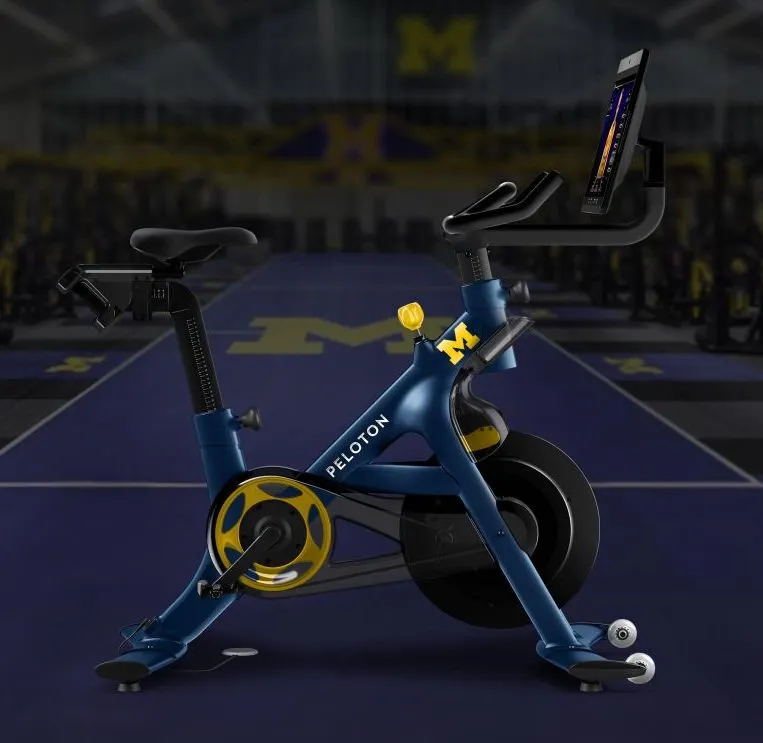 Peloton sees its partnerships as lucrative, with McCarthy telling investors that people are "beating down (Peloton's) door" to discuss different ways to work with the brand.
In his letter, McCarthy listed "strong inbound interest" from hopeful partners from over 50 top-ranked Division I universities and pro sports teams, organizations, events and agencies in the US and around the world.
As of this week, Lululemon Studio Members were granted access to Peloton workout classes.
"We see multiple benefits in this partnership, including an opportunity to introduce the Peloton App to millions of Lululemon fitness enthusiasts," wrote McCarthy, who added that there has been a "terrific response" to the launch of the co-branded apparel lines that "far-exceeded" its forecasts.
See Also
Peloton for Business is anticipated to be another growth driver in 2024 and beyond, with McCarthy noting that Peloton has received "significant inbound interest" and is involved in a "wide range of conversations with prospective partners."
The connected fitness company launched the B2B well-being platform this summer. The program includes access to Bikes in hotels, multi-family residential gyms, corporate office gyms, campus recreation centers and community wellness gyms, as well as access to its app and preferred pricing on Peloton equipment.
Tread+ Returns
Peloton will soon reintroduce its Tread+ this quarter (priced at $5,995) and begin taking pre-orders.
"Of all the products that I've ever been exposed to at Peloton, the one single product that you couldn't pry out of the dead hands of members is the Tread+," McCarthy said.
"I mean, they were absolutely over the top, fanatically obsessed about the user experience on the Tread+. Dramatically, exponentially, more emotionally with that product than anything we've ever produced," he continued. "And, frankly, it's that reaction that informs my belief that we're more likely than not to be successful in the reintroduction of that product."
Courtney Rehfeldt
Courtney Rehfeldt has worked in the broadcasting media industry since 2007 and has freelanced since 2012. Her work has been featured in Age of Awareness, Times Beacon Record, The New York Times, and she has an upcoming piece in Slate. She studied yoga & meditation under Beryl Bender Birch at The Hard & The Soft Yoga Institute. She enjoys hiking, being outdoors, and is an avid reader. Courtney has a BA in Media & Communications studies.