Could a Rower Change the Game for Peloton?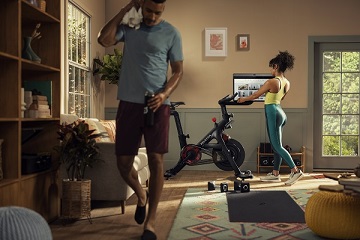 Google search data may show a decline, but a new Peloton product could be promising
New year, same Peloton? After a turbulent end to 2021, it's been a bumpy ride for the company thus far in 2022. While shares of Peloton temporarily jumped 6% as Omicron hit, the "stay-at-home" stock is still navigating challenging waters according to experts, even with New Year's fitness resolutions in play and growing Covid-19 cases that might otherwise support at-home workout approaches. But there's always room for hope.
Analyst Doug Anmuth at J.P. Morgan recently slashed Peloton's price target by nearly 30%, to $50 from $70. Anmuth cited Peloton's declines in traffic and increased promotional activity, indicating continued uncertainty in 2022. That being said, Anmuth signaled that Peloton still has potential.
"We continue to believe considerable headroom remains in the long-term connected fitness opportunity across Bike & Tread, and Peloton should drive additional growth through commercial and international expansion," Anmuth wrote to his clients.
Anmuth's take on Peloton comes after Google search trends data revealed that demand for Peloton is continuing to decline. Google's data, which has been linked to Peloton's sales, along with consumers losing interest in at-home fitness, indicates that Peloton may continue a sluggish ride in the upcoming months.
Aaron Kessler, Raymond James analyst, recently stopped by "Squawk on the Street" to discuss the search trends and says that Peloton could be acquired (or in a position to acquire) in the future. Kessler also proposed that there'd be some consolidation within the at-home fitness space over the next year or two.
Peloton initiated a hiring freeze late last year but has seemingly overcome its supply issues. The interactive fitness company also delighted its fans by launching Peloton Boxing, and introduced its first connected strength device, Peloton Guide. Still, rumors of a Peloton rower machine, like that of Hydrow, have yet to come to fruition. Kessler indicated in his interview with CNBC that he predicts a "Tonal-like" product from Peloton.
Peloton's shares also fell last month after DigiTimes reported that Peloton has turned "conservative" when it comes to new product developments, leading shares to fall nearly 5% in premarket trading. A Peloton spokesperson denied the report and confirmed that the interactive fitness company will innovate its product lines. CEO John Foley also hopped on Twitter to send a message that the company is excited about the "product pipeline."
Peloton could benefit from the introduction of a new product, such as a rower. After reports of used Peloton bikes filling Facebook Marketplace, it may be time to reveal plans for a new piece of workout equipment. It's possible, however, that Peloton may try to avoid the fate that Steven Kurutz described recently in The New York Times – comparing the sale of used Peloton bikes as "the modern equivalent of the 1990s NordicTrack: a high-priced piece of exercise equipment that becomes a glorified clothing rack, cluttering up a home until it is sold or dispatched to the curb."
Courtney Rehfeldt
Courtney Rehfeldt has worked in the broadcasting media industry since 2007 and has freelanced since 2012. Her work has been featured in Age of Awareness, Times Beacon Record, The New York Times, and she has an upcoming piece in Slate. She studied yoga & meditation under Beryl Bender Birch at The Hard & The Soft Yoga Institute. She enjoys hiking, being outdoors, and is an avid reader. Courtney has a BA in Media & Communications studies.