Peloton Guide, First Connected Strength Device, Unveiled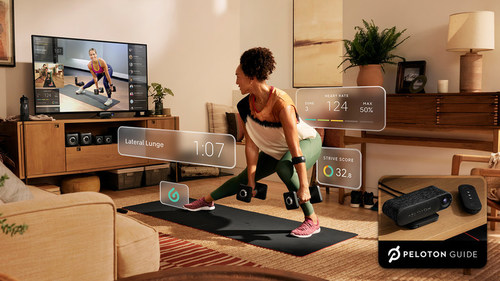 Peloton Guide
The interactive fitness leader is making good on its promise
Peloton announced today that it would be introducing Peloton Guide, its first connected strength product with a budget-friendly price. The company said that connected strength is an offering that its customer base has been eager to receive.
Peloton Guide is AI-enabled and connects to a user's TV, offering access to a vast fitness content library featuring its world-class instructors.
The new product by Peloton will be available in early 2022.
The announcement comes after a recent drop in Peloton shares following the company reporting declining sales and supply chain issues earlier this month. Peloton announced that it would be revising its future expectations but indicated that it would make moves to attract a wider base of consumers and make attempts to lure a cost-conscious crowd.
In the recent earnings call this month, John Foley, co-founder and CEO, stated that Peloton was going to have a big year for product launches and alluded to upcoming announcements. He stressed that Peloton's tech advancements will prove that the best is yet to come.
"We've had a lot of fantastic research and development in the hopper for years at this point, and we are super excited to bring it to our members and to expand our opportunity. That's all I can say right now. But we are a technology and innovation company, and we're going to show what that means in the coming quarters," Foley said in the call.
As for the new Peloton Guide announcement, Tom Cortese, Peloton's co-founder and Chief Product Officer, says that Peloton fans have become increasingly interested in strength content. Cortese said the interest has exploded over the last couple of years and that the new product that has been added to the Peloton product line-up is just the beginning.
"Peloton Guide demystifies strength training to create a more engaging experience that will help Members stay motivated. We combined our world-class Instructors and class content with the best machine learning technology to create a whole new way to train. This is just the beginning for Peloton strength. Guide will keep getting smarter so it can grow stronger alongside our Members," Cortese said in a press release.
Peloton currently has 6.2 million members.
The voice-activated Peloton Guide uses machine learning, which is a form of AI. It uses data to reveal patterns and make choices, and members will be able to track movements and progress. One enticing aspect is that Peloton Guide users can bring their own equipment for the strength training program, like weights or other accessories, and still receive expert instruction from Peloton Instructors. The interactive fitness company says that it will update and enhance the Peloton Guide as time goes on, training it for new movements and disciplines. Only new subscribers to Peloton will need to sign up for a $12.99 monthly subscription to access the content.
The guide uses motion tracking and smart camera technology to compare a user's form to the Peloton instructor. The device will monitor body activity and provide data that shows which muscles were recently worked. Peloton will then make class recommendations based on recent workouts. Peloton says that it has maintained privacy for members, allowing users to retain control over the camera and microphone based on their comfort level.
The new Peloton product has a competitor with Tempo, who recently announced a $395 smart home gym, a two-foot-tall fitness system that also focuses on strength training. As the wellness industry surges, one would expect to see more fitness companies unveiling systems at accessible prices.
For a $495 bundle, the Peloton Guide will include a Peloton Heart Rate Band that is compatible with the Peloton Bike and Tread. The heart rate band can also be purchased separately. Peloton says that it will be exploring financing options to allow greater accessibility to the Peloton Guide, as they have with the Peloton Bike, Peloton Bike+, and Peloton Tread.
Courtney Rehfeldt
Courtney Rehfeldt has worked in the broadcasting media industry since 2007 and has freelanced since 2012. Her work has been featured in Age of Awareness, Times Beacon Record, The New York Times, and she has an upcoming piece in Slate. She studied yoga & meditation under Beryl Bender Birch at The Hard & The Soft Yoga Institute. She enjoys hiking, being outdoors, and is an avid reader. Courtney has a BA in Media & Communications studies.