Ergatta Rower Names Best Buy as First Retail Partner, Releases New Gaming Experience
credit: Ergatta
The game-based rower is now available through Bestbuy.com
Just in time for the holidays, Ergatta, the game-based home fitness brand, has announced a retail partnership with Best Buy for its connected rowing machine, the Ergatta Rower.
The multinational consumer electronics retailer is Ergatta Rower's first major retail partner and comes after the home fitness brand's successful expansion into the UK and Ireland.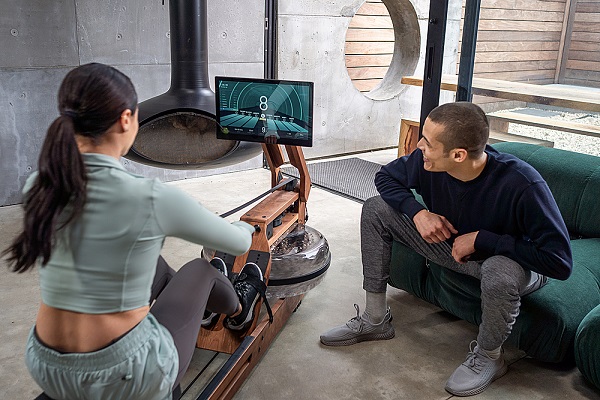 The Ergatta Rower, $2,499.00, is now available in the United States at BestBuy.com and Ergatta.com. It is also available in the United Kingdom and Ireland, with additional international markets set to open later this year.
"The traditional boutique and home fitness products focus on follow-along and class-based offerings," said Tom Aulet, co-founder and CEO of Ergatta. "However, a large segment of the population relies on a different set of intrinsic motivators and Ergatta builds solutions tailor-made for them. Our programming is competitive, both against yourself and others in our community, and centered around individual progress and achievement."
According to Aulet, the Best Buy partnership will increase access to the Ergatta game-based offerings, which offer a unique spin on traditional workout classes.
"We couldn't be happier to partner with a company like Best Buy, that deeply understands as well as we do where the fitness industry is heading and how important gaming is to that future," said Aulet.
Ergatta says that it decided to team up with Best Buy because of the consumer electronics retailer's focus on gaming innovation and tech-based wellness products. Best Buy has collaborated with numerous fitness and gaming companies, including NormaTec, Hyperice, Whoop, Xbox, and Playstation.
The game-based rower, crafted out of cherry wood, has provided a fitness alternative to consumers who aren't motivated by traditional workout classes, but are drawn to gaming rewards that are progress–oriented.
The at-home system has thousands of interactive workouts, and users can hit individual fitness and endurance goals while enjoying a competitive experience. One workout is a multiplayer race that occurs with eight other Ergatta members who are matched for close competition. There are also single-player games that rank scores and an immersive scenic row with waterways from around the globe.
Ergatta recently released a new gaming experience, Vortex, where members are scored using effort and their measured fitness level via a Calibrated Competition scoring system.
The NY-based rowing machine maker attracted numerous investors last year and has caught the eye of at-home fitness consumers who are attracted to its sleek and elegant design that is meant to look like a piece of luxury furniture.
Courtney Rehfeldt
Courtney Rehfeldt has worked in the broadcasting media industry since 2007 and has freelanced since 2012. Her work has been featured in Age of Awareness, Times Beacon Record, The New York Times, and she has an upcoming piece in Slate. She studied yoga & meditation under Beryl Bender Birch at The Hard & The Soft Yoga Institute. She enjoys hiking, being outdoors, and is an avid reader. Courtney has a BA in Media & Communications studies.