Embr Labs Raises $35M in Debt Financing for Menopause Wristband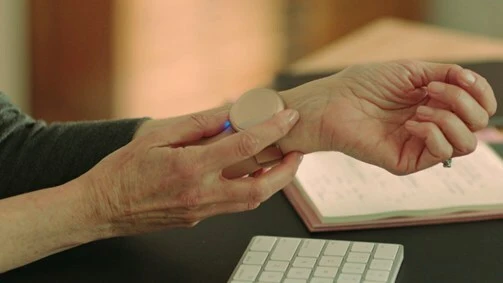 The Embr Wave wristband delivers cooling or warming sensations for instant relief from hot flashes caused by menopause
Embr Labs, the makers of the Embr Wave, a menopause-treating wristband wearable, has raised $35 million in intellectual property-based debt financing. 
The funding, led by Ghost Tree Partners and Aon, is intended to fuel Embr's consumer growth strategy through retail and geographic expansion. 
The Embr Wave wristband, $299, delivers cooling or warming sensations for instant relief from hot flashes, providing a natural and non-hormonal alternative for uncomfortable changes of life symptoms, which is what women are seeking, according to Elizabeth Gazda, CEO of Embr Labs.
"Through our partnership with Ghost Tree, Embr Labs is able to accelerate the fulfillment of our mission to provide this ground-breaking technology to women everywhere," Gazda said.
Embr points out that 75 million women in the U.S. are in perimenopause, menopause, or postmenopause, and 80% will experience hot flashes.
The Mayo Clinic recently published a study that evaluated the impact of menopause symptoms on the workplace and the estimated economic impact. According to the study, 13.4% of women reported at least one "adverse work outcome" due to the symptoms of menopause, and 10.8% reported missing work in the preceding 12 months, with a median of 3 days missed. 
Perhaps most eye-opening is that the study estimated an annual loss of $1.8 billion in the U.S. based on workdays missed due to menopause symptoms.
According to Embr, clinical studies with women experiencing menopausal hot flashes showed that the wearable relieved thermal discomfort and improved sleep. In addition, the tech company is conducting a number of clinical trials to learn more about the benefits of the Embr Wave.
The wearable can also be used by men who suffer from hot flashes as a result of prostate cancer treatments.
Embr Wave is now available at many major retailers across the U.S. and the U.K., including Costco, Sam's Club, Walmart, Best Buy and Target. The brand plans to launch in new retailers by the end of the year.
"We recognized Embr's market leadership and the company's rapid growth potential," said David Byrne, a managing director at Ghost Tree Partners. "We are pleased to support the company as the investment community has yet to recognize the massive unmet need the menopause segment presents."
Courtney Rehfeldt
Courtney Rehfeldt has worked in the broadcasting media industry since 2007 and has freelanced since 2012. Her work has been featured in Age of Awareness, Times Beacon Record, The New York Times, and she has an upcoming piece in Slate. She studied yoga & meditation under Beryl Bender Birch at The Hard & The Soft Yoga Institute. She enjoys hiking, being outdoors, and is an avid reader. Courtney has a BA in Media & Communications studies.