Tonal Targets Older Adults With 'Active Aging' Strength Workouts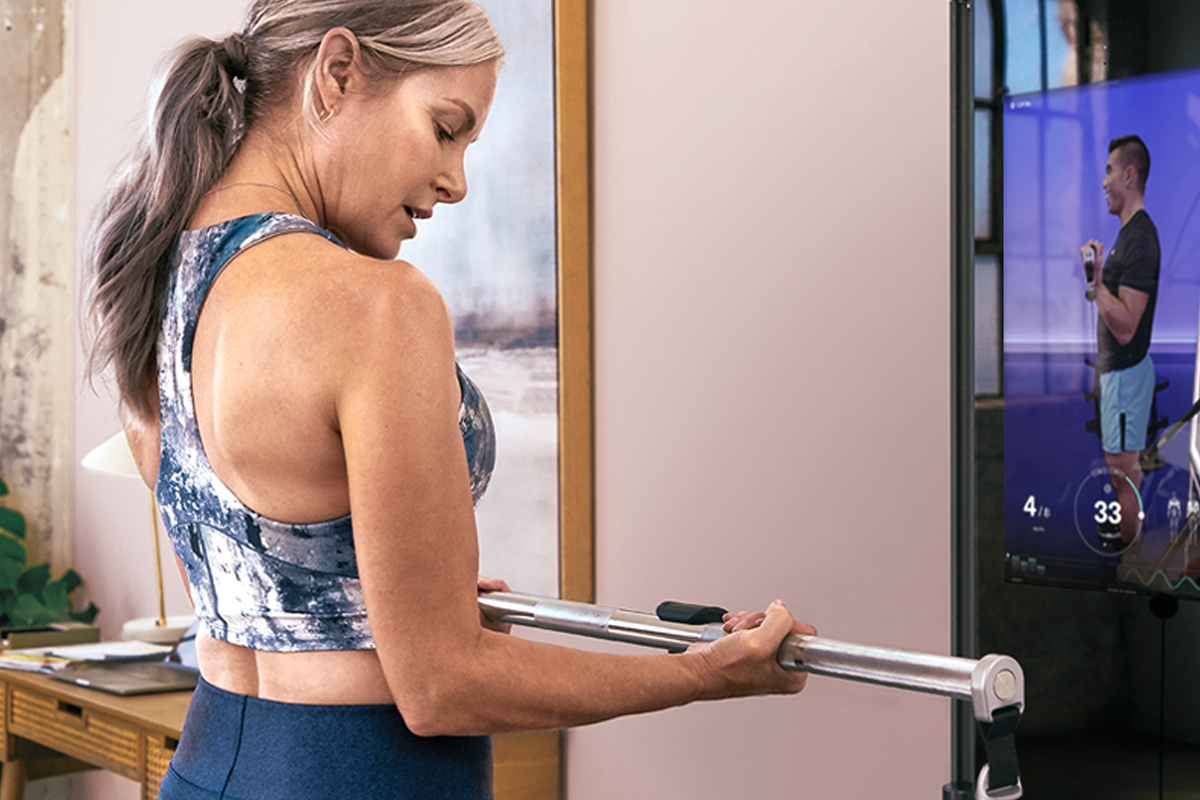 credit: Tonal
While most of the fitness industry vies for the attention of younger consumers, Tonal is making a play for those in their Golden Years
A "Silver Fitness" revolution is coming, as Tonal, an AI-powered home fitness company, looks to attract fitness enthusiasts above a certain age with new, specially designed strength training workouts.
The so-called "active aging" population is a large (and growing) market — according to the U.S. Census, roughly one in six consumers was 65 years old and over in 2020, and by 2050, the world's population of those aged 60 years and older will double to 2.1 billion.
"Members aged 55 years and over are one of our most vibrant populations, and their stories inspire us every day," Matt Bean, Tonal's head of content and senior vice president of programming and research, tells Athletech News. He added that the 55-plus crowd has completed over 3.5 million workouts on Tonal.
Is Strength Training the Best Medicine?
As consumers continue seeking methods that support fitness, health and longevity, Tonal's at-home, digital strength training system can serve mature populations looking to stay active and fit.
"I'm not going to say strength training is the fountain of youth — but it's pointing in the right direction," Bean said. "Whether it's the reduction in all-cause mortality, the extension of healthspan or even the age-related decline in muscle mass, strength, and bone density, it has become crystal clear just how important it is to resistance train."
Tonal's system, Bean says, makes it easy. In reviewing Tonal's data, he points out that the active aging group can achieve considerable increases in strength and power on the at-home strength training device. Impressively, they are also Tonal's most devoted subset of fitness enthusiasts.
"Our members who are 55+ are more consistent at strength training week-to-week than other age groups, and our algorithm indicates that, across all levels of expertise (beginner, intermediate, advanced), the average Strength Score increases by 60% after 12 months," Bean noted.
Making It Safe & Personalized
Tonal's AI-powered algorithm suggests weight amounts and one-pound adjustments so users can lift the exact amount ideal to reach goals effectively and safely. Bean also highlights Tonal's "spotter mode," which automatically disengages weight if a user struggles with a lift, as well as its form feedback and expert cueing, so older consumers can avoid strain or injuries.
Although Tonal has over 4,000 workouts and 200+ programs suitable for all fitness enthusiasts, including those 55 and over, the digital strength training company is launching three new "Ageless Strength" workouts geared toward the active aging population:
Ease into Action: A 30-minute, beginner-friendly workout featuring exercises that mirror everyday movement patterns (such as functional movements, like picking up grocery bags) to build balance, stability and strong posture.
Fit & Functional: a 30-minute, intermediate workout focusing on single-sided exercises to activate the core and develop balance and coordination for all aspects of life.
Dynamic Muscle: a 30-minute, advanced-level workout that proves you can build strength at any age through full-body compound lifts that activate multiple muscle groups. Unilateral moves are also incorporated to challenge balance and stability.
As it looks ahead with a new year fast approaching, Tonal plans to continue building signature programming around its coaches, increasing personalization and creating strength-based content that the brand says sets it apart from competitors in the connected fitness space, who are typically offering cardio-centric modalities.
Bolstered by new CEO Krystal Zell, who was appointed earlier this year, and $130 million in fresh funding, Tonal is also encouraged by data demonstrating that its strength-based system saw an increase in household activity in the late summer, a period where there's typically a seasonal decrease in workout behavior.
"Historically, at this time of year, we see a noticeable decrease in the amount of total household activity on the average Tonal. However, our recent data (August 2023) shows a slight increase in total household activity," Sumner Paine, Tonal's senior vice president of product, recently told ATN. "This same metric peaked during the pandemic as many Tonals were being used by multiple household members. The data we're seeing now directionally indicates a heightened preference for working out at home."
Courtney Rehfeldt
Courtney Rehfeldt has worked in the broadcasting media industry since 2007 and has freelanced since 2012. Her work has been featured in Age of Awareness, Times Beacon Record, The New York Times, and she has an upcoming piece in Slate. She studied yoga & meditation under Beryl Bender Birch at The Hard & The Soft Yoga Institute. She enjoys hiking, being outdoors, and is an avid reader. Courtney has a BA in Media & Communications studies.