Remedy Place Launches At-Home Wellness Tech Collection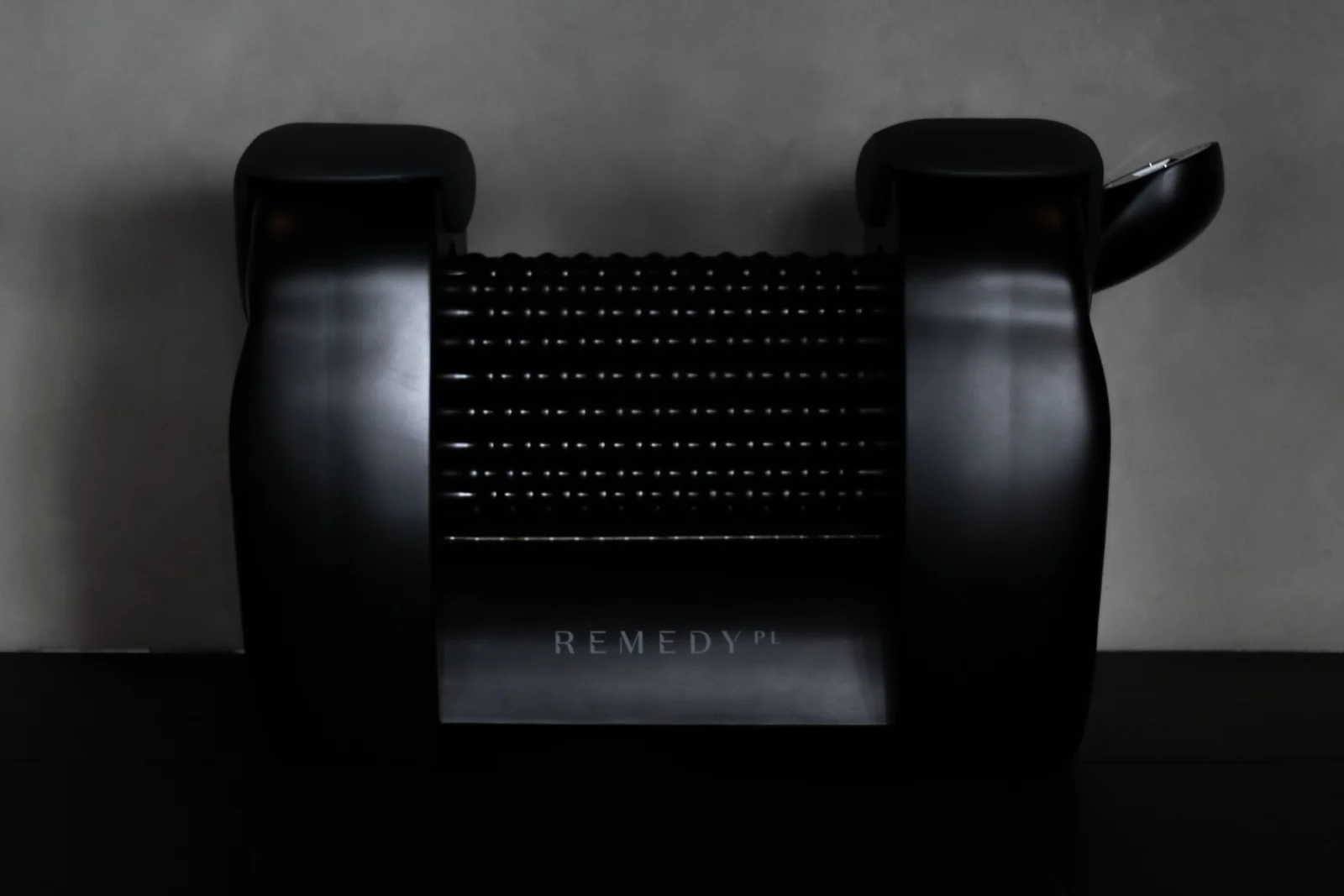 credit: Remedy Place
The social wellness club has introduced the Remedy Roller, an automated full-body massage device with infrared light and voice-guided treatments
Remedy Place, the social wellness club, is now bringing self-care to homes. Today, the club launched its Tech-Remedy Collection, starting with the Remedy Roller, an automated full-body massage device.
Remedy Place pioneered the term "Social Self-Care," catching the attention of entrepreneurs, celebrities, and professional athletes in New York City and Los Angeles since its founding in 2019 by Dr. Jonathan Leary. Now, the wellness club is taking its mission of making the world feel better into homes with the Tech-Remedy Collection, starting with the Remedy Roller. 
"The decision to introduce the Remedy Roller as our first product launch stemmed from our desire to extend our experiences beyond the confines of our physical clubs," Leary told Athletech News. "Recognizing the impossibility of being physically present everywhere, we conceived the Tech-Remedy Collection as a means to reach a broader audience and further our mission of making people feel better."
The Remedy Roller, the first product in the Tech-Remedy Collection, is an automated full-body massage device that empowers individuals to administer myofascial release, alleviate muscle tightness and enhance connective tissue health. It increases blood flow and improves range of motion. It also offers a full-body lymphatic massage experience, a bidirectional drum system massage, infrared light therapy, and voice-guided treatments. The roller is also crafted from 100% natural beach wood balusters and comes with different speed settings for customization. 
"What truly sets this product apart is its simplicity and effectiveness," Leary added. "It provides a self-administered solution that outperforms traditional foam rollers, massage devices, or other active-release modalities. Moreover, given our strong emphasis on design, we ensured that it was aesthetically pleasing as well. Our Remedy Roller is designed to guarantee that you not only feel better but also move better than ever before."
Remedy Place Expands Exec Team
The announcement comes on the heels of Remedy Place appointing Stephen Wright as its inaugural vice president of marketing. Formerly managing director at Azione PR for around eight years, Wright has experience with both emerging and established brands, including Boy Smells, Equinox, Heyday, Moon Juice, Sakara Life, Sweetgreen, Thrive Market, West Elm and more. 
"Remedy Place is at an exciting inflection point as a luxury wellness brand, as it prepares to expand beyond its beloved brick-and-mortar club experience into a product company with the launch of Tech-Remedy Collection," Wright told Athletech News. "As the new VP of Marketing, I'm hyper-focused on reinforcing Remedy Place's brand promise of Social Self-Care across every touchpoint of the business. This includes supporting new and existing clubs with dynamic campaigns, online and offline programming, and unexpected partnerships and collaborations that drive long-term value for our members, reach new audiences, and ultimately improve the holistic health and social well-being of our customers."
New Products, Locations & Services
Remedy has big plans for the future, including physical expansion and new products and services.
"We are excited to share our plans for the coming years, which encompass an ambitious expansion of our global footprint, characterized by enhanced design and amenities with each new opening," Leary said. "Alongside this expansion, we're branching out into various verticals, including new additions to the Tech-Remedy Collection and a distinctive product line under the at-home umbrella."
He added that in the upcoming years, Remedy Place is "on track to open two new clubs annually, pushing the boundaries of innovation within our industry."
"We are also gearing up to launch a dedicated media platform focused on education, amplifying our mission to empower individuals with the knowledge to take care of themselves," Leary said.
The Remedy Roller is now available for purchase at a retail price of $11,900. Those who want to experience the Remedy Roller in a club setting can book it as an in-club experience at Remedy Place's West Hollywood flagship location.
For more details and ordering information, visit www.remedyplace.com.