Meta to Acquire Within, a VR Company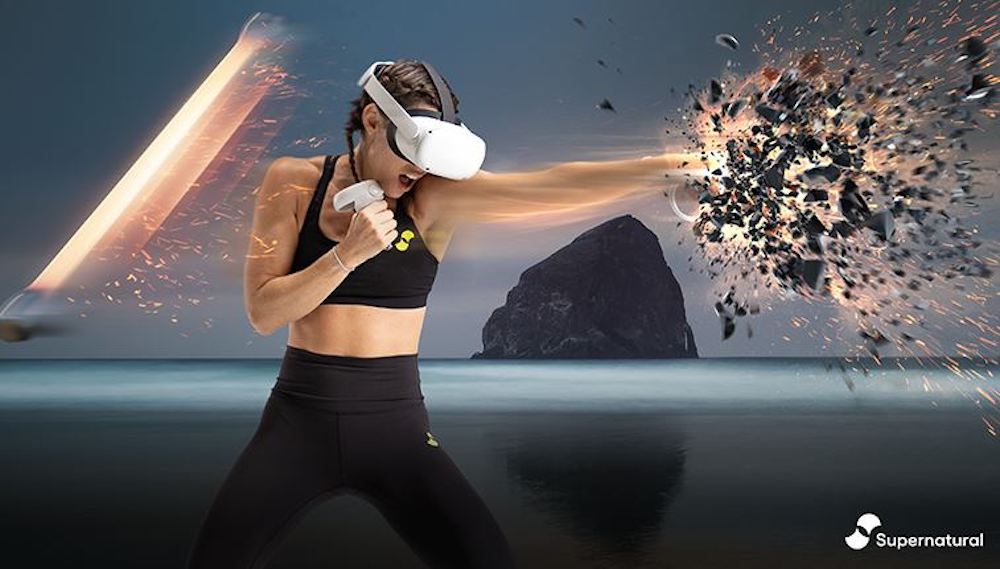 Will immersive & virtual fitness become the future?
Meta, the tech titan formerly known as Facebook, has announced that Within, a virtual reality company that developed popular and other-worldly fitness app Supernatural, has entered into an agreement to join it. 
Supernatural's subscription-based platform uses a fully immersive fitness experience for its users with total body workouts and coaching. The app uses popular music that accompanies dreamy and realistic landscapes as fitness progress is monitored. VR destinations, Meta says, range from Machu Picchu to Mars. Sessions are all-encompassing, offering boxing to flow, stretching, and meditations.
The Supernatural app was created in response to the self-described "dad bods" Within co-founders Chris Milk and Aaron Koblin had acquired without actually having children. Neither preferred traditional fitness routes like the gym or home-based workouts but noticed that people would be drenched with sweat when coming out of the interactive VR videos they were creating. Milk and Koblin sought to integrate VR with fitness data, making the experience fun, encouraging, and unique. The founders used expert trainers, choreographers, and a team of specialists in kinesthesiology and biomechanics as they developed the app to help perfect body movement.
Milk once said that the magic of VR is that it can transport users to another realm.
"My favorite way to frame it is this: What if you had a wormhole in your closet, and you popped out of bed and dove through it to snowboard in the Swiss Alps every morning, and then popped back through the portal and took a shower and went to work? That reality is possible if you introduce VR into the equation. That's the emotion we were chasing—something that gives you the physical exercise you're after, but in a fun, joyous, exhilarating way, and most importantly, you can do it in your home," he said in an interview.
In the announcement, Meta says that Supernatural will continue to work independently under Reality Labs and create additional VR experiences. Meta will assist in helping to "enhance future hardware to support VR fitness apps, encouraging other developers to bring new fitness experiences to VR," noting that it believes fitness VR will be largely successful.
Besides being engaging, virtual reality allows fitness to be limitless.
"The exercise modalities achievable in VR are also things we could never achieve in the real world as we don't need to worry about pesky things like the laws of physics," Milk pointed out.
Meta believes that the acquisition will help move the company into the future with shared ideals.
"Like us, Supernatural, and their creators at Within, believe deeply in the power of the metaverse and VR to bring people together and empower positive change," Meta said in the announcement.
While longer-term studies are needed, tentative research findings from a 2020 report concluded that VR fitness could positively impact a user's physiological, psychological, and rehabilitative outcomes compared with traditional exercise.
Correction: A previous version of this article incorrectly stated Meta has acquired Within. The error is regretted.
Courtney Rehfeldt
Courtney Rehfeldt has worked in the broadcasting media industry since 2007 and has freelanced since 2012. Her work has been featured in Age of Awareness, Times Beacon Record, The New York Times, and she has an upcoming piece in Slate. She studied yoga & meditation under Beryl Bender Birch at The Hard & The Soft Yoga Institute. She enjoys hiking, being outdoors, and is an avid reader. Courtney has a BA in Media & Communications studies.