LA Fitness Sues Insurers for $500M Over COVID-19-Related Losses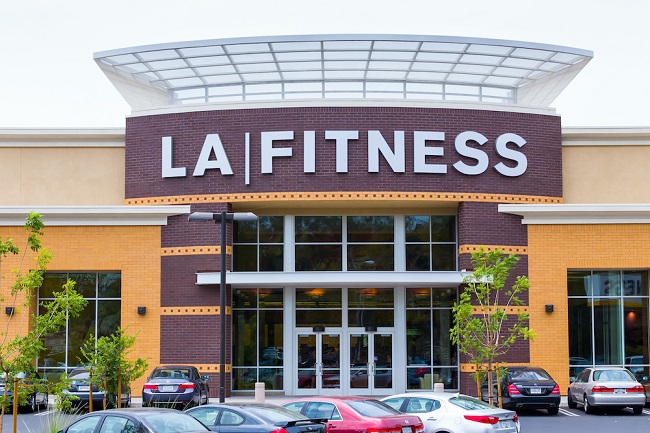 PASADENA, CA/USA - AUGUST 2, 2014: LA Fitness exterior. LA Fitness is a privately owned American health club chain with over 600 clubs across the United States and Canada.
LA Fitness, the 700-club chain, is facing off against its network of insurers to recoup losses due to Covid-19-related business interruption.
Is the sheer presence of physical particles that spread COVID-19 a form of physical damage? The parent company of LA Fitness says it is and is asking a court to make their insurers pay up for business disruption on that point.
International Fitness LLC is battling its insurers in court, claiming that because the fomites themselves damaged the club, the insurers are on the hook through business interruption policies.
The opening salvo in the dispute was a complaint by Beazley Underwriting Ltd., an underwriter for a $500 million policy that, through a number of legal complexities, is held by a number of insurance companies lead by the Zurich American Insurance Company. The motion, filed in a California court last week, attempted to deny a $100 million claim by the LA Fitness parent for business interruption losses. (Business interruption clauses are causes are common across industries and cover the loss of income for the time a business was forced to close by a number of conditions.)
Like all gyms and "non-essential" public places, LA Fitness locations in most of the U.S. and Canada were shuttered in the spring because of the initial pandemic lockdown and some, including many in the lucrative California market, were mandated to close after that. LA Fitness ceased billing members during that time and froze or lost countless members afterwards. LA Fitness took out a $300 million loan in November to try to weather the pandemic.
Beazley claimed that insurers are only liable for business interruptions caused by physical damage to facilities (as would be common in more predicted disasters, like earthquakes or tornados) and pointed to Zurich's removal of viruses from the policy's contamination exclusion in policy changes in years past.
The parent company of LA Fitness shot back with a lawsuit against 11 of its insurers, filed in a Washington state court the next day, arguing that the proliferation of COVID-19 virus modules into the clubs constitutes physical damage and asking for a whopping $500 million payout.
"The coronavirus has and continues to physically alter and transform these surfaces into virus-spreading fomites," the suit by LA Fitness parent claims. "No amount of routine surface cleaning could remove the aerosolized coronavirus suspended in the air in Fitness' health clubs."
The holding company noted more than 1,200 employees tested positive, showing that its presence in their clubs caused demonstrable damage. Its attorneys argued that the virus stipulation had not passed through regulatory agencies nationwide.
"Fitness International had the right to rely on Zurich and the subscribing carriers to handle its insurance claim for business interruption losses in a manner consistent with these standards of good faith and fair dealing," the company's lawyers wrote in a court filing. "Unfortunately for Fitness International, its Insurers failed in all respects, then unreasonably and with a callous disregard for the interests of its insured, denied the claim in its entirety."
Courts are now addressing the issues of insurance carriers' liability in the vast and unprecedented economic devastation that the pandemic wrought on fitness spaces. If LA Fitness' parent company can convince a judge that the infiltration of the virus constitutes physical damage to buildings, it will be an argument others will be quick to copy.
Nick Keppler
Nick Keppler is a freelance journalist, writer and editor. He enjoys writing the difficult stories, the ones that make him pore over studies, talk about subjects that make people uncomfortable, and explain concepts that have taken years to develop. Nick has written extensively about psychology, healthcare, and public policy for national publications and for those locally- based in Pittsburgh. In addition to Athletech News, Nick has written for The Washington Post, The Daily Beast, Vice, Slate, Reuters, CityLab, Men's Health, The Gizmodo Media Group, The Financial Times, Mental Floss, The Village Voice and AlterNet. His journalistic heroes include Jon Ronson, Jon Krakauer and Norah Vincent.