How SportsArt is Using Tech, Gamification To Make Fitness More Sustainable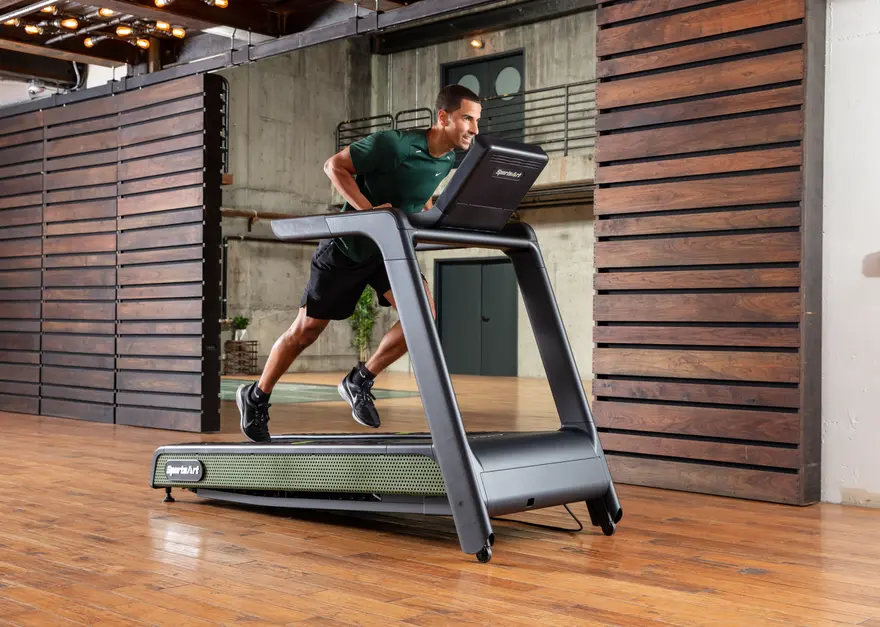 credit: SportsArt
Among its initiatives, SportsArt is using tech to help gyms and studios leverage sustainability into higher levels of member engagement
If creating a more sustainable fitness industry is SportsArt's mission, technology is playing a leading role in helping it turn that vision into reality.
SportsArt, one of the world leaders in creating sustainable fitness equipment, is using hardware and software innovations to create products that are better for the environment, more fun for users, and ultimately, more economical for gyms and studios.
In 2010, the company launched its ECO-POWR™ line of equipment, which takes human-generated power and turns it into useable electricity. At the time of its launch, the ECO-POWR™ line was revolutionary, but it relied on a large inverter that had to be placed on the outside of equipment, lowering the products' practicality.
Around a half-decade later, SportsArt found a way to shrink that inverter and place it inside its machines, creating equipment that you wouldn't know was sustainable based on looks alone.
"Our engineers, they basically took a big box and made it into something so small that it can fit inside the plastic shrouds of the existing equipment," explained Ruben Mejia, SportsArt's executive vice president for the Americas. "It's a lot simpler than it used to be, all because we try to use technology to make things better for our end user."
Today, through continued innovation, SportsArt offers just about every piece of traditional cardio equipment through its ECO-POWR™ line, including treadmills, exercise bikes, a stepper, rower, cross trainer and elliptical.
Recently, SportsArt's G660 treadmill became the first piece of fitness equipment to have its carbon footprint certified by the British Standards Institution. According to SportsArt, based on the average amount of clean energy the G660 generates per day in a typical commercial gym, it will become carbon negative after five years of use. The G660 has a life-cycle of at least seven years.
"We're coming out with more products," Mejia said. "Because whenever there's motion, we can capture that energy."
Innovation for good: helping on the road to recovery
Another area where SportsArt is using tech innovations to better people's lives is in the field of rehabilitation.
In 2012, the company partnered with the Madonna Rehabilitation Hospital and Research Institute in Lincoln, Nebraska, to create the ICARE, an elliptical with motorized stride assistance that mimics peoples' natural walking patterns. The ICARE has been used by the hospital to help patients recovering from a stroke or battling diseases like cerebral palsy gain important muscle activation that's usually only possible through the act of walking itself.
"This elliptical literally helps people re-learn how to walk," Mejia said. "We have testimonials from people who've said they've gone from a wheelchair to a walker to a cane to nothing at all because of the ICARE. Those stories are very powerful and moving."
SportsArt also produces a line of medical treadmills which have been used by organizations including the Department of Veterans Affairs. The treadmills have been recommended by doctors helping to rehabilitate injured veterans. The company also makes upper body ergometers which can be placed in traditional gyms and be used by people in wheelchairs, giving them access to specialized equipment without the need to shell out money for a fancy program.
"Taking this technology and being able to apply it in different aspects of life is really critical to our success," Mejia said. "Within the next few months, we're going to introduce more medically focused products because a big part of the vision of our founder, Paul Kuo, is to help improve people's lives."
Gamification as the bridge between sustainability and engagement
For clients who buy SportsArt's equipment, a big draw is its sustainability. The company is using tech to help gyms and studios leverage sustainability into higher levels of member engagement.
A key piece of the SportsArt ecosystem is its SA WELL+™ technology, a proprietary hardware and software system that captures data from SportsArt's machines and displays it on screens.
For example, gyms can put up a big television screen that displays how much energy is being generated using their ECO-POWR™ equipment.
"It's one thing to know how much electricity you're producing, but it's another thing to be able to use that electricity to be able to spread your message," Mejia said. "Not everybody's going to know that your equipment produces electricity. Having this television up there is going to catch somebody's eye, and they're going to ask questions."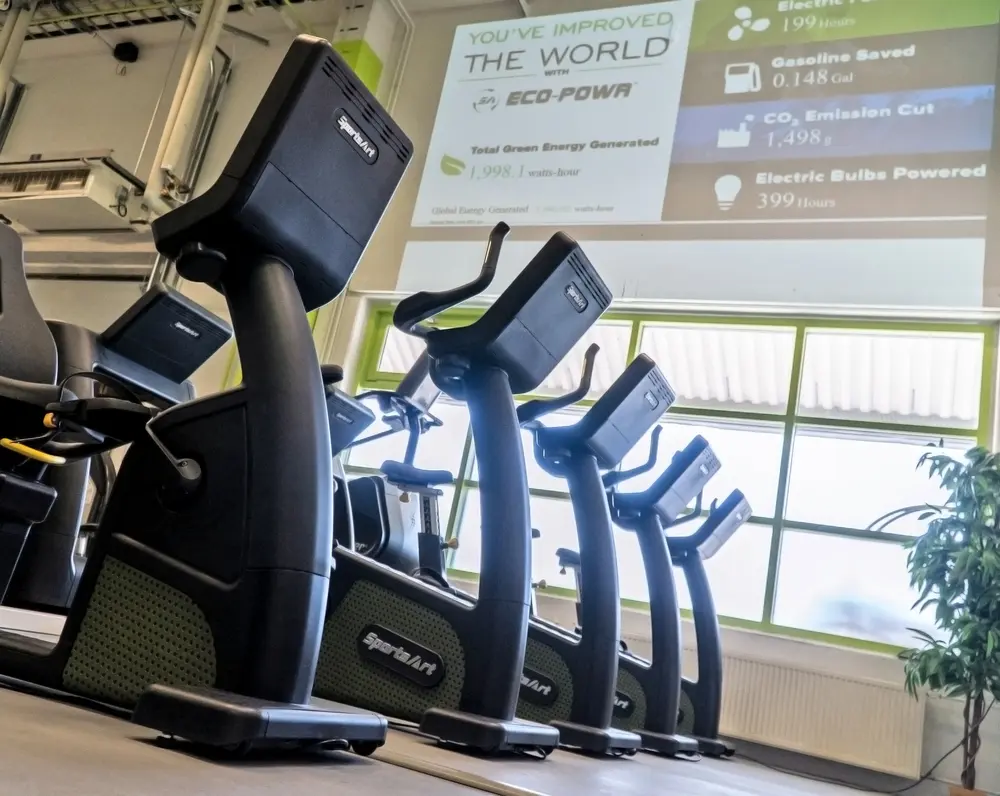 Gyms and studios can use the SA WELL+™ system as a way to engage with their members and spark conversation around energy expenditure. They can also use it as a way to gamify the experience of being eco-friendly.
The SA WELL+™ system has a leaderboard that shows the top energy producers in a given gym.
"We have gyms that have a monthly contest," Mejia said ."They say, if you're one of the top five people that generates the most electricity, we're going to give you a $50 discount to the juice bar, or something similar, for example."
SportsArt believes gamification can help push its products over the edge, giving gyms an innovative way to engage their members around sustainability.
"If we can make it fun for people as well as give them purpose, we're going to get a lot more people exercising and wanting to do good for the environment," Mejia said.