How CoachRx Makes Fitness Coaches Better at Business
Partnership
Sponsored By OPEX Fitness
June 27, 2023
credit: OPEX Fitness
Partnership
Sponsored By OPEX Fitness
CoachRx's software helps fitness coaches spend less time worrying about routine business tasks and more time interacting with clients 
OPEX is on a mission to build the ultimate software for fitness coaches.
In 2021, the fitness coaching education company introduced CoachRx, a software suite designed to give fitness coaches an all-in-one product they can use to increase the value of their business.
For OPEX Fitness CEO Carl Hardwick, the best way to describe how CoachRx stands out from the many personal training and fitness coaching apps on the market is to make use of an old cliche. 
"For coaches built by coaches," Hardwick says. "That phrase is so overused, but it's actually true from our standpoint."
CoachRx has four chief selling points, according to Hardwick.
It helps coaches build better relationships with their clients, run their business operations more smoothly and professionalize their services. Lastly and perhaps most importantly, it's built by fitness coaches who are committed to constantly improving the software based on user and internal feedback.
As part two of a two-part series, this article will explore how CoachRx makes it easier for fitness coaches to run their business and professionalize their services to clients. 
Automate Business Tasks for Greater Efficiency 
A key part of CoachRx's value proposition is the platform's ability to enable fitness coaches to spend less time worrying about routine business tasks and more time focusing on their passion for helping clients.
Through an integration with Stripe, CoachRx lets users create custom subscription plans and accept payments using different time intervals. Some coaches opt to be paid daily, some prefer weekly, while others opt for custom increments, like once every 14 days. 
That may seem like a run-of-the-mill feature, but Hardwick said other fitness coaching software providers he's used in the past only gave users the option of accepting monthly payments, which could be problematic for some.
Another money feature: CoachRx allows coaches to manage payroll allocation and distribution for their entire staff. Coaches that have people working under them can set up custom payment plans, choosing things like whether they want their staff members to earn a flat fee per session or be paid by commission. 
It's another feature that was surprisingly tough to find before CoachRx came along.
"We haven't seen any other system that allows that type of customization," Hardwick says. "We set it up like that because we ran into that problem, where we had a bunch of coaches using Excel sheets, taking CSV files and uploading them to their payment processor. We wanted to cut out the middleman."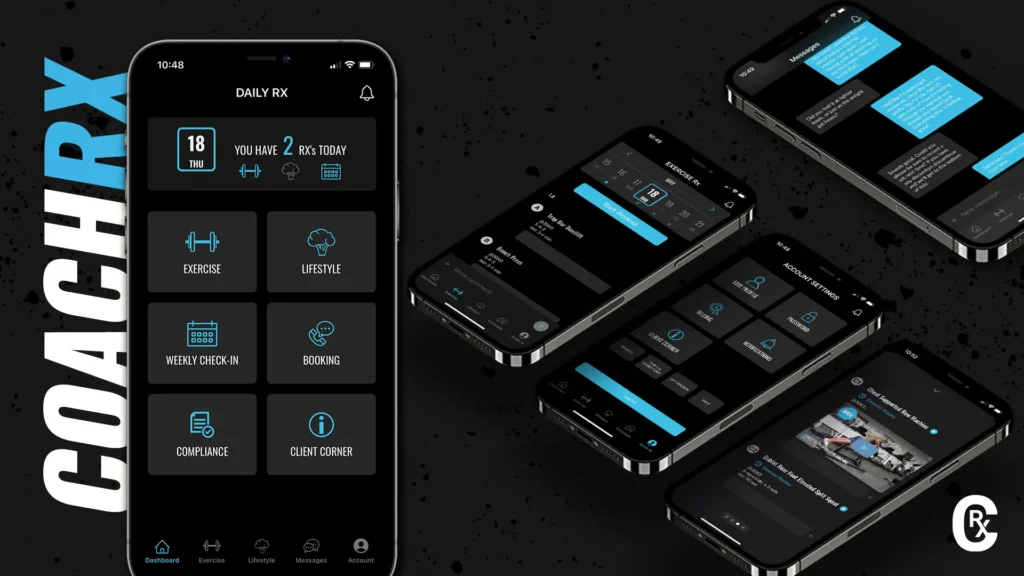 Another important but possibly overlooked feature is Contracts and Waivers. Individual coaches and organizations can send legal documents to clients and get them signed through the CoachRx software. It's another case of cutting out the middleman and saving time for fitness coaches. 
Build Your Brand
The proliferation of social media and ecommerce presents almost limitless opportunities for the enterprising fitness coach to earn income outside of traditional, one-on-one coaching.
CoachRx is designed to help its users exploit those opportunities. It allows coaches to set up virtual Storefronts, marketing themselves and their products online. 
"You can sell anything under the sun, apparel, a templated program, personal training sessions, ongoing subscriptions," Hardwick explains. "It also gives you an opportunity to just tell people who you are and what you do."
With CoachRx, organizations can build a company-wide online store while at the same time giving their coaches a chance to create their own individual Storefronts to build up a personal book of business.
Become a 'Professional' Fitness Coach
On the client-facing side, CoachRx contains a host of features and product integrations designed to help fitness coaches offer a high level of service and stand out from competitors.
An integration with video-recording and screen-sharing platform Loom allows coaches to share their screen with clients to provide personalized feedback remotely. Coaches can use Loom to show their clients how to perform exercises with proper form or give them pointers on sticking points within a movement.
Hardwick says the OPEX team decided to partner with Loom after observing the troubles coaches were having using their Mac or PC's native functionalities to try and share their screens with clients. 
It's a feature that's particularly valuable in the post-pandemic world.
"With remote coaching, it's very difficult to build a relationship because the coach and the client rarely see each other, maybe only once a month or so during a consultation," Hardwick says. "This (Loom) integration helps break that barrier."
CoachRx has also partnered with InsideTracker, a personal health analysis company. CoachRx users can have their clients take a blood biomarker test, the results from which are automatically uploaded to their CoachRx portal. InsideTracker analyzes the blood results, giving coaches the insights they need to offer more personalized exercise, nutrition and lifestyle prescriptions to clients. 
"It can be very complicated for a coach that has no experience in biomarkers and bloodwork to give recommendations," Hardwick notes. "So we leverage InsideTracker to be that mediator between the coach and client."
Design Better Programs
It may seem obvious, but designing an effective routine is an essential part of being a good fitness coach. CoachRx offers tools to help coaches create programs that are personalized for their clients. It also helps them avoid some of the logistical headaches that go with designing a workout routine, freeing up time and brain power for more important tasks, like relationship building and meeting with clients.
On the personalization side, CoachRx helps fitness coaches take their clients through physical tests, like a movement assessment, and then prescribe exercises based on the results. For example, if a coach gives a client a failing grade on his or her movement test, the software asks the coach why the client failed. Based on the answer, a CoachRx user will receive reminders from the platform, nudging them to work with that client on his or her weakness, like ankle mobility during a squat.
It's a good example of the OPEX team using its fitness-coaching expertise to imbue CoachRx with features that make users better coaches, not just business people.
"There are places across the app where we've added our OPEX brain," Hardwick says.
On the logistics side, CoachRx includes Planning and Periodization features that make it easy for coaches to design long-term programs while at the same time drilling down on individual weeks or even single workouts. 
"We go really high-level, but then we also bring it down to a single day of training," Hardwick says.
With a host of features that help coaches in all aspects of their careers – from communicating with clients to streamlining business tasks – OPEX is well on its way to building the ultimate software for fitness coaches.
Hardwick is clear that OPEX is just getting started with CoachRx. Expect to see more features and functionalities added in the coming months and years as the company listens to fitness coaches about what they need and want from the platform.
"We're always looking to refine. We'll never go months without adding anything to our platform," he says. "A lot of platforms out there will go years without adding anything."
Read last week's article on How CoachRx Helps Fitness Coaches Become Master Communicators.
Also, check out CoachRx's free Getting Started Guide and 14-day free trial.