Will Biking and Running Endure in Post-Pandemic World?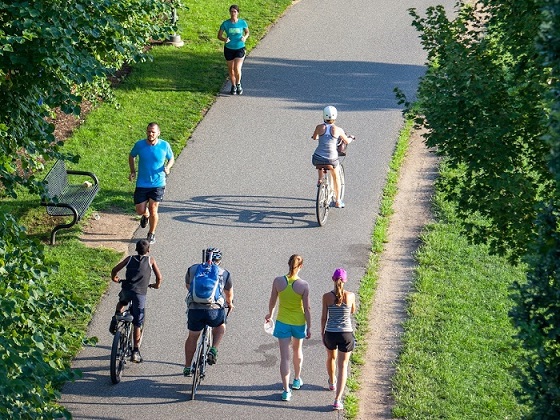 The pandemic brought onboard new fitness enthusiasts, leading to a larger market. Will this energy be sustained?
Experts have been trying to pinpoint how the pandemic has affected certain fitness trends like biking and running and their implications for the industry's future. It's a well-known fact that Covid has had a significant impact on the fitness industry, from yoga studios to gyms, estimated to have lost $13.9 billion from March to August last year. 
A survey conducted by Freeletics revealed 74% of people used a fitness app during the pandemic, of which 41% of the people were first-time users of such apps. Notably, 65% of male and 55% of female respondents shared that they tend to feel intimidated when exercising at the gym. While gyms were closing and employees were laid off, the pivot from fitness gyms to home-based strategies led to overnight success for certain companies.
Enter Peloton. Regarded as the fitness company best-positioned during a global pandemic, sales for the stationary bikes outpaced inventory. At one point, sales were up 232 percent as Peloton delivery vans were circling neighborhoods. Delivery drivers reported that buyers even asked to take masked pictures together, as they were thrilled to have received their long-awaited Peloton bike. With vaccine rollouts and relaxed restrictions, the Peloton craze appears to be winding down. The Peloton app has reportedly seen a 42% usage drop in the last four months, and sales are winding down. With gyms and now Peloton taking a dip, where does that leave other more traditional fitness modalities, such as biking and running? 
While many people preferred a stationary bike with apps and cleats for their homes, others sought out purchasing a conventional bicycle. Brick and mortar bicycle shops have seen increased demand since the start of Covid and haven't seen much of a drop. Bicycle manufacturers are feeling the grind, with a shortage of bike parts impacting companies like Trek, Specialized, Cannondale, and Schwinn.
In addition to new bike purchases, the pandemic has also led to people rummaging through their garages to find their formerly abandoned bicycles. Dusting off an old bike has sent many to their local bicycle shops for repairs and tune-ups, and shops have had to increase their return times for routine services. This demand has led some to think outside the box, and proprietors such as Ian Oestreich took note.
Oestreich, like so many impacted by the pandemic, was laid off from his fitness coach position. Seeing the need for bike repairs, he launched a mobile pop-up bike repair clinic called Curbside Bicycles. Oestreich estimates that he has performed over 1,000 bike tune-ups in fifteen months, charging $75 for a complete tune-up and told Athletech that he believes the increased interest in biking will be long lasting, despite a slight drop. "I believe the cycling surge will quell slightly as people return to the workplace (especially those with long commutes), since early morning or midday rides will become less feasible. However I absolutely believe that the bike boom will have the lasting effect of more people owning a bike, feeling comfortable on a bike, and having established a biking routine. This will lead to more people choosing to commute via bike to work, into town, or for exercise since they have now interwoven biking more into their everyday lives, breaking down the mental barrier of, "Oh it's just hanging in my garage, I don't know if it even still works,"" Oestreich says.
The increase in biking has also had a profound influence on infrastructure and even the environment. Research in April 2021 revealed that European cities with bike lanes led to a rise in cyclists, increasing up to 48%. Better infrastructure for cyclists will also encourage biking commuters, help reduce greenhouse emissions, and support better health. People for Bikes projects that the future of biking looks bright and that most new cyclists plan to stick with life on two wheels in a post-pandemic world. Additionally, bicycle sales surged for children's bikes, increasing 100%, launching potential lifetime riders.
Annual bicycling events had to take a backseat during the height of the pandemic but are making a tentative comeback. This month, 16,000 cyclists joined together in Chicago for a 30-mile ride on a portion of DuSable Lake Shore Drive. Hosted by Fifth Third Bike the Drive, the event is a fundraiser for Active Transportation Alliance. The organization is working to enhance walkability, cycling, and public transit in Chicago. The event was initially slated for Memorial Day but faced a delay due to covid concerns. Still, the re-scheduled event lured in participants from across state lines. In New York City, the Five Boro Bike Tour recently returned at the end of August after being canceled in 2020 and had a limited capacity of 20,000. While significantly less than the usual 32,000 that participate, rules were in place due to added precautions. 
Just as biking is anticipated to be an ongoing post-pandemic activity with newcomers, the running industry is also set to endure. This year, virtual races are becoming a distant memory. New Haven, Connecticut, recently celebrated their annual Faxon Law New Haven Road Race with more than 3,000 participants. Like cycling, runners ended up welcoming new and returning enthusiasts during the pandemic. 
At the beginning of Covid, runners were perhaps the most well-positioned to continue engaging in their favorite fitness hobby and the easiest to start. Running requires only comfortable sneakers, which are available at various price points, and it doesn't demand equipment, tune-ups, or face manufacturing delays. Perhaps most importantly, running is an activity that participants can partake in just about anywhere, whereas cyclists are more limited.
Data from fitness wearables revealed a 34 percent increase in running miles outside in 2020 and that many runners even participated in virtual races. Even bad weather didn't seem to deter runners last year, according to figures from MapMyRun, Garmin, and Fitbit.
The motivation for running seemed to have evolved, as exhibited in a study regarding running behaviors during COVID-19. The study revealed that initially, people started running to control weight gain, stay in shape, and keep their respirator healthy in good standing to protect against coronavirus. However, the motivation developed into a way to pass the time, help decrease stress and anxiety, and running no longer meant achieving a competitive edge. These findings may help explain why running intensity decreased, but mileage increased. It's also an element of interest to those in sports medicine and coaching, as suddenly returning to a high level of running intensity (like pre-pandemic times) can cause injuries to runners.
While running is accessible to most with few apparel requirements, sneaker sales still saw an increase. During the beginning of Covid, office footwear was traded in for slippers, as most people were working from home, and because social events were canceled, people had little need for dress shoes. Still, some athletic brands saw an increase in apparel and sneaker sales at the beginning of Covid, like Hoka. President Wendy Yang noted that running and walking had been enjoying a "boom" but acknowledged the challenges with having their merchandise in retail stores that were struggling. Dick's Sporting Goods was an unusual exception, as they had reported a 10% sales spike last year, even as their stores were temporarily closed last spring.
As time has gone on, industry leaders believe that marathons and races are crucial to keeping the running momentum going, even in a post-pandemic world. Brands are heeding such advice and pouring money into signage and race bibs, like Asics, who signed a five-year deal to sponsor the Los Angeles Marathon, which launched last year. Still, the fundamental intention is to provide a sense of support for the community, especially new runners, who they hope they will retain as a critical customer base.
One could argue that the longer the pandemic lasts, the longer people will stick with their newly acquired (or adjusted) fitness routines, like biking and running. What may have started as a healthy method to maintain fitness, pass the time, or relieve stress has now become part of an individual's lifestyle – biking and running are here to stay.     
Courtney Rehfeldt
Courtney Rehfeldt has worked in the broadcasting media industry since 2007 and has freelanced since 2012. Her work has been featured in Age of Awareness, Times Beacon Record, The New York Times, and she has an upcoming piece in Slate. She studied yoga & meditation under Beryl Bender Birch at The Hard & The Soft Yoga Institute. She enjoys hiking, being outdoors, and is an avid reader. Courtney has a BA in Media & Communications studies.