Product of the Week: ARMRA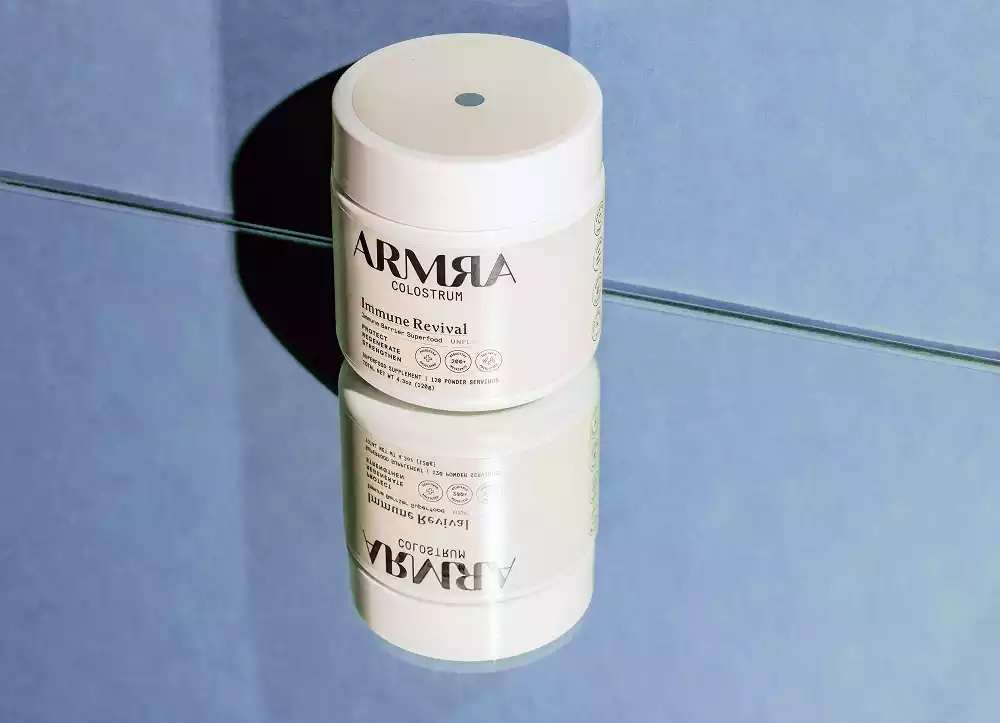 Is ARMRA, the popular colostrum superfood product with potential gut health and immune system benefits, worth the hype?
ARMRA was founded by Sarah Rahal, M.D., a pediatric neurologist who was inspired to found ARMRA Colostrum to enhance the body's immune barrier, strengthen hair, improve gut health, and more. Everyday chemicals from refined sugars, pollutants, and processed ingredients continue to threaten consumers' health every day through immune and digestive issues. Dr. Rahal decided to create the smart superfood to strengthen the body's defense mechanisms against such issues.
What is ARMRA?
ARMRA Colostrum Immune Revival is a smart superfood that works by strengthening the immune barrier and reducing the inflammation that contributes to many chronic diseases. ARMRA comes in three variations: blood orange stick packs (30 servings for $49.99), unflavored stick packs (30 servings for $39.99) and an unflavored jar (120 servings for $109.99).
Colostrum is the first form of milk produced by all mammals after birth. The product gives the body its blueprint to build an immune system and foundational pathways. There are thousands of studies documenting colostrum's benefits for one's health for all stages of life. To develop its high-quality colostrum, ARMRA invented a low-temperature extraction technique to produce the purest and most potent colostrum product extracted only after the baby calves have had their needs met. The resulting colostrum has over 200+ bioactive nutrients in bioavailable form, and eliminates substances like casein and fat, which consumers do not need. Research showed that ARMRA activated anti-bacterial immune defenses that were faster and 32% stronger than other bovine colostrum products.
What We Liked About ARMRA
ARMRA is an easy-to-use supplement that is cleanly sourced from grass-fed cows. As a soy, gluten-free, and sugar-free solution, the product boosts one's immunity without any of the negative side-effects of other supplements. It can be used by the entire family, and is safe for those allergic to milk protein, as ARMRA is casein-free.
Although one might worry about a flavor called "blood orange" for a colostrum product, it tasted delicious and natural—not too sweet. The unflavored version was perfect for adding it to smoothies or other beverages. One note is that you cannot add the product to hot liquids, as it will degrade the ingredients' efficacy.
A major benefit noted from using the product was how strong one's nails and hair felt after months of use. It also improved sleep quality and overall energy levels.
What We Didn't Like About ARMRA
ARMRA is expensive, which may dissuade some from jumping on the bandwagon. However, for those who frequently get sick, want stronger nails and hair, and who have persistent gut health issues, it may be worth the cost.
One other downside is that it can take a little while for one's stomach to get used to the product. Although consistent, long-term use aids with gut health issues, in the short-term, the product may contribute to digestive discomfort.
Overall, ARMRA is a groundbreaking product with the potential to transform one's immune barriers for proactive defenses. For many, the high cost is worth the potential health upsides.