Swerve Fitness Launches an Immersive Cycling Experience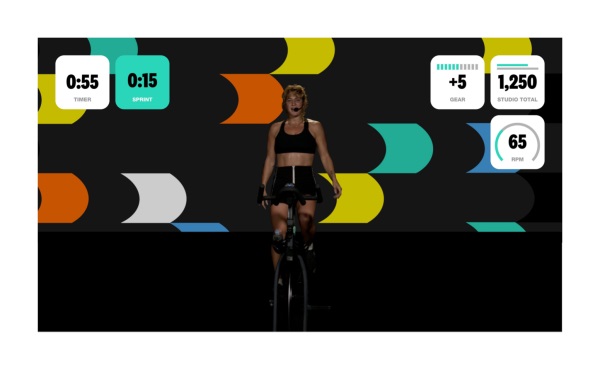 The NYC-based company cycles towards a virtual path. Athletech News caught up with Marion Roaman, Swerve's new Head of Content and Peloton cofounder.
Sometimes the best ideas come during the hardest of times. NYC-based Swerve Fitness recently launched a virtual group cycling competition for gyms. Swerve's new model will now offer an immersive virtual fitness experience that will be live-streamed globally.
When the pandemic hit and studios were shuttered, Swerve decided to pivot quickly. By infusing teamwork and tech with a competitive twist, Swerve swiftly transitioned from a brick-and-mortar model to a digital one. The company had toyed with the idea of a new business model in the past, but the pandemic accelerated it.
The change meant evolving Swerve's fitness routines and bringing on board Peloton cofounder Marion Roaman, who is now Swerve's Head of Content. Roaman has been a pioneer in cycling, founding one of the first cycling studios in East Hampton, NY, in 1997. The avid rider caught the eye of FlyWheel, which purchased the boutique studio. Roaman then created a software booking platform that she sold to SoulCycle.
"We were discussing new innovative ideas for Swerve's business model pre-pandemic but this model really came together throughout the pandemic simply because we had the time to strategize. We would have gotten here eventually, the pandemic just got us here more quickly," Roaman explains.
Swerve's shift towards content production meant morphing its Flatiron studio into a live-streaming headquarters. The company was mindful in the creation of the studio, incorporating bpm-responsive designs and specialized graphics.
"All of our classes are live-streamed from our production studio in NYC into cycling studios within big box gyms. Our trainers teach in front of a 22′ by 9′ XR LCD Video Wall. While our trainers are teaching class, we are uploading highly curated designs to the video wall. The designs respond to the bpms of the music or the intensities of intervals. Our graphics use a spectrum of colors that elicit the riders to recover or work harder, depending on the moment in class," says Roaman.
While Swerve trainers are in front of the video wall, they are provided real-time data, enabling them to give inspirational "shoutouts" to individuals or teams. For example, in a "Power Up" challenge, you might hear a trainer say, "let's go Williamsburg, Austin is right behind you!" The data helps keep users motivated, especially if they have a competitive streak. A team-based mentality is at the core of Swerve Fitness. Founded in 2013 by three former collegiate athletes, the trio saw the benefit of team-based workouts: increased motivation and accountability.
Roaman believes in the power of team workouts, especially with the integration of tech.
"I love the magic of it all," Roaman shares. "I find on-demand content to be boring and flat, convenient for the home user, but boring otherwise. By offering every class LIVE, you never know what is going to happen! There is a healthy tension one experiences at a live event, it creates an adrenaline like no other – take that by 50 people in the room at the same time, over thousands of locations at the same time – that is some powerful stuff!"
The reimagined business model has Swerve focused on its B2B partnerships while providing exciting streaming content.
"We want our gym partners to be successful. We succeed when our gym partners report increased retention, an uptick in membership and a boost in attendance. Since EVERY class we schedule is live-streamed, we ensure a fitness experience like no other," says Roaman.
Roaman further says that as Swerve evolves, the goal is to create a fully immersive experience.
"We want gym members to enter the cycling studio at their local gym and feel they are with their team in another world called Swerve! The moment they hop on their bike and their points start accumulating, they will feel a connection with their teammates and teams all over the world that is like no other," she says.
One exceptional aspect of Swerve is that its trainers are offered full-time employment.
"TEAM is in our ethos. We see this as no different than a professional sports team. Our trainers are our star athletes. Without them, we are not in the game," says Roaman.
When asked about people moving towards a hybrid fitness model, Roaman says she sees the potential for exciting and immersive fitness experiences that will cater to small groups. Above all else, she thinks that Swerve fulfills the sense of community that cyclists and fitness enthusiasts need, especially after a difficult (and isolating) two years.
"People want to cheer one another on! People are sick of giving virtual high-fives to one another. Home fitness is a fantastic option but nothing beats the energy and enthusiasm of a group of people moving to music together," Roaman says.
Swerve will start the new workouts in select Crunch Fitness locations in New York City.
Courtney Rehfeldt
Courtney Rehfeldt has worked in the broadcasting media industry since 2007 and has freelanced since 2012. Her work has been featured in Age of Awareness, Times Beacon Record, The New York Times, and she has an upcoming piece in Slate. She studied yoga & meditation under Beryl Bender Birch at The Hard & The Soft Yoga Institute. She enjoys hiking, being outdoors, and is an avid reader. Courtney has a BA in Media & Communications studies.