Quell Raises $10M in Series A in its Mission to Turn Your Workout into an Adventure
The thrilling gamified fitness experience says it can burn 600kcal/hour
Quell is ready to serve up a fitness experience for those who prefer to slay creatures and protect an enchanted forest instead of an indoor cycling experience.
The gamified fitness developer has just completed a Series A funding round, bringing its total funding to $15.6 million.
Tencent led the Quell Series A round, with other investors including Khosla Ventures, Heartcore Capital, Social Impact Capital, and entrepreneur Naval Ravikant.
The funding will enable Quell to 'upsize' its launch game, Shardfall, developed by engineers and fitness experts, and continue the expansion of its video game library.
Quell also intends to begin production of its 'Impact' fitness gaming system, which incorporates proprietary motion and biometric tracking technology and haptic sensors. In addition, the gaming system enables a fully immersive video gaming experience in which workouts burn over 600kcal/hour, which it says is equivalent to an intense spin class.
Quell expects 'Impact' to be released later this year and has already received 10,000 pre-orders.
"The Quell Impact is the first gaming platform designed from the ground-up to deliver high-intensity, personalized workouts where the player is the controller," said Cameron Brookhouse, co-founder & CEO of Quell.
The UK-based fitness gaming developer and publisher says it aims to help millions of people unlock the health and wellness benefits of exercising while immersing them in extraordinary worlds.
In Shardfall, players battle mystical creatures that threaten the Sacred Forest in intense combat.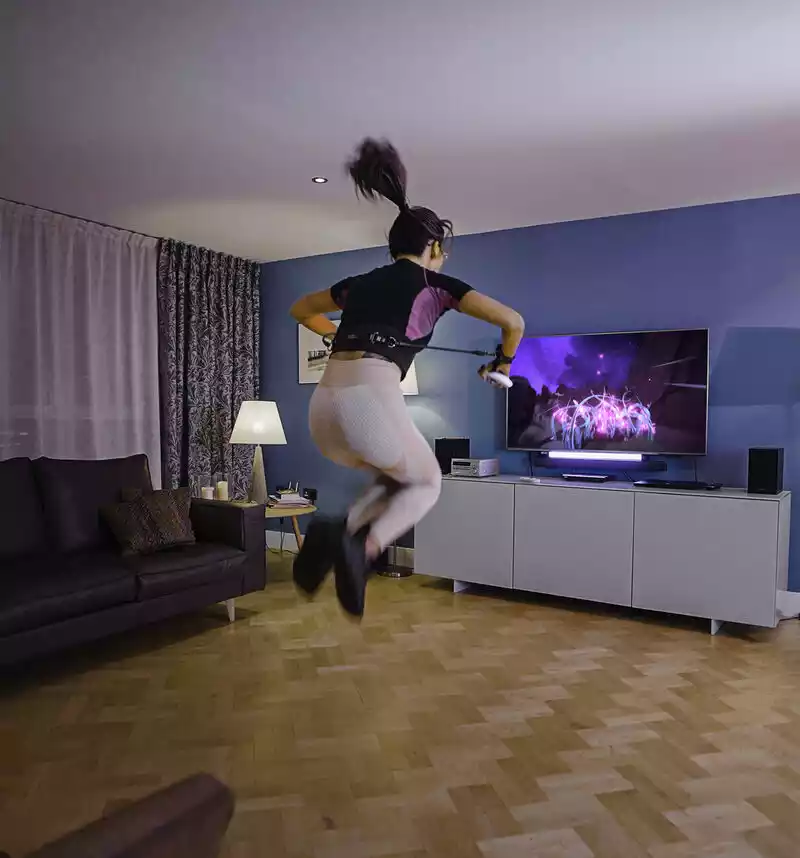 Players using Quell's wearable devices can choose how hard to push themselves based on various resistance bands of varying strengths. As players engage in the gamified fitness experience, their bodies transform into controllers, allowing them to run, jump, and fight without feeling limited by clunky VR equipment.
The device aims to be game-first, covering cardio and strength while appropriate for all fitness levels and abilities. Players can track progress with a built-in fitness tracker that monitors calories burned, heart rate, and speed, and can quickly adjust workout levels for a HIIT boost.
See Also
According to Quell, social play is an essential part of its vision, and it is developing online and local multiplayer experiences for competitive and cooperative play. More information will be made available in the future on that end.
The gamified fitness developer says Impact and Shardfall will be showcased publicly for the first time at the upcoming Game Developers Conference on March 20 – March 24
"We're so excited to be able to get the Impact in the hands of people for the first time in a public setting," said Luke Donovan-King, VP. "This is going to be a monumental year for Quell as we build up to our global launch, and we can't wait to show you all the incredible things our team has been hard at work on."
The developer is also hunting for a QA Tester, Producer, and Senior Gameplay Engineer to join its team.
Before this $10m Series A funding, Quell completed a $5.6 million seed round at the close of 2020, with participation from Kevin Lin, the co-founder of streaming platform Twitch, Emmett Shear, the CEO and co-founder of Twitch, start-up accelerator Y Combinator, and JamJar Investments.
Courtney Rehfeldt
Courtney Rehfeldt has worked in the broadcasting media industry since 2007 and has freelanced since 2012. Her work has been featured in Age of Awareness, Times Beacon Record, The New York Times, and she has an upcoming piece in Slate. She studied yoga & meditation under Beryl Bender Birch at The Hard & The Soft Yoga Institute. She enjoys hiking, being outdoors, and is an avid reader. Courtney has a BA in Media & Communications studies.