POPSUGAR Coming to Target with 17-Piece Home Fitness Line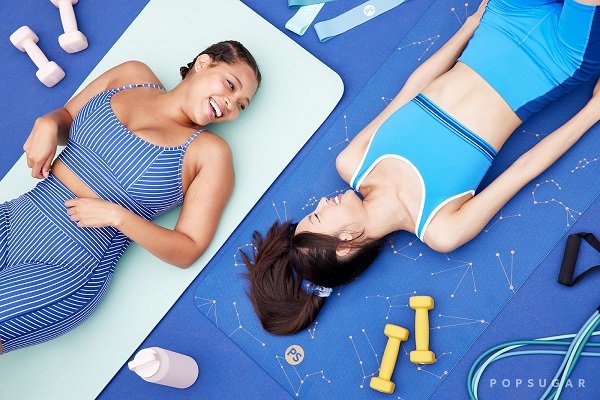 The collection will be the first of its kind for the lifestyle media brand
POPSUGAR Fitness, the women's lifestyle site that reaches 1 in 2 millennial women in the US, just announced its premiere fitness equipment collection. The 17-piece collection by POPSUGAR will be available exclusively in-stores and online at Target at the end of the month.
POPSUGAR's collection, inspired by Class FitSugar, will include yoga mats, dumbbells, kettlebells, jump ropes, and step decks. The company says all pieces were created with an inclusive vision, meeting the needs of all shapes, sizes, and fitness skill levels. POPSUGAR believes that the exclusive offering in Target at the end of December will help inspire new fitness goals for 2022 for consumers. 
The media company, founded in 2006 by Brian and Lisa Sugar, started as a pop culture site. POPSUGAR was acquired by Group Nine Media, an American digital company, in 2019.
"For over a decade we've helped millions of people keep their bodies moving and getting stronger, and POPSUGAR's new fitness equipment line marks our latest brand expansion in the retail space," said POPSUGAR Co-founder, Lisa Sugar. "We take a data-driven approach to all of our brand licensing programs, and these products were inspired by our top performing fitness and wellness content. Together, our digital editorial content and equipment line underscore POPSUGAR's ultimate goal of bettering our audiences' lives by providing real utility along their fitness and wellness journey."
POPSUGAR Fitness has experienced significant growth and says it has attracted over three million new subscribers since 2020. The brand provides Instagram Live workouts led by fitness experts from Barry's Bootcamp, LIT Method, trainers Rebecca Louise, and Jake DuPree. The company also just launched a new streaming channel on VIZIO SmartCast, where viewers can access POPSUGAR's free fitness workouts, including the popular Class FITSUGAR.
The pandemic-driven at-home fitness craze gave POPSUGAR a huge boost, leading its General Manager to call it a "moment for fitness," as brands were looking to reach fitness consumers at home. With fitness studios and gyms closed, the company accelerated the launch of its free app, Active by PopSugar, featuring more than 500 workouts and challenges. The ad-free app included curated workout selections, allowing users to select a workout based on interest or fitness equipment availability. POPSUGAR said that the team worked through a weekend to roll out the app, excited to get it into the hands of antsy fitness enthusiasts looking to move while locked down.
With the new line in Target releasing soon, POPSUGAR should feel confident. The company has had success with its lifestyle-to-commerce approach in the past, with previous retail partnerships at Kohl's and Old Navy, where the brand had featured clothing lines. POPSUGAR has also had a Disney Princess collaboration with Target, and the brand has launched subscription boxes and beauty products.
CEO Lisa Sugar recently indicated that the brand will push into the wellness space. The company is reportedly eyeing home category opportunities and additional retail partnerships for the future.
Courtney Rehfeldt
Courtney Rehfeldt has worked in the broadcasting media industry since 2007 and has freelanced since 2012. Her work has been featured in Age of Awareness, Times Beacon Record, The New York Times, and she has an upcoming piece in Slate. She studied yoga & meditation under Beryl Bender Birch at The Hard & The Soft Yoga Institute. She enjoys hiking, being outdoors, and is an avid reader. Courtney has a BA in Media & Communications studies.