Naboso Socks Are Nothing I've Experienced Before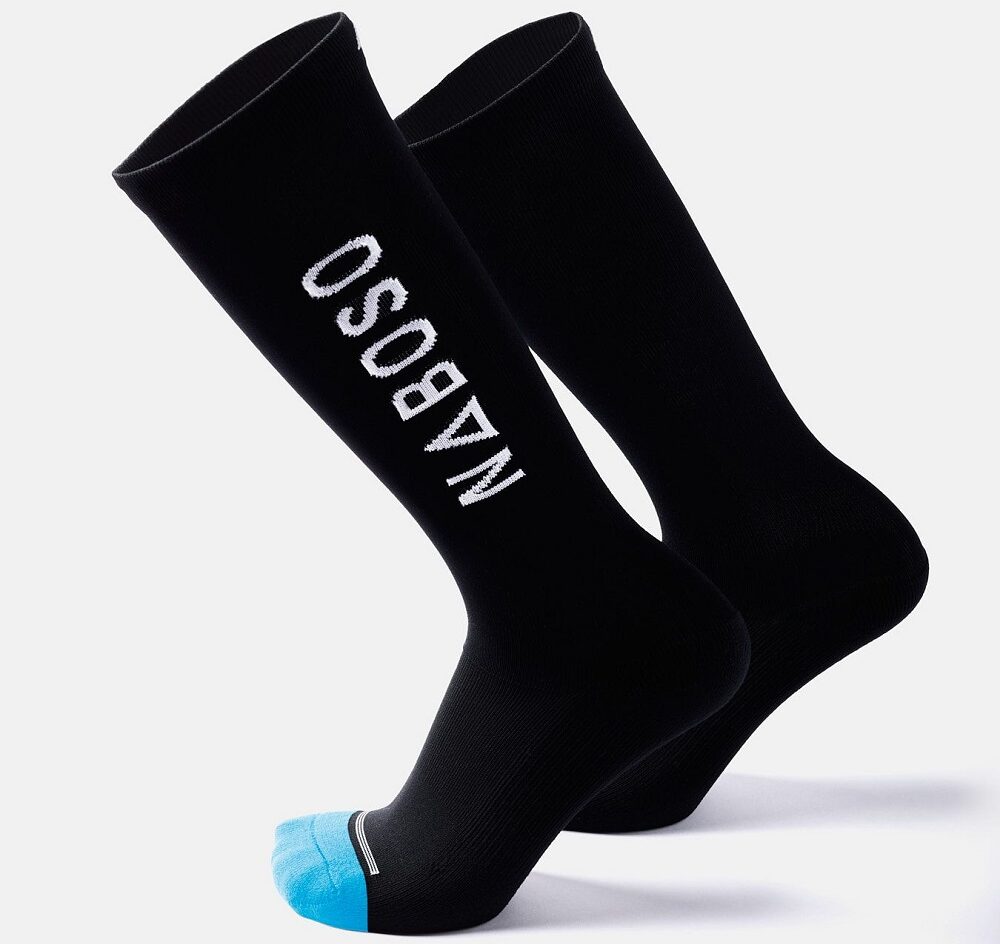 Candace Cordelia Smith
Candace Cordelia is a Pennsylvania-based journalist and on-camera broadcaster/host, with…
We gorge on articles about cardiovascular health, the importance of fiber in our diets, and how to lose weight fast, but where's the love for our phalanges and metatarsals? No need to worry — Dr. Emily Splichal's Naboso textured recovery socks are here to rescue our overworked, tired feet
Prior to the COVID-19 pandemic, many human beings spent an inordinate amount of time off their feet. In fact, according to a study published by the European Heart Journal in 2015, people were encouraged to "stand up, sit less, move more" after positive health benefits of those who spent more time standing and moving, versus those more sedentary during a week-long experiment, were discovered.
However, for those whose jobs require more sitting to stare at a screen, moving around throughout the day can be an issue. And yes, one still needs to especially give their feet time to recover from days of exercising, standing, and yes, even sitting. Dr. Splichal states that while compression socks help for "venous return, reducing muscle fatigue, and prevention of swelling of the lower leg and calf," Naboso foot recovery socks are even better as they combine the benefits of compression socks and "targeted foot recovery with texture stimulation" for both feet and ankles. Dr. Splichal tells Athletech News the idea for the sock "was based on understanding our customer and the reality of footwear and footwear accessory use."
"Many people favor to wear socks and with our current insoles socks do, unfortunately, create a barrier to the level of foot stimulation experienced from our insoles and mats. The natural evolution of getting enhanced sensory stimulation to all consumers was to create a textured sock," explains Dr. Splichal.
For those able to wear Dr. Splichal's Naboso recovery socks have three primary benefits which, as she claims, make them the "most effective foot recovery tool on the market" — circulation, muscle recovery, and neuro stimulation. The patent pending texture was designed to get deep inside of the micro-vessels of the foot's dermal layer, lending to improved circulation. The inside bottom sole of the sock also releases tension in the muscles of the feet. Last, the nerves in the bottom of the feet are stimulated, creating a "grounding and calming effect to the nervous system."
As someone who toggles between bouts of sitting for work and movement (including indoor and outdoor exercise) during the week, I had to test Dr. Splichal's Naboso socks for myself. Putting on the socks was easy and there's even an "L" and "R" inscribed on both the left and right sock, respectively, to help wearers know which sock goes on which foot. The inside soles of the sock are outfitted with Dr. Splichal's signature neuro-stimulating blue texture. It took around 15 minutes to get used to the feeling. I wore the socks at home first, delicately walking around, and graduated to the outdoors to complete an errand. By the time I got back home, my feet felt massaged and looked puckered with indentation marks from the blue texture which eventually went away. Nothing hurt during and after the process and I felt as though I received an inexpensive massage for both of my feet.
One thing I personally appreciate about the Naboso socks is the passive recovery they give for the feet just by wearing them. "Simply walk around and you are recovering your feet and lower leg," says Dr. Splichal. Increased circulation, faster recovery, and reduced foot fatigue is a stunning trifecta embedded within the fabric and soles of Dr. Splichal's Naboso textured recovery socks. They are a welcome addition after a long day whether on or off one's feet.
Candace Cordelia Smith
Candace Cordelia is a Pennsylvania-based journalist and on-camera broadcaster/host, with a reporting background in wrestling, entertainment, and lifestyle. Her reporting work has been featured on websites and in publications such as Bustle, Pro Wrestling Illustrated, New York Daily News, am New York, ABC News, Yahoo!, Good Morning America, Madame Noire, Sister 2 Sister, etonline.com, Diva Dirt and The Everyday Fan. Her favorite workout influencers include Chloe Ting, Cassey Ho, Pamela Reif and Mary Braun. She still can't stand burpees and Rebbl Dark Chocolate Immunity Elixir is one of her favorite post-workout protein sips. You can follow Candace on Twitter @CandaceCordelia and on Instagram @thatgirlcandace16.