Top 10 Wellness Markets according to Global Wellness Institute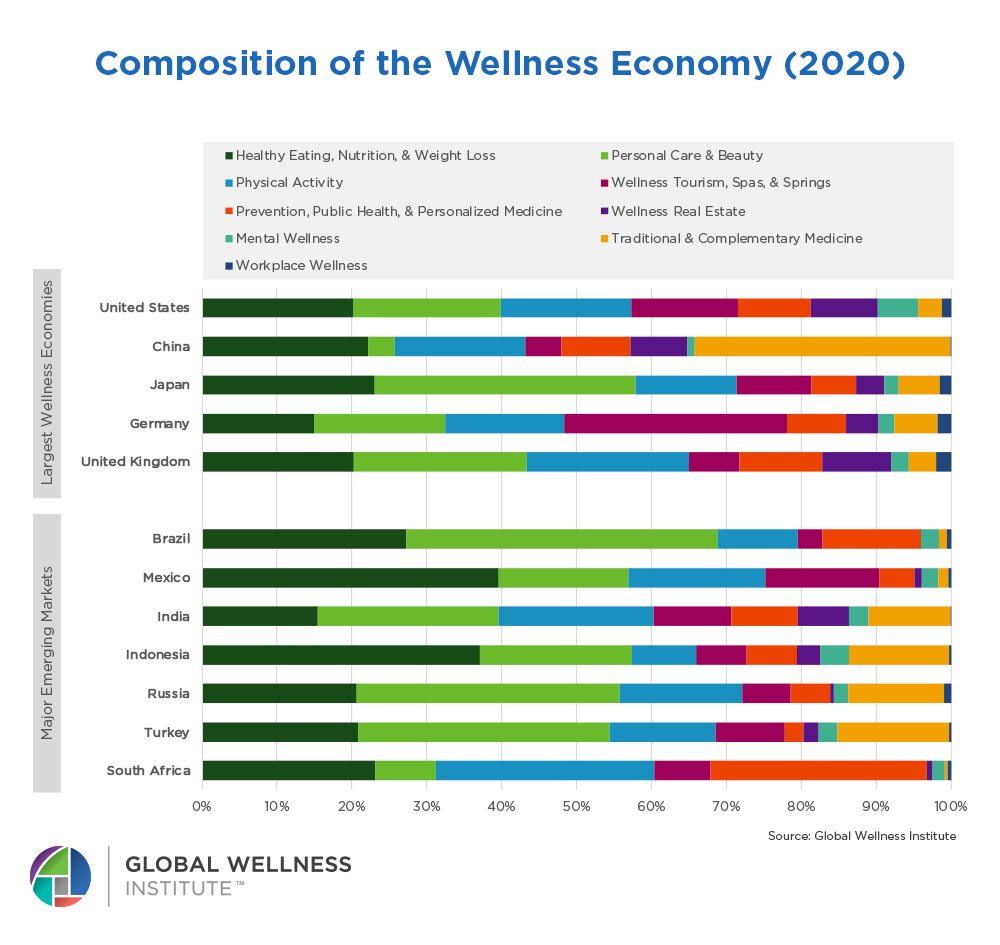 GWI's new report says that 1 in every 20 "dollars" is spent on wellness & examines the impact of wellness tourism
According to The Global Wellness Institute (GWI), consumers spend roughly one out of every twenty "dollars" on wellness worldwide. According to the new report, the wellness economy accounts for 5.1 percent of total global GDP, with the United States leading the way.
The report, "Global Wellness Economy: Country Rankings," was published this month. It was highlighted during the Global Wellness Summit, which was broadcast live in Times Square in New York City. GWI's new research accompanies its recent report on the global wellness economy in a post-COVID world.
GWI's new report measured the wellness economies of 150 countries and investigated which countries are growing and shrinking, as well as how and why national wellness markets differ.
The Top 10 Wellness Markets
According to GWI, the United States ($1.2 trillion) and China ($683 billion) lead the way due to population size, and the US not only doubles the size of the second-largest market but accounts for 28 percent of the global wellness market.
US: $1.2 trillion
China: $683 billion
Japan: $304 billion
Germany: $224 billion
UK: $158 billion
France: $133 billion
Canada: $95 billion
South Korea: $94 billion
Italy: $92 billion
Australia: $84 billion
The wellness tourism effect
The report also looked at wellness tourism, listing Aruba in the top ten for nations where consumers spend the most on wellness.
The Global Wellness Institute says it may seem surprising to see Aruba rank in the top 10 since it's not as wealthy as other countries. Still, it shows the impact of tourism, where wellness tourists bring an influx of spending into the wellness market. The report indicates an "export industry" where wellness is out of reach for local residents but not tourists.
"This is the tourism effect, where high-spending inbound wellness tourists represent a disproportionate part of the wellness market," the report says regarding Aruba.
When it comes to other tourism-dependent countries, these are the top five nations that see the benefits of wellness tourism and the percentage of their GDP that is spent on wellness:
Seychelles (16.5%)
Maldives (14.5%)
Aruba (11.9%)
Costa Rica (11.4%)
St. Lucia (10%)
Wellness interests varies by region
Wellness looks different depending on the nation. GWI says that the wellness market can be categorized into three areas and account for more than 60% of the total wellness market:
Healthy eating, nutrition, weight loss
Personal care & beauty
Physical activity
According to GWI, personal care and beauty encompass a bigger share of wellness in Japan. In China, India, Indonesia, Russia, and Turkey, wellness seekers are interested in traditional and complementary medicine. In Germany, wellness tourism leads the way with spas and thermal and mineral springs while in Sub-Saharan Africa, GWI says public health and prevention is key.
GWI's full report can be found here.
Courtney Rehfeldt
Courtney Rehfeldt has worked in the broadcasting media industry since 2007 and has freelanced since 2012. Her work has been featured in Age of Awareness, Times Beacon Record, The New York Times, and she has an upcoming piece in Slate. She studied yoga & meditation under Beryl Bender Birch at The Hard & The Soft Yoga Institute. She enjoys hiking, being outdoors, and is an avid reader. Courtney has a BA in Media & Communications studies.