New York Sports Club Opens First NY-Branded Gym in Washington DC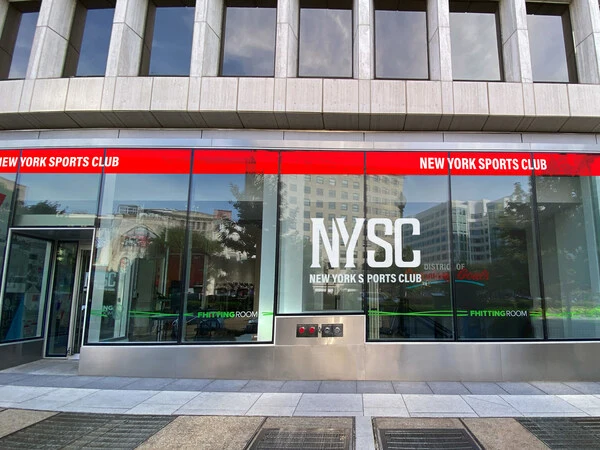 credit: New York Sports Club
The new Dupont Circle location reflects NYSC's recent effort to bring all of its clubs together under one name
New York Sports Club has opened its first location in Washington D.C. with NYSC branding, a departure from the usual "Washington Sports Clubs" moniker it had been using in the area.
The newly minted 23,000-square-foot neighborhood-style gym on Connecticut Ave is now ready to serve members with cardio and strength training equipment, barbell racks and platforms, functional training turf, personal training, group fitness and a cycling studio. Members who want to focus on wellness can head to the Recovery Lounge with HydroMassage beds and an infrared sauna.
Later this year, the fitness club will introduce Fhitting Room, a HIIT and strength training boutique fitness brand, to its new D.C. location. The Fhitting Room, famous for its kettlebell programming, offers various class formats, such as Signature FHIT, a 50-minute class that covers strength and conditioning with functional movements and high-intensity intervals. The boutique fitness brand was acquired by NYSC in 2022 and will be connected to the new NYSC club.
NYSC had operated a club on Connecticut Avenue until the pandemic hit and the fitness operator was forced to vacate the space. When conditions started to normalize, NYSC's CEO, Bill McMenamy, told Commercial Observer that the landlord approached the fitness operator with a proposal to return.
"We envisioned a return to this area with a revitalized and forward-looking concept, designed not only to meet the evolving needs of the community, but to bring an exciting new fitness experience to the D.C. metro area," McMenamy told the publication.
The newly opened gym is located at 1211 Connecticut Avenue, just south of DuPont Circle.
In January, NYSC announced its plans to rebrand its clubs across the country under the singular "New York Sports Club" name instead of regional ones like Philadelphia Sports Clubs, Washington Sports Clubs and Around the Clock (Florida).
"This new club represents the brand-wide initiative to bring all clubs together under one name and provide an upgraded, affordable, quality full-service fitness experience to neighborhoods across the country," McMenamy said. "We are also thrilled to announce that later this year, we will be bringing the first-ever Fhitting Room to D.C., further elevating the fitness offerings in this city."
Courtney Rehfeldt
Courtney Rehfeldt has worked in the broadcasting media industry since 2007 and has freelanced since 2012. Her work has been featured in Age of Awareness, Times Beacon Record, The New York Times, and she has an upcoming piece in Slate. She studied yoga & meditation under Beryl Bender Birch at The Hard & The Soft Yoga Institute. She enjoys hiking, being outdoors, and is an avid reader. Courtney has a BA in Media & Communications studies.