How COVID-19 Will Affect Functional Beverage Industry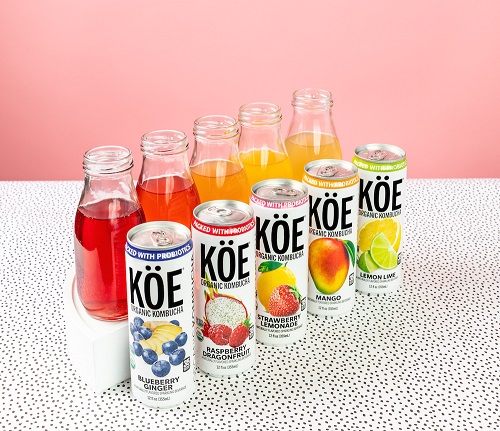 COVID-19 has significantly changed our day-to-day habits as we continue to adjust to a life full of new normals. The vast majority of us are constantly seeking the best ways to keep ourselves and those around us healthy without completely sacrificing our relationships, work, or personal progress. Most Americans have drastically altered their shopping habits while making incremental changes in favor of food and beverages that support our new stay-at-home lifestyles and the well-being of our families. In particular, the landscape of ready-to-drink functional beverages has shifted as a result of the pandemic. While we've all responded to the pandemic in different ways, a handful of trends have revealed themselves across several regions and consumer groups.
Less traffic on-premises, more sales in stores
A decrease in on-premises (bar, restaurant, café, gyms) sales has tipped the scales toward an increase in retail sales. The math is simple – with consumers purchasing less at restaurants, cafes, and on-the-go, they are buying more in grocery, mass and club stores. These retail choices need to fulfill their needs at breakfast, lunch, dinner, virtual happy hours, at-home workouts – and every time in between. For instance, individuals who previously visited their local coffee, juice, or smoothie shop each morning, or grabbed a performance drink from their gym, aren't simply switching to tap water – they are seeking energy, flavor and excitement from drinks that can be enjoyed at home. Emerging brand KÖE Organic Kombucha is perfectly positioned to capitalize on this new state. This bubbly kombucha-in-a-can packs the function of probiotics and 15g of caffeine with fruit-forward flavors like Mango and Strawberry Lemonade for mass appeal, and shelf stability for easy storage (won't crowd your fridge after that giant shopping trip!). In addition, KÖE just added distribution in 1300+ 7-Eleven stores across Southern California, as the mega-chain continues to bring in healthier items to cater to consumer's changing needs.
Increase in demand of immunity-boosting beverages
Many people are now working from home and have adopted more sedentary lifestyles. With the temporary closure of gyms and fitness studios across the nation, consumers are seeking alternative ways to boost their health and immunity. Alongside more at-home workouts, health-conscious consumers are looking for more than just pills and vitamin C to help support their health, increasingly seeking solutions that can be easily incorporated into their daily routines, such as drinks with immunity-boosting properties. According to Google Trends, searches for "immunity" have skyrocketed 300+% in the past six months. Leading the charge of ingredients that help fend off illness include natural probiotics, herbs, antioxidants, and a host of vitamins and minerals.
During these hot summer months, consumers are also looking for the healthiest ways to stay hydrated while avoiding products with high sugar and calorie levels. Rather than a quick fix, health-minded individuals are now buying beverages for daily consumption that help build resilience over time. This means more regular purchases of functional, immunity-boosting beverages as long-term changes in consumer habits begin to take shape.
Changes in fitness culture and fewer shopping trips leads to purchase of multipacks and larger sizes
In a further effort to remain healthy while at home, consumers are taking to outdoor fitness routines, such as walking, running and biking, and searching for on-the-go beverages to take along. In addition, rather than popping into the store every other day, the average consumer has shifted their shopping trips to 1-2 every two weeks to stock up on multipacks and larger sizes of beverages for their outdoor excursions and at-home workouts. According to McKinsey.com, although consumers are tightening their wallets overall, they expect to spend the same or more on groceries in the coming months. Alkaline water brand Perfect Hydration recently launched a 1.5 liter bottle and one-gallon bottle at select Ralph's stores in southern California and CVS stores across the US. We are seeing Perfect Hydration's 1.5 liter and gallon bottles fly off the shelves. The timing of the launch couldn't have been better, as both of these new sizes of pH's alkaline and electrolyte water hit the ideal intersection of function, value and convenience.
Sudden adoption of online grocery shopping, curbside pickup and grocery delivery
It's no secret that trial of services like Kroger's curbside pickup, Instacart, 7Now and Amazon Grocery has risen sharply since February. This is especially significant for beverage companies, which have historically been challenged by high shipping costs due to the weight, bulk and fragility of their products. But the influx of shoppers willing to buy online has forced the industry and retailers to react, making it far easier for consumers to order drinks from the comfort of their own homes. This also means less heavy-lifting from the store shelf to the cart to the home, which we expect to contribute to lasting changes in the way beverages are purchased.
More new functional beverage launches
The increase in grocery sales, adoption of eComm for beverage purchases and general demand for immunity-boosting products will continue to support the demand for more new beverages. Beyond grocers, fitness studios and gyms could capitalize on the market opportunity, offering vending machines with functional beverages beyond the traditional energy and performance drinks. Online availability of multipack cases also allows gyms and studios to experiment with new items before committing to large bulk orders. The range of functional possibilities is broadening – and just because consumers aren't venturing as far from home doesn't mean they don't still want a little adventure. Anyone who has spent a few minutes on Instagram has undoubtedly been hit with a multitude of ads promoting new drinks – whether infused with CBD, chaga, elderberry or reishi, spiked with spirits, packed with probiotics, charged with MCT oil, or alkalized. Launching online allows brands to lessen the risks associated with innovation because concepts can be tested at a smaller scale before putting massive resources behind distribution, merchandising, POS and promotions. It is only a matter of time before they start popping up at gyms and other retailers across the country.
Creativity in functional beverage sampling and brand partnerships
Most new beverage launches rely heavily on in-store sampling, events and field marketing to drive trial of their brands. But in a COVID world, none of that is possible. What if you could get a complimentary case of Perfect Hydration Water with your Peloton subscription? A monthly supply of KÖE Organic Kombucha with your Mirror Home Workout system? Or a water and a kombucha sample with your Nike purchase? One-stop, lifestyle shopping is expected to increase as we continue to live in a world with increased risks. And brands are willing to pay top dollar for targeted sampling opportunities when presented with clear and strategic programming.  
As we all continue to grapple with what COVID-19 will mean for us, the future of functional beverages is bright. Although some consumers are sticking to what's most familiar and safe, the intended audience for enhanced beverages is welcoming new options with open arms.
This article was written by Louisa Lawless, Chief Strategy Officer with Stratus Beverage Group. Visit Perfect Hydration and KÖE Organic Kombucha for more brand information.