Holistic Wellness: The Business of Rest and Recovery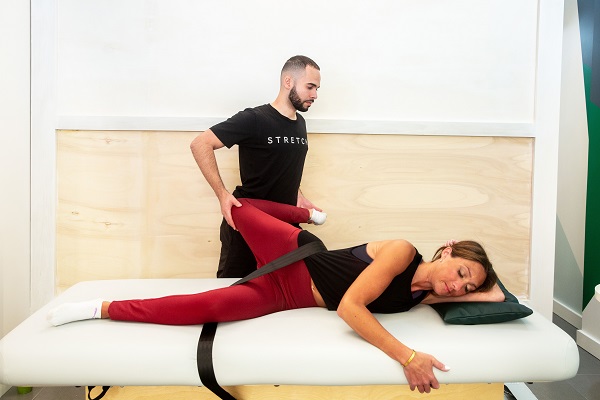 With holistic wellness on the rise, rest and recovery "workouts" have gained traction in the last few years. Long gone are the days where post-run stretches are optional and meditation is solely for yogis
Recovery classes seem incremental in an already-saturated fitness world. During the pandemic, when boundaries between work, life, and working out became blurred, rest and recovery for holistic wellness became a key focus for many. Simple, overlooked activities like walks became appreciated once more. Mindfulness became integral for mental health preservation. Yoga and stretching counteracted a day spent sitting at a desk. Although the world has entered a "new normal" phase, the revamped fitness world has taken inspiration from pandemic remedies, evident in the 2022 fitness trend of rest and recovery.
While HIIT once reigned, celebrities are now endorsing low-impact workouts, in part due to social media. TikTok has fueled this trend, with over 24.6 million views of low-impact workout videos. TikTok star Lauren Giraldo's 12-3-30 treadmill work-out alone has been viewed more than 2.7 million times. For this workout, the athlete sets the treadmill incline to 12%, makes its speed 3mph, and walks for 30 minutes. Giraldo said in a TikTok video, "I used to be so intimidated by the gym, and it wasn't motivating. But now I go and do this one thing, and I can feel good about myself." The pandemic reminded the world that simple workouts like walking can be just as effective as jump squats; fitness enthusiasts are now seeking longevity, not just short-term solutions. Kayla Itsines, a celebrity trainer and founder of the SWEAT app, also recently launched a low-impact program. Motivated by her mother's limited athletic mobility, Kayla created a series that focuses on strength and mobility without straining joints. On her website, she also praises LISS, "low-intensity steady state," as a means to increase oxygen flow to one's body, which can help metabolize fat in an easily maintainable fashion. Combining both low-impact strength workouts and LISS can be a long-term fitness routine for most members of the fitness community.
Capitalizing on the low-impact fitness trend could provide incremental value and new clients to workout studios, gyms, and fitness media apps. Older, injury-prone, and otherwise limited athletes have opted out of workouts like Orangetheory Fitness, Barry's, and Mile High Run Club. Although this segment of the population can access classes like Pilates, barre, and yoga, a challenging, cardio-infused, low-impact workout could be a game-changer.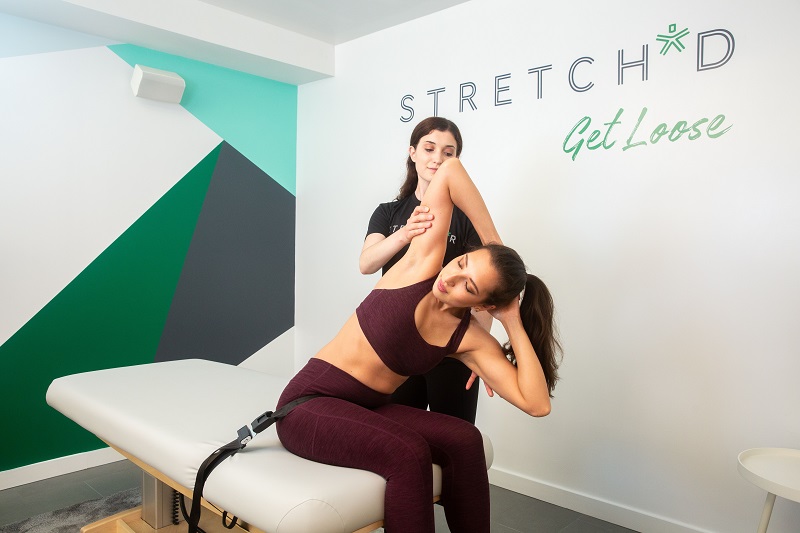 Stretches, the historically neglected prelude and postscript to any workout, are also finally having their moment in the spotlight. After years of limited close contact with others, stretch studios and classes to help provide holistic wellness are on the rise. From nationwide franchises like Stretch Zone and StretchLab to New York's Stretch*d, personalized stretch sessions promise deeper relaxation and improved flexibility. Pre-pandemic, StretchLab had only 72 locations. Today, there are more than 150 StretchLab studios across the nation, with more than 600 franchises in development. Verdine Baker, StretchLab's President, commented on the growth, "People are starting to see stretching as a modality that fits into health and wellness, similar to physical therapy or chiropractic care." Trainers work 1-1 with clients, proclaiming the benefits of increased mobility in difficult-to-reach spots. Proponents of stretch sessions claim improved posture, athleticism, and flexibility. Group fitness classes and workout apps have followed suit, like Equinox's Signature Stretch and Recovery Series and Peloton's on-demand stretch classes. Even massage guns like Theragun and Hypervolt have become a supplement to stretching. Proponents of the high-intensity tools rave about their ability to soothe muscles, increase blood and lymphatic flow, and break up scar tissue.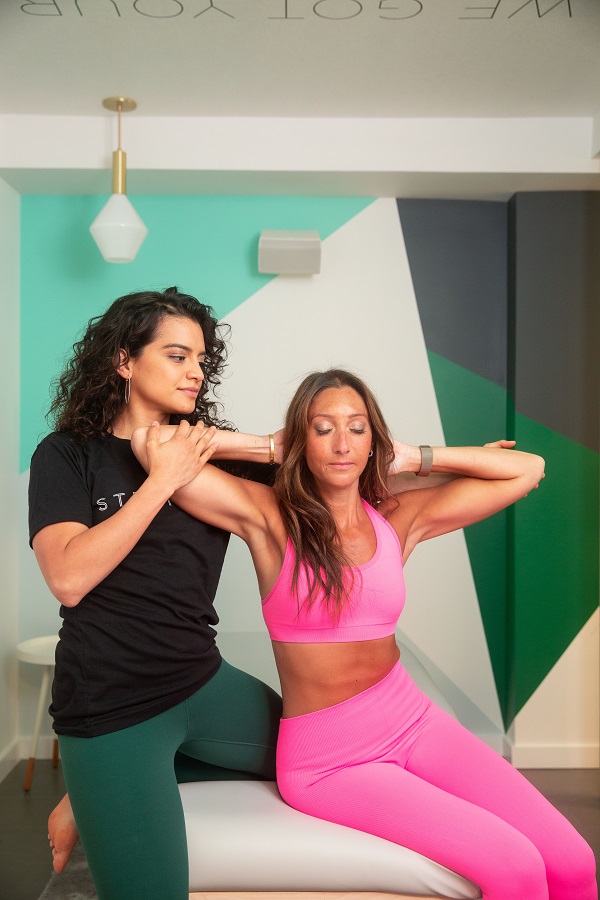 Holistic wellness and self-care include muscle limberness and longevity. But are these fancy stretching solutions much better than a solo routine? A frequent Google search about assisted stretching and massage/percussion guns is "are they worth the cost?" Some exercise physiologists argue that flexible athletes might be damaged by stretches that benefit others. If assisted stretching facilities do not take the proper precautions when assessing clients, and clients only get stretched periodically, it may not provide lasting relief. However, some athletes claim that stretch studios completely revamped their routines. For example, BDG's Executive Director of Health & Wellness, Melissa Dahl, recounted her visit to one of Stretch*d's studios. After hitting a roadblock in her marathon training, Melissa paid a visit to the studio to see if it could be a much-needed solution to her tired mind and body. She wrote, "I'd recommend this to any amateur endurance athlete who is bad at self-care, which is to say, I would recommend this to almost any amateur endurance athlete." Similarly, medical research has shown that percussion guns can provide relief from muscle discomfort, but should not replace a warm-up or stretching. While they may not be a necessary part of a fitness routine, consumers could treat stretch studios and percussion guns like athletic massages: a soothing (and expensive) treat to counteract tight knots from workouts and working.
Lastly, there's been more attention on athletes' mindfulness. While the mind-body connection is old news, new athletic meditation classes have appeared in recent years. This growth is in part due to younger generations' integration of mindfulness into their daily practices. Twice as many Gen-Zers meditate versus Baby Boomers. Younger generations have increasingly integrated meditation into athletic pursuits. For example, the meditation app Headspace has a "Meditation for Sport" series that helps the user perform at peak levels by staying calm and focused. Peloton launched a "Fitness Focused" Meditation Series, with classes about managing rest days, encouraging peak performance, and reflecting on fitness goals. Numerous studies have tested the effects of relaxation and honing focus on athletic performance; athletes who practice mindfulness techniques almost always show higher mental resilience and improved performance. And mindfulness does not require a huge time commitment–some athletes only meditated for around 10-15 minutes a day.
Meditation seems to be here to stay–but how can the fitness world capitalize on the trend? With the boom of meditation apps and mindfulness retreats, companies will need to find creative new ways to expand their meditating consumer base. Retention strategies will be key–the largest challenge many athletes have with meditation is commitment and consistency. Maybe there's a market for group meditation fitness classes that is largely untapped in the mainstream community.
The business of rest and recovery is a complex space that continues to evolve as consumers become even more introspective about holistic wellness and self-care. Are stretching classes, low-impact workouts, and meditation here to stay? Time will tell, but for now, companies should not rest too much on the idea of the booming recovery space, or they may miss out on growth potential.