Instagram Fitness Trainers: Who are Most Searched?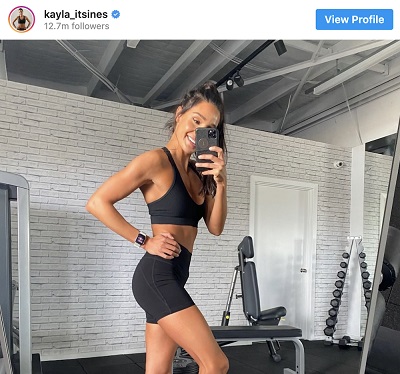 They're some of the best Instagram follows in fitness. They're all ripped, bursting with inspirational quotes, and have attracted millions of followers for their daily social media content.
There are many Instagram fitness trainers, but the ones featured below are hands down some of the best the social networking platform has to offer. Their posts—videos, photos, stories and memes—have motivated many, shown us the ins and outs of their favorite, most burning and pulverizing workouts, and even occasionally offer a glimpse of their true selves (cellulite!) and real lives (kids!).
That's what makes the following 10 trainers the most searched on Instagram:
Jen Selter
The 27-year-old Long Island native rose to Instagram celebrity in 2012 when she started taking pictures of herself working out. Selter was later profiled in the New York Post for her trademark "belfie" shots of her backside. Her 12.7 million IG followers get a steady stream of at-home workouts, positive messages and stunning views of New York City.
Michelle Lewin
The 34-year-old multi-tasking Venezuelan is a fitness pro, model and author of the book "The Hot Body Diet: The Plan to Radically Transform Your Body in 28 Days." Lewin had to be in the list of the most searched Instagram fitness trainers as her 13.8 million Instagram followers are treated to a bilingual daily mix of full-body workouts, life advice, and a glimpse of her relationship with bodybuilding husband, Jimmy Lewin, who recently experienced a life-threatening health scare that Michelle documented.
Kayla Itsines
An Australian personal trainer with 12.7 million Instagram followers, Itsines, 29, was named one of Time's 30 most influential people on the internet in 2016. Co-creator of the Bikini Body Guides and the subscription-based Sweat app, Itsines's Instagram feed is packed with at-home workouts, motivational posts, before-and-after success stories, and adventures she shares with her family and young daughter.
Ana Cheri
One of the most searched Instagram fitness trainers, Cheri is the CEO and owner of Cheri Fit, an activewear brand, and was Playboy's Miss October 2015. Her 12.5 million Instagram followers get a daily dose of sultry, sandy beach photos, nutritional tips, promoted recipe ideas, and plenty of images of the 34-year-old, Anaheim, Ca., native posing in the newest Cheri Fit leggings and tops.
Anllela Sagra
The buzz surrounding her page hit its peak when Muscle and Fitness published the article "10 Times Anella Sagra Scorched Instagram," and it hasn't cooled off. The 27-year-old Colombian treats her 12.3 million Instagram followers to a mix of mostly selfies, chiseled abs, sponsored content, and workout routines.
Ulissesworld
Ulisses Jr is a 44-year-old bodybuilder, fitness model and coach with more than 8 million followers on Instagram. He's known for his shredded eight-pack abs, which are prominently showcased on the Ulissesworld Instagram page, in addition to sponsored nutritional ideas, workout videos, family, and fun behind-the-scenes content.
Simeon Panda
Named by Forbes as one of the top 10 fitness influencers in 2017, Panda is a powerhouse on social media. The London native's 7.3 million Instagram followers get a steady stream of workout tips, links to more in-depth YouTube videos, and sponsored content.
See Also
Eva Andressa
The Brazilian fitness model offers her 6 million followers a trove of workout routines, promotional content and plenty of motivational pictures showing off her ample curves and cut physique. At 34, Andressa says she's living her best life, and one look at her Instagram profile shows she's doing just that.
Joe Wicks (The Body Coach)
The British fitness coach and TV personality has attracted an Instagram following of 3.9 million. Wicks is "on a mission to make the world fitter, healthier, and happier," and his daily posts provide exactly that. Wicks offers a daily dose of motivation and inspiration, mixed in with healthy cooking videos, workout routines, and fitness challenges.
Paige Hathaway
The 32-year-old Minnesotan has cultivated an Instagram following of 3.9 million followers who she hopes will "show up for yourself." Her IG feed offers a daily shot of inspiration and motivation, as Hathaway shows off her impressive figure, her photogenic family, life as a mom, and her followers' success stories.