Fitness Tech Gets Smarter at CES 2021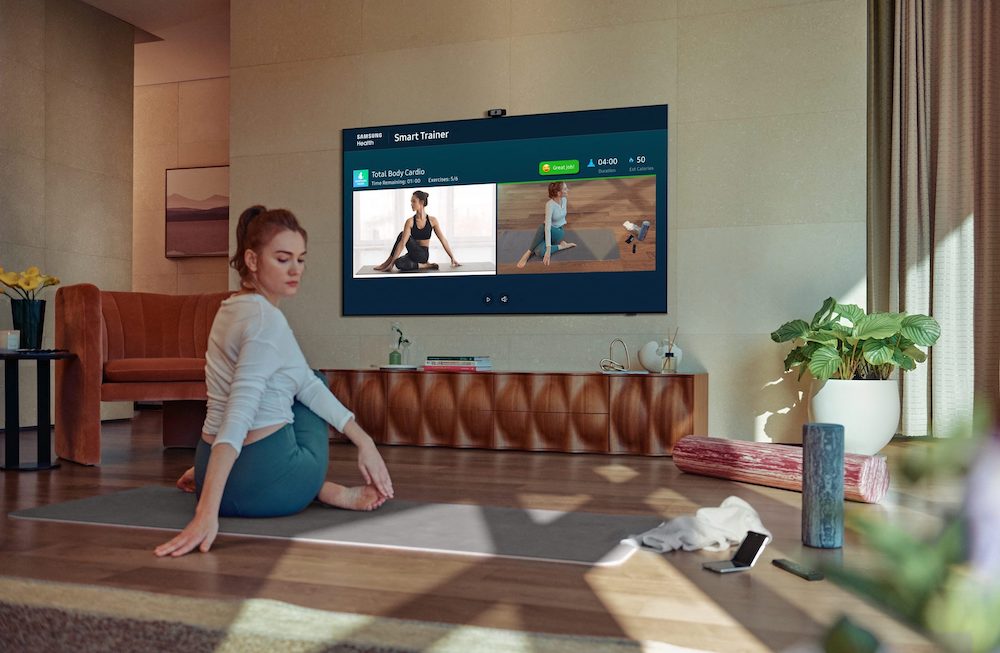 CES is the most influential electronics show of the year. Here's a look at some of the smart fitness tech introduced at CES 2021.
Once upon a time, people would actually buy VHS tapes with workouts designed to replicate classes at health clubs. One celebrity fitness trainer Tony Little used to scream "You can do it!" and other words of encouragement on those tapes while people jumped, lunged and squatted in front of their televisions.
In 2021, TVs are going to offer more than just a few words of encouragement.
Thanks to the Samsung Smart Trainer, televisions are also going to start spotting, coaching, measuring and tracking our every movement. Introduced at the CES 2021 electronics show, the Samsung Smart Trainer uses a connected webcam and motion-recognition AI to recognize movements, follow your workouts and even analyze your form and movements as you go. The fitness tech logs calories, reps, elapsed time, and offers a library of workouts from trainers like Jillian Michaels.
"We are always looking for ways to build a better, more sustainable future," Samsung's Sandeep Rana said at the CES 2021 virtual event. "With a focus on the environment, people and society, we will continue to provide our consumers with responsible tools and technologies to address our challenges today and enable a better future for all."
Since its inception in 1967, CES is the most influential electronics show of the year. It's where innovative products have all been introduced to the public for the first time, from the VCR in 1970 to the Nintendo Entertainment System in 1985 to HDTV in 1998.
This year, for the first time in its history, the convention, organized by the Consumer and Technology Association, was moved online for a digital-only format. But just because people weren't physically together, CES 2021 still packed its usual punch with a trove of new game-changing sports and fitness tech.
Here's a look at some of the other smart fitness tech introduced at CES 2021:
ARK Sports Wall
Banging yourself against the wall would be cause for alarm at one time, but in 2021, punching, kicking or checking the walls may be the newest, smartest way to work out. The digital ARK Sports Wall has 1,200 interactive touch points and features 25 games, exercises and challenges you can use alone or with a room full of socially distant friends.

Bowflex Bike
Peloton is synonymous with stationary bikes at this point, but Bowflex is making a move in the at-home fitness segment with the introduction of its VeloCore indoor bike, which features a leaning mode that makes it feel more like outdoor cycling. The connected bike features a 22-inch HD touchscreen, custom coaching and access to a library of trainer-led workouts.
Reflexion Neuro-Fitness
The world's first portable neuro-fitness service, Reflexion is a game-changing cognitive sports training service designed to improve performance in competition. Using a touchscreen lightboard powered by cloud-based tech and data analytics, Reflexion accelerates and strengthens cognitive processes and skills such as peripheral vision, decision making, reaction time and hand-eye coordination.
Uniigym
Uniigym uses artificial intelligence to create a virtual gym environment complete with workout routines, coaching, lights, and music, but what really sets it apart is its fitness tech will help you correct your form so you're doing all your stretches and exercises correctly. Its somatosensory identification technology targets the user's bone and joint points, uses cloud algorithms to compare movements with those of the trainers, and it corrects posture by posting ratings on screen. Uniigym also uses personal devices to record and store data on the user's heart rate and calorie count and saves them to a designated personal account. 
Wondercise
Another form-correcting, automated workout companion, Wondercise is seen as a cheaper alternative to the Apple suite of fitness programs with hundreds of training videos and classes. New videos are added to the subscription library each week, but the biggest innovation is the fitness tech that compares your movements to trainers to help analyze your form.
YogaFi Series-1 Pro
Joining the crowded smart fitness space, the unique YogaFi is the first smart yoga mat. Injecting brains and high tech into the very low-tech yoga mat, this new product guides users as they stretch and reach. The system offers step-by-step instructions for beginners and experts alike, while the mat's sensors check your form and technique while the computerized mat learns about its users in real time. Able to pair with most devices, YogaFi is like having a personal yoga assistant, a virtual yoga instructor, fitness tracker and cheering section all rolled into one.