Fitness App Keep Has $2B in Investor Money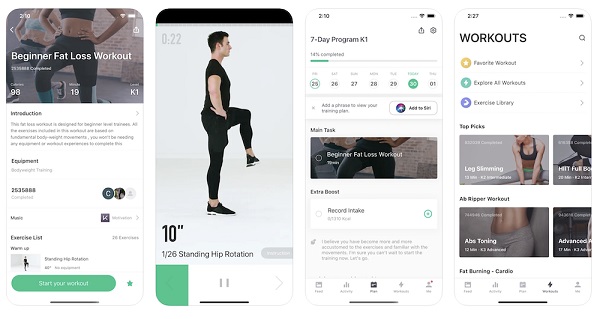 Before the COVID-19 pandemic, Chinese fitness app Keep hoped for global expansion. Now, its digital fitness services are in demand around the world.
Years before Peloton was the hottest name in fitness because its online element and digital workout apps were springing up like e-commerce websites in the 1990s or social networks in the mid-2000s, Chinese fitness app Keep had already found an audience of 200 million in mainland China for exercise videos and fitness-based social networking.
The app, launched in February 2015 by college senior Wang Ming, is the kind of app countless tech entrepreneurs and pre-existing brands have tried to create since COVID-19 grounded fitness buffs at home, only it had been realized five years before the pandemic.
Keep allows users to view fitness videos, with links to buy fitness equipment and health food, and is a social networking service to make a workout a shared experience.
Keep, the fitness app that pioneered the online fitness model, also connects users to personal trainers, a premium service that the company says generates a bulk of its income.
By February of 2019, Keep was the most downloaded fitness app in China. The same year, Keep launched 18 foreign-language editions and, in another premonition of trends to come, released an internet-connected stationary bike. Apple CEO Tim Cook praised the company during a visit to China.
Because Keep already has what everyone has been looking for — a fitness app that amasses users and gets them to buy stuff and services — investors are pouring money into the app.
Last week, the fitness app company said it closed a Series F financing round of $360 million led by the SoftBank Vision Fund, a Japanese multinational conglomerate. Other participants include Hillhouse Capital, Coatue Management, GGV Capital, Tencent, 5Y Capital, Jeneration Capital and Bertelsmann Asia Investments. According to Techcrunch, that puts $2 billion in private equity money in Keep's pockets. Goldman Sachs participated heavily in past rounds of financing.
Bloomberg reports that the app-based online fitness pioneer has no plans to make an IPO. As of now, the company has about 300 million registered users and 38 million monthly active users of the fitness app, numbers that will no doubt rise and it continues to expand outside of China.
Keep's user base is mostly within China, where is has the government's backing as part of its campaign to encourage physical fitness. However, forays into new markets could make it a formidable competitor to Peloton or the Nike Training Club. The various services could bump into each other as they all try to increase their shares of the global market.
Nick Keppler
Nick Keppler is a freelance journalist, writer and editor. He enjoys writing the difficult stories, the ones that make him pore over studies, talk about subjects that make people uncomfortable, and explain concepts that have taken years to develop. Nick has written extensively about psychology, healthcare, and public policy for national publications and for those locally- based in Pittsburgh. In addition to Athletech News, Nick has written for The Washington Post, The Daily Beast, Vice, Slate, Reuters, CityLab, Men's Health, The Gizmodo Media Group, The Financial Times, Mental Floss, The Village Voice and AlterNet. His journalistic heroes include Jon Ronson, Jon Krakauer and Norah Vincent.